You have /5 articles left.
Sign up for a free account or log in.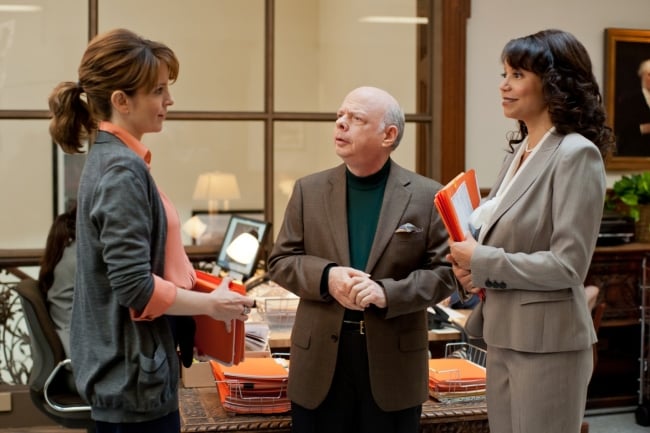 It would be easy for people who really know admissions to focus on elements of "Admission," the film that opened Friday, that aren't quite right.
In the movie -- starring Tina Fey and Paul Rudd -- Princeton University's admissions office seems woefully behind the times when it comes to technology, with applicant records kept in folders (orange of course). Admission or rejection is accompanied by a dramatic checking of a box (or in one case where an admissions officer is angry at an applicant's false claim, stamping the rejection twice on the folder). Princeton's admissions dean (played by Wallace Shawn) is traumatized by a drop from No. 1 to  No. 2 in the U.S. News & World Report rankings (when the only rankings indignity real-life Princeton suffers is being tied for the top spot with Harvard University).
Admissions experts have been buzzing about the movie for months, wondering how their profession would be portrayed by Hollywood -- and whether the film would add to the hysteria of many high schoolers and their families about the admissions process.
Inside Higher Ed recruited three experts to see the "Admission" on its opening day, and to discuss their reactions. While our experts identified flaws and omissions, they also saw positive messages for the public about admissions -- and some important truths about their fields. Our experts:
Theodore L. Bracken, director of federal relations for the Consortium on Financing Higher Education (a group of elite private colleges), who in the 1970s was an admissions officer at Princeton.
Nicole A.

Campbell, a

ssociate vice president for admissions at Trinity Washington University, a university with a very different approach to admissions than that of Princeton (in real life or the movie).
David Hawkins, director of public policy and research at the National Association for College Admission Counseling.
The plot follows Portia Nathan (Tina Fey) as a Princeton admissions officer, and viewers see her on trips to high schools, reading folders, and evading applicants and pushy counselors from fancy private high schools. The story line moves along until we see her participate in discussions with her colleagues on whether to admit certain applicants. Portia decides to be an advocate for one applicant whose grades wouldn't make him "Princeton material," and viewers see him face such hurdles as the alumni interview (with a snob -- probably not a scene that will be relished at Princeton reunions) and the campus overnight visit in the dorm. Portia faces ethical dilemmas (saying much more would be a spoiler), Liz Lemon-esque issues with her mother, a love interest and various insecurities.
Movies, Novels, Campuses
"Admission" follows a long line of films (and novels) set on campuses.
This movie is based (loosely) on a novel of the same name. The author of the novel, Jean Hanff Korelitz, and the screenwriter for the movie, Karen Croner, discussed in an interview in New York magazine this month how the two works differ. (Korelitz still applauds the movie version.)
Admission to Princeton played a key role in "Risky Business," although it is unlikely that the university encourages others to use the strategy of Tom Cruise's character.
An Inside Higher Ed article last year, prompted by the release of "Liberal Arts" (filmed at Kenyon College), discusses the college roles in such movies as "Animal House," "Rudy" and "Good Will Hunting."
The producers of "Admission" created a webpage on other films shot on campus, including "Love Story" at Harvard University and "Who's Afraid of Virginia Woolf" at Smith College. The site notes that Princeton has played roles before in movies as serious as "A Beautiful Mind" and as light as "Harold and Kumar Go to White Castle."
The experts agreed that "Admission" won't counter the media hype about how hard it is to get into college -- which may be true for Princeton but isn't true for the colleges at which most students enroll. The admissions world of the movie stresses the Darwinian competition among applicants. The admissions officers need to be protected from actual applicants, and parts of the office are off limits to non-employees.
"It made us seem a little mean," said Campbell. She came to Trinity -- an institution known for identifying talent among low-income students in the D.C. public schools -- from the State University of New York at Canton, so her view of recruiting is quite a bit different from the one in the movie. "When we go to recruit, it's much more collegial. It's 'Let us tell you about our school,' and encouraging them to apply and less of the 'I don't think you are good enough.' "
A lot of admissions officers, she noted, are focused on "the access mission," not sorting and denying entry.
But even with that caveat, Campbell praised one device used throughout the movie. Whenever Portia is reading an applicant's file, an actor playing the applicant suddenly appears in front of her (or on her desk). Campbell said she liked the way this suggested Portia's realization that applicants are real people "and not just numbers." (Less charitable is what happens to those actors when a decision is made to reject them, and they disappear as if falling through a trap door that has been opened.)
Hawkins said that while the move "exaggerated to make a point," he thought it did "fairly well capture the life of an admissions officer in a very familiar sort of way. The idea of reading [applications], the idea that you are on the road a lot and that you talk to successive groups of students, and that there is a certain routine you fall into." He also said that the interaction between high school counselors and college admissions officers reflected the real give-and-take as counselors push for their students, and admissions officers for their colleges.
Bracken said that the emphasis on long odds of admission is fair for Princeton and other elite institutions. But he said the idea of up-and-down votes of admissions officers on various candidacies portrays the process as "more democratic" than it really is. Even though admissions officers consult with one another and certainly don't agree, the decisions on the borderline cases are more likely to be made by the dean than via majority vote.
One of the most powerful scenes involves Portia making the case to her admissions colleagues about why they should admit the applicant whose grades aren't anywhere close to the norm for Princeton applicants. She talks about her certainty that he would succeed and contribute to the campus in ways that his paper record couldn't reflect, and that the university has an obligation to make room for such a student.
Bracken said that he found some realism in parts of that scene. Such applicants do exist, he said, and they get in only if they somehow connect with an admissions officer who decides to become the applicant's advocate. Long after he was an admissions officer, Bracken remembers such an applicant he fought for (with success), and said that he felt proud of having given this person a shot. (You'll have to see the movie to see if Portia had similar success.)
Hawkins said that when he was watching Portia's speech on behalf of the applicants, "I had the sense that this was a case being made about selective college admission over all. She's asking the question, 'Don't we have to make room for these kids?' I think the layperson watching will get the sense that this isn't just about that one person." Hawkins said that the movie in this way challenges the idea of "what it means to be Princeton material" (and one could substitute other competitive colleges for Princeton in that phrase).
Our experts all noted that the movie featured no discussion of financial aid -- perhaps odd given that the main applicant featured didn't have much money, and Princeton (in real life) likes to talk about the generosity of its packages for such students. Many of the Princeton scenes were shot on campus (though not in the admissions office), and several senior Princeton administrators are thanked in the closing credits.
Robert K. Durkee, a Princeton vice president who is one of those thanked, said he's in there because he is the one who had to decide whether to let filming take place on campus. Such decisions can be tricky. Wellesley College let the producers of the Julia Roberts vehicle "Mona Lisa Smile" film there, and many alumnae were outraged by the portrayal of the college in the 1950s.
Durkee said via e-mail that he wants those who see the move to "understand that it is not a documentary; it does not portray the Princeton admission process, it portrays a fictional admission process that is set at Princeton. We have no trap doors in our admission office."
He had praise as well. "I think the film does make an effort to convey some sense of the enormous challenges facing admission officers in making decisions when they have many more exceptional applicants than they can admit and when the applicants present credentials that range across a broad spectrum of backgrounds, experiences, motivations, and circumstances."
If he has an objection, he said, it would be that "the extraordinary quality and commitment to teaching of our English department faculty is not at all captured by the stereotypical English department faculty members who populate the film." (Indeed, those characters are not sympathetic at all.)
After discussing the film with our experts, Inside Higher Ed asked for a decision from the panelists. We considered letter grades, but the panelists decided the appropriate evaluation would be admit (go see it), waitlist (presumably meaning to wait for Netflix) or deny. All three voted admit.