You have /5 articles left.
Sign up for a free account or log in.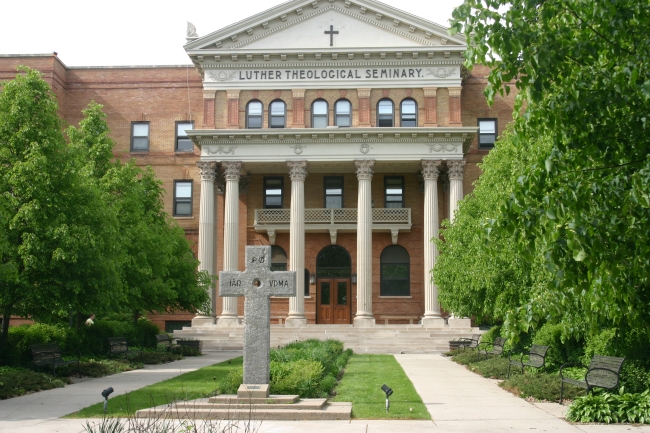 At first, Luther Seminary in St. Paul, Minn., could see itself as exempt from the economic forces shaking seminaries and theological schools nationwide. Luther is the biggest seminary for the Evangelical Lutheran Church in America, the largest Lutheran denomination in the United States. Among its peers, it had a reputation for being innovative. Individual donors continued to give, and its local area -- in one of the country's most Lutheran states -- was supportive.
Last fall, though, it all came crashing down. Enrollments were dropping. The seminary found it was running multimillion-dollar deficits, spending down its endowment and relying on loans. In December, its president, the Rev. Dr. Richard Bliese, resigned, as the seminary's board began to look at options to trim at least $4 million from the seminary's $27 million annual budget.
The results were announced last week: layoffs for 18 of its 125 staff members, many effective within a few weeks; the voluntary departure of 8 of 44 faculty members at the end of the academic year, who will not be replaced; the termination of a master's program in sacred music; and the decision to no longer admit Ph.D students for at least three years.
"I wish things were different," the interim president, the Rev. Rick Foss, wrote in an e-mail to faculty and staff announcing the changes. "I will never think of this as a good day; it simply isn't. There will be good days ahead, but this isn't one of them."
The changes at Luther have been unusually swift and dramatic. But the trends driving them are the same ones that seminaries are facing across the board. Enrollments are falling. Costs have increased, while student debt has become a bigger concern. Many Christian denominations, seeing their own ranks shrink, are providing less financial support than in the past. And as Americans as a whole become less religious -- almost one-fifth of adults now have no religious affiliation -- seminaries face an uncertain future.
At Luther, the changes have happened "in fast motion -- all of a sudden they see something and they have to do something about it," said Anthony Ruger, interim co-director of the Center for the Study of Theological Education at Auburn Theological Seminary, which researches theological education and offers consulting to seminaries. "That process is happening in slow motion at a lot of schools."
Long-term challenges existed for theological schools before the economic downturn. The damage to seminary endowments in 2008 threw those problems into sharp relief, and there has been little overall improvement as the economy improved, said Stephen R. Graham, senior director of programs and services at the Association of Theological Schools. The association, which accredits theological schools and seminaries, has grown in the past five years despite the economic challenges.
Many of those new members have been evangelical seminaries. But the economic struggles of seminaries cut across the major divisions in American Christianity, affecting evangelical, mainline Protestant and Roman Catholic seminaries alike, Graham said.
Among the biggest factors causing the crisis: declining interest in attending seminaries. Seminary enrollment has been falling since 2005, and since many seminaries are small -- the median head count for a member of the Association of Theological Schools is 155 students -- the margin for error is small as well.
Explanations for the falling enrollments vary. Many denominations are seeing their populations decline or at least level off. The loss of denominational support, a trend that began decades ago, has also passed costs onto students, and prospective seminarians are more concerned about debt than they have been in the past. Borrowing is increasing, and while students who take out federal loans are eligible for income-based repayment, those who go into ministry are ineligible for public service loan forgiveness.
At Luther, where enrollment dropped by 7 percent, or about 60 students, over 5 years, the seminary had assumed that its ranks would be growing instead, said Foss, the interim president.
"They were hiring and doing things with sort of the optimistic assumption that we could expand and grow," he said. "With some of the downturns that happened in the past couple of years, and young people feeling the stress of college debt, we didn't lose a whole lot of students. But we didn't grow."
Despite the economic stress, most seminaries have managed to hold on and avoid closure. A few have shut their doors in recent years -- most recently, Bangor Theological Seminary, which serves the United Church of Christ, announced it would close in May; Washington Theological Union, a Catholic seminary, closed in 2011. In general, though, seminaries and theological schools have been "remarkably tenacious," Graham said.
So far, Luther has focused mostly on short-term cuts. The faculty and staff reductions announced last week, as well as closing the day care center, will save about $3 million out of the 2013-14 budget, Foss said.
For most seminaries, ensuring long-term survival also involves asking difficult questions, said Ruger, of Auburn Theological Seminary. "It's very, very complicated, and there are a lot of intense feelings," he said. "Sooner or later you do have to ask: What is our mission? What are we trying to do and how can we best accomplish it? There are very deep questions about what our identity is, who we are, what we do."
In many cases, survival has required selling off property or losing independence. More seminarians enroll later in life than in the past, meaning that seminaries often don't need buildings filled with dorms and apartments. Others have worked to develop online programs, requiring less of a physical footprint, and selling or leasing their additional facilities.
One of the more promising paths forward involves affiliating with a college or university, or at least increasing collaboration. Some of those partnerships are long-established, and those schools tend to be doing better than their peers; the majority of the Association of Theological Schools' new members are seminaries in partnerships with colleges, Graham said. Others are new. The Lutheran Theological Southern Seminary merged last year with Lenoir-Rhyne University, a Lutheran college in North Carolina, and the Mennonite Brethren Biblical Seminary merged in 2010 with Fresno Pacific University, a Christian liberal arts college affiliated with the Mennonite Brethren.
"There are lots of ways for schools to carry on their traditions and keep their mission going, as long as they kind of find the alliances and partnerships and so forth," Ruger said. "They don't have to have a great big giant campus with all of its deferred maintenance and all of those challenges. There are a great many ways to go forward."
At Luther -- which is searching for a new president as well as reconfiguring its curriculum to try to consolidate programs -- getting the finances in order will take a year or two, Foss said. The college, which appeared immune from the financial pressures affecting some of its Lutheran peers, is grappling with the same question: How do you provide an expensive education with declining support from denominations and rising concern about passing the costs on to students?
Some of the changes -- which he described as a "reimagining" as well as a downsizing -- might help answer those questions, Foss said. "We've had a great curriculum for the past and the present, and we need one for the present and the future," he said. "In the middle of this, we're doing all sorts of good things moving forward. The hard part is there are human beings in the middle."