You have /5 articles left.
Sign up for a free account or log in.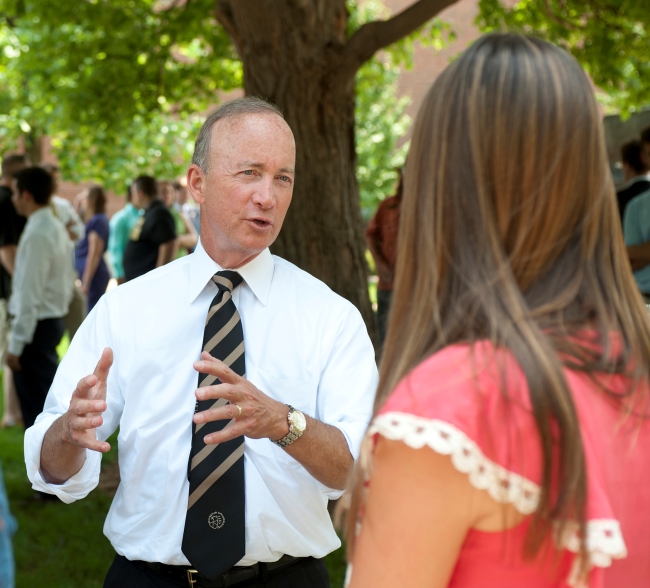 WEST LAFAYETTE, IND. – A conservative Republican governor walks into a university president's office.
It sounds like the start of a bad joke (or, in certain parts of the country these days, an academic's nightmare), but it's a daily occurrence here, where Mitch Daniels recently assumed leadership of Purdue University after a high-profile eight-year run as Indiana's governor.
Daniels might seem an odd choice for Purdue, a public land-grant university with an emphasis on science and engineering. The institution has historically been led by accomplished researchers and academic administrators, and most of Daniels's predecessors held advanced academic degrees in science, medicine, math or engineering.
Daniels, who attended Princeton University's Woodrow Wilson School of Public and International Affairs as an undergraduate and received a law degree from Georgetown University, is not a scientist or engineer, nor does he have significant academic experience. His C.V. includes no peer-reviewed papers, no courses taught and no previous academic administrative experience. His career spans a range of government and private-sector administrative jobs, and his fame in the political world comes predominantly from the budget-cutting, small-government attitude with which he approached these various positions.
His time as governor was also not one likely to endear him to the academy. He oversaw budget cuts to the state's public universities, eliminated collective bargaining for state employees, signed a bill denying in-state tuition to undocumented immigrant children, ended state funding for Planned Parenthood, prohibited abortions for women more than 20 weeks pregnant and passed right-to-work legislation -- all moves that generated some backlash from academics and college students. In his 2011 book Keeping the Republic he said students received "a one-sided view of the world when in college," pointing to what he perceived to be liberal bias in the academy.
Daniels's Higher-Education Views:
On tuition: "Every university community should embrace shared responsibility to reexamine current practices and expenditures with a determination to keep its tuition and fees within the reach of every qualified student."
On new revenue: "One place I don't expect it to come from is our fellow taxpayers."
On measuring outcomes: "Financial success is the single best measure we have to measure performance. It can't be the only measure, but since we're charging a lot of money, it has to be part of the equation. Does society put a high value on what we're doing here."
On shared governance: "The faculty must have the strongest single voice in these deliberations, but students and staff should also be heard wherever their interests are implicated."
On intercollegiate athletics: "One, please, never embarrass the university. Conduct has to be unimpeachable and we can't be looking the other way when somebody does something. Two, student-athlete has to mean what it says -- real students going to real classes getting real grades. Three, pay for yourself. Don't ask us to raise tuition on a student from Brookston so we can have a third set of uniforms for the football team."
Moreover, many viewed with skepticism the process through which he was selected: he appointed the Purdue governing board members who selected him. And just two months into the job, he announced a $40 million budget cut without first figuring out where that money would come from. It seemed that Purdue had the recipe for a confrontational and controversial presidency.
"I was quite surprised when the announcement was made, and I wasn't enthused at the time," said J. Paul Robinson, a professor of biomedical engineering and chair of the University Senate. "A lot of faculty were critical, very critical."
But just three months into Daniels's presidency, things couldn't look more different. The skepticism has evolved into guarded optimism. Daniels appears to have supporters in most corners of the university – including many faculty members who previously expressed trepidation. He has challenged institutional orthodoxy on the way higher education budget decisions are made, and he is still standing.
"This might be a pretty good thing for Purdue," said David J. Williams, a professor in Purdue's school of veterinary medicine and vice chair of the University Senate. "We're on different planets politically, but I look at the man and I see someone who has been successful in the private sector, a person who has been very successful in the political arena, a person who could have possibly been president of the United States. And I think maybe he's the right person at right time at the right place. He could come into Purdue, and he could harness the incredible entrepreneurial nature of the university and do something with it."
Daniels has built support in a way that many at Purdue say would only be possible for an outsider – by approaching the presidency without preconceived notions of how to operate in the job; by meeting with as many university stakeholders as possible to hear a range of opinions; and by being willing to change his mind on issues.
"I think he came in with a clear plan of what he wants to see for the future of Purdue," said Marcus K. Rogers, president of Purdue's chapter of the American Association of University Professors. "But he also did his homework, wanting to really understand the whole academic infrastructure and academic culture. He got himself up to speed and began to understand that things look different from the outside than when you're on the inside."
It remains to be seen how long the good will lasts. Daniels seems eager to rethink how universities like Purdue do business, and his agenda in his new role would be an ambitious one for even the most seasoned administrator. His priorities include controlling the cost to students and Indiana taxpayers while increasing the return on investment; developing a series of metrics to better measure learning outcomes; growing the university's research enterprise at a time of limited federal dollars; and streamlining the institution's operational costs.
Because of that agenda and Daniels's national profile (he was widely speculated to be a candidate for the Republican nomination for U.S. president in 2012), Daniels is likely to be one of the most-watched university presidents in the country over the next few years. He has set out to influence the national discussion about not just what university presidents should do, but how they go about doing it.
Daniels's appointment comes at a time when many university leaders from more "traditional" backgrounds – distinguished research and teaching careers and various academic administration positions – have struggled to deal with the challenges posed by a changing fiscal, technological and political environment. And yet Daniels's skills – a "wonkish" understanding of budgets, an executive's ability to manage disparate interest groups and make decisions, a politician's ability to convince others on a course of action and raise funds, and a responsiveness to constituents' concerns – seem to align well with these challenges, and they are already showing fruit.
An Unlikely Pick
Political figures are not totally foreign to higher education administration. The University of Oklahoma's president, David L. Boren, was a governor and U.S. senator before accepting his current job. Terry Branstad was president of Des Moines University in between his two tenures as governor of Iowa. And many public university system leaders, including the chancellors of most of Texas' public university systems, held political office before stepping into the presidency.
But Purdue wasn't specifically looking for a politician when they began their search in the summer of 2011. The board convened a 13-member search committee consisting of trustees, academic administrators, faculty members and other university figures such as the head of the alumni association and the athletic director.
"The charge we were given was to place a real priority on finding a demonstrated leader who had experience running a complex organization," said Michael R. Berghoff, president of a steel company in Indianapolis, who sits on Purdue's governing board and chaired the search committee that selected Daniels. "And we fully expected it to be a university president from a major university."
Daniels's Professional Background:
Governor of Indiana, 2005-2013
Director of the White House Office of Management and Budget, 2001-2003
Multiple Senior Executive Positions, Eli Lilly and Company, 1990-2000
Chief Executive Officer, The Hudson Institute, 1987-1990
Chief Political Officer and Advisor to President Ronald Reagan, 1984-1986
Executive Director, National Republican Senatorial Committee, 1983-1984
University governing board members and search consultants say finding candidates for a research university presidency has become more difficult in recent years. There has been rapid turnover of public research university presidents driven partly by an aging talent pool. There has also been a decrease in the number of provosts – the traditional stepping-stone to the top job – interested in the presidency, and an increase in the job's complexity, which makes fewer people seem "qualified."
When Purdue launched its search in 2011, it faced competition from several other research universities who were also conducting searches. The list included Iowa State University, Rutgers University, the University of New Mexico, the University of Oregon, the University of Arizona and the University of California at San Diego.
Williams said a faculty committee canvassed Purdue's professors about what they wanted in the next president. They said one of the top priorities of the search should be finding an accomplished academic. Williams said the faculty proposed sending a letter to the search committee with that demand, but, at his urging, decided against it.
Faculty members said Daniels's name was in the mix from the moment the search started, but search committee members and Daniels himself said this was not true. At the time the board began its search, Daniels was in the middle of his second term as governor. He was considering a bid for the Republican nomination for U.S. president. And Daniels said he was entertaining a number of private sector positions for when his tenure ended. "I didn't go looking for this job," he said in an interview.
Berghoff said Daniels's name came up when the committee solicited nominations. He said there were several aspects about Daniels as a candidate that appealed to him and Keith Krach, the board's chairman. Daniels had a clear track record of managing complex institutions – most notably the state of Indiana, which Berghoff said had clear parallels to managing a higher education institution. He had demonstrated the ability to turn around an institution in trouble. He knew how to manage competing interest groups and build consensus.
Daniels, by virtue of his profile, could also bring prominence to Purdue, Berghoff said. As governor, Daniels had a strong commitment to education, though some of his reforms had been controversial. He also understood the value of economic development and how science, technology and engineering research could play into the state's economic future. "Finally, he really loves this state," Berghoff said. "He's passionate about this state and this country, and being university president allowed him to make a difference in that."
Daniels's experience with complex institutional budgets also appealed to the committee. "Because of the changing climate of how higher education is funded, we knew that the model wasn't sustainable before we settled on Mitch," Berghoff said.
Because of all that, Krach and Berghoff began reaching out to Daniels to have him consider the job. But Daniels said he repeatedly rebuffed the board's overtures, and the search committee pressed ahead.
Berghoff said the committee prepared to nominate several "traditional" candidates to the board when Daniels, having decided against a presidential bid, changed his mind and formally entered the search process. "It was partly the nature of the school," Daniels said, noting that engineering, technology, science and agriculture are vital to the economy and will only grow in importance. "We need more of what Purdue is doing." He noted that his interest in the job also stemmed from his broader interest in higher education, the issues facing the sector and the possibility of "being a small part of the answer to that." He also said the idea of holding "another prominent executive position" in the state of Indiana was enticing.
A conservative lawmaker stepping into a university presidency would go over poorly in many states because such lawmakers' ideas tend to clash strongly with those of many vocal academics and students. But it is less radical in the case of Daniels and Purdue. While Daniels was conservative on fiscal matters as governor, and signed several bills on social issues, he is not typically associated with many of the conservative views on social issues that generate so much debate on college campuses. He even went so far as to suggest a "truce" on social issues while the country dealt with its economic problems.
And Purdue is not as liberal as many college campuses, given its location and focus on engineering, agriculture and science. "Indiana is a very conservative state, and Purdue been pro-Republican as long as I've been here," Rogers said.
'The Blade'
Daniels's Performance Contract:
Daniels asked that the base pay for his position be lowered from $555,000 his predecessor received to $420,000.
Daniels could then receive up to 30 percent more if he meets certain outcome metrics laid out by the board, for a total of $546,000.
The criteria "include, but are not limited to: (a) monitoring individual student debt, seeking affordability and striving to maintain debt lower than the national average; (b) seeking year-to-year improvement in graduation completion rates; (c) seeking to develop programs to measure the growth of student academic knowledge and understanding; (d) establishing a metric to recognize overall academic excellence of the University using achievements such as faculty awards, citations, patents, and national and international academic honors; and (e) raising funds from alumni, friends, corporations, and other public and private sources to financially support University programs."
Purdue's governing board has laid out a handful of priorities for Daniels that include improving student success, enhancing institutional excellence, optimizing research activities and improving operational efficiency. Up to 30 percent of Daniels' salary is dependent on meeting those goals.
A look back at Daniels' record shows that he has a strategy that he returns to time and time again, almost regardless of the position he's holding: budget cuts. As director of the Office of Management and Budget under President George W. Bush, Daniels proposed steep cuts in federal spending that earned him the nickname 'The Blade.' As governor he cut Indiana's budget in fat and lean years.
And within three months on the job at Purdue, Daniels was announcing budget cuts again. On March 1, Daniels announced for the first time in 37 years, Purdue would forgo a tuition increase. The university would also hold tuition steady for the following fiscal year as well.
The cost of tuition and for Indiana residents who attend Purdue was $9,900 for the 2012-13 school year, which was higher than the median for public universities with the "Very High Research" Carnegie classification and higher than Indiana University. With room and board, Purdue's cost of attendance for Indiana residents is $20,278, though some programs, such as engineering, require additional fees.
Daniels sent a letter to the university community on March 18, explaining that because the university would forgo two years of tuition revenues, it would have to free up an additional $40 million over the biennium through cuts or new revenues.
The first action was the elimination of merit raises for all university administrators making at least $50,000 a year, a move anticipated to save $5 million over the biennium. Daniels also announced that that the university was slashing its lobbying budget, which is predicted to save $185,000. Changes in the university's cash management strategy will generate an additional $5 million in revenue that will go toward the $40 million goal.
For Daniels, the $40 million in cuts serve two purposes. First, it will help hold down the cost of education for families, a move that is politically popular these days.
But he said there's also a larger purpose to the cuts, a more philosophical shift for the institution. "It will fasten everyone's attention on the student," he said. "For too long, we've done what the institution wanted and then sent a bill. If everyone's truly concerned about tuition, why don't we agree on that? That will give us common purpose. It will get us all agreeing on something, which will be important for whatever comes next."
Any savings identified as part of the effort will be directed to a "Student Affordability and Accessibility Account." The idea is to reassure faculty members and administrators that the savings will not go toward new programs or administrators' salaries, but will keep tuition down for students. Daniels said he is encouraging everyone to chip in, either by pointing out ways the institution can save or generate money or by forgoing their own raises.
"I heard over and over, 'I am concerned. I got a lot of students that I know are really pressed or borrowing money they really shouldn't borrow or that sort of thing. If I knew that changing this or changing that would actually alleviate that problem and not be spent on something I can't identify or something not essential, I'd feel differently about it,' " Daniels said Thursday at a town hall forum. "So that's what we're trying to set up."
Daniels said he wants to instill a culture of efficiency in the institution, to make affordability to students a top priority, because he believes that is one of the few things that everyone at the institution can agree on.
"I'm really excited that if we could possibly build a culture of economy and students-first across the campus," Daniels said at his town hall Thursday. "If many or most people thought about this and felt encouraged, empowered to step forward, if we became agile at acting on it widely, that we would free resources to make some investments we want to make."
Whether the strategy can generate the necessary $40 million – which Daniels said only amount to about 2 percent of the university's non-research budget each year – remains to be seen. Faculty expressed some skepticism that, like most budget cuts, the cuts wouldn't affect what they see as a "bloated" administration and rather end up harming the pocketbooks of faculty members and support staff.
Daniels' budgeting strategy is somewhat of a challenge to how institutions typically budget and think about tuition. It puts tuition price near the top of the university's priority list, an emphasis that typically comes from outside stakeholders such as lawmakers. "It has been too easy in higher education for institutions to decide first what they would like to spend and then raise student bills to produce the desired funds. That approach has run its course," Daniels wrote in his March 18 letter. "At Purdue, we will make our first goal affordability, accommodating our spending to students' budgets and not the other way around."
He said this approach could help build support and funding from state lawmakers, though he's not counting on large increases in state appropriations.
What's on Daniels's Bookshelf?
After being named president, Daniels said he read widely about higher education. Here are some of the higher-education books on his office shelf:
Higher Education? How Colleges Are Wasting Our Money and Failing Our Kids – And What We Can Do About It by Andrew Hacker and Claudia Dreifus
The Fall of the Faculty: The Rise of the All Administrative University and Why It Matters by Benjamin Ginsberg
Going Broke by Degree: Why College Costs Too Much by Richard Vedder
Crossing the Finish Line: Completing College at America's Public Universities by William G. Bowen, Matthew M. Chingos and Michael S. McPherson
Academically Adrift: Limited Learning on College Campuses
by Richard Arum and Josipa Roksa
'Mitch the Mooch'
Building consensus for any kind of dramatic change is a challenge in higher education these days. Several university presidents in recent years have faced backlash for moving ahead on projects when they thought they had buy-in, only to find their support evaporate.
Daniels's strategy for building consensus resembles another tactic he has employed in other jobs: having a lot of conversations. When he campaigned for governor, Daniels traveled the state in a van, eating dinner at Hoosiers' houses and occasionally sleeping on their couches or in a spare bedroom, a tactic that earned him the nickname "Mitch the mooch."
He seems to be taking the same approach in his job at Purdue. In the six-month period between being named president and assuming the job, Daniels met with a variety of Purdue stakeholders and other higher-education leaders.
Faculty say the most important thing he did was reach out to them personally. While he spoke with the leaders of faculty governance structures, he also reached out to faculty members directly. In numerous conversations, Daniels spoke with faculty members about their goals, their role in the institution and where they wanted to see Purdue go, as well as his own hopes for the university. He had meals with faculty members and staff, held forums where he answered their questions, invited them to receptions at his house and fielded their questions when he ran into them on campus.
Faculty members say that strategy seems to have won him a lot of support. At 5'7" and soft-spoken, Daniels is not an overbearing presence. Faculty members say he has a strong ability to relate to people and he genuinely seems curious about the issues affecting higher education.
"If you spend any time with the man, you almost can't help but like the person," Williams said. "For one of our first meetings Paul [Robinson] and I brought three faculty members from humanities, who in particular had been vocal in their outrage about having a conservative Republican politician as president. We had lunch with him, and in no time at all he had two of those three people won over."
At a forum for new faculty members March 26, he asked individual faculty members about research, their experience at Purdue and what he could do to help. He connected with them by talking about sports, and, with one faculty member, motorcycles.
Daniels also seems open to changing his mind on higher education issues, faculty members and students said, which has earned him respect among their ranks. "He hasn't been afraid of being in public so by being in public he's exposed himself in a way that says 'I'm open to ideas, I don't have fixed ideas you might have thought I might have had,'" Robinson said.
Daniels admits that since taking the job he has changed his mind on several issues as a result of his conversations with faculty members, administrators and students. For example, he said he came into the role with an expectation that the university could generate more revenue through commercializing research, something a number of politicians have advocated. "I realized it's a lot more complicated than that," he said. "You really have to get lucky to make money."
He said the priority should be easing the flow of research into industry.
Robinson said his fears that Daniels wouldn't respect the role of faculty in governing the institution or that he would seek to limit the time faculty spend on research were assuaged through his conversations with the new president.
"I think that he came to the conclusion at some period of time between the time [his selection] was announced and the time he came to the university -- I'm not suggesting he didn't appreciate faculty before then -- but … he clearly came to the conclusion that the heart of the mission of the university were the faculty who teach all the students, who bring in all the research money, who make all the discoveries, who create the patents, who write the books, the papers, who give the talks," Robinson said.
He even seems open to rethinking recent assumptions. In Thursday's town hall forum, he said he was rethinking the structure of the freeze for administrators after audience members said the policy would affect support staff who made only $50,000 a year.
Daniels has also been active about soliciting student input. When he walks across campus, he talks with students, asking them how he's doing in the job. He talks to them about where they're from (he's been to every county in the state), what they're majoring in and how their experience is on campus.
"President Daniels, more directly than other presidents I've worked with, wants to know, 'What do students think?' 'What is the response going to be?'" said Joe Rust, a junior and Purdue's student body president. In a meeting with Rust and another student government official on March 26, Daniels asked how students were receiving news of the tuition freeze.
Daniels seems to genuinely like interacting with undergraduates. He works out in the student recreation center most days during lunch. He regularly dines with students in their residence halls. He even had Rust over to his house one morning and made him oatmeal.
A Leader in Education?
How long Daniels' "honeymoon period" lasts remains to be seen. Daniels said he is less worried about a short honeymoon than the burden of high expectations.
Given his national prominence, all of Daniels' efforts are likely to attract notice. Publications that might not have thought twice about Purdue University, such as The Daily Caller and National Review, are now talking about higher-education budget models, university president compensation and management strategies.
Daniels said his strategy is less to be a typical thought leader in higher education – by doing things such as engaging in national discussions and penning op-eds – than to do what he can at Purdue and hope that others take notice. It's an attitude Purdue faculty called "Hoosierish," after the humble and soft-spoken nature they see in the state's residents.
And Daniels seems likely to continue to question many of the assumptions his peers make. While most other presidents in the Association of American Universities were penning newspaper columns and speaking out against sequestration, which cut federal research funding, Daniels said in a town-hall forum Thursday that he ignored pleas from national organizations to speak out against the cuts.
"I've seen this show before," Daniels said Thursday. "The federal government's awash in money. This level that they're talking about taking a little bit off of is so much higher than it was two or three years ago."