You have /5 articles left.
Sign up for a free account or log in.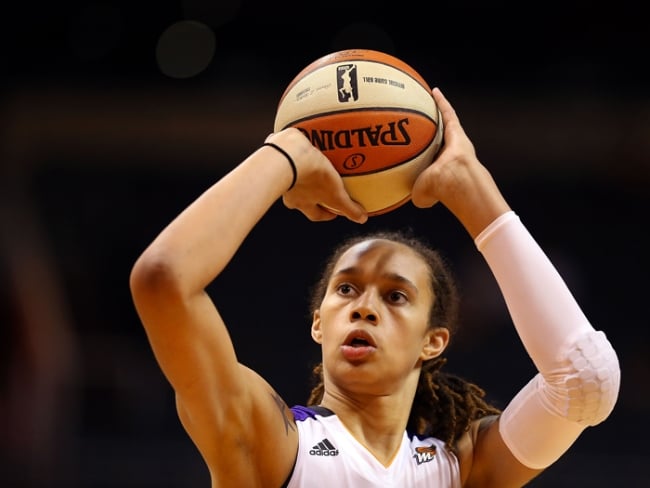 When Brittney Griner, Baylor University's star basketball player and one of the most celebrated athletes in the history of the sport, came out publicly as gay last month, she was rather nonchalant about it. She didn't write a Sports Illustrated cover story – à la professional basketball player Jason Collins, a few weeks later – she just sort of mentioned it in media interviews. Griner is "someone who's always been open," she said, with family, friends and teammates.
But, as Griner revealed a few weeks later, she wasn't allowed to be open as much as she might have liked. That's because Baylor head coach Kim Mulkey told her and her teammates not to talk publicly about their sexuality.
"It was a recruiting thing," Griner told ESPN. "The coaches thought that if it seemed like they condoned it, people wouldn't let their kids come play for Baylor."
Griner's account followed on the heels of speculation that her coming out signaled a new age at Baylor – a private Christian university whose nondiscrimination policy does not cover sexual orientation and whose student handbook entry for "sexual misconduct" includes as examples of inappropriate actions "homosexual behavior" and participation in "advocacy groups which promote understanding of sexuality that are contrary to biblical teaching."
But the news about Baylor's gag order was a sobering reminder that while lesbian, gay, bisexual, trans and queer advocates have made progress in college sports – and the National Collegiate Athletic Association is actively pushing an LGBT inclusion campaign – they still have a long way to go.
"Most of the athletes who are in her situation never say anything, but it's not a new situation," said Pat Griffin, a scholar on LGBT issues and author of Strong Women, Deep Closets: Lesbians and Homophobia in Sport. "What's new is that Brittney Griner has the courage not only to come out, but to call the game."
Baylor's unofficial rule against talking openly might seem like an outdated if not outright ridiculous concept at a time when states are legalizing same-sex marriage, the general public is more accepting of homosexuality than ever, and 7 in 10 incoming college students believe same-sex couples should have the right to marry.
And college sports have not been immune from those cultural shifts, to be sure. Rene Portland, the former and extremely successful women's basketball coach at Pennsylvania State University, made no secret of her disdain for homosexuality, at least on her team – "I will not have it in my program," she told the media. The brazen discrimination continued until 2007, when Portland resigned after settling a lawsuit with a former Penn State player who said the coach made her miserable and threw her off the team because of suspicions she was gay.
Such open hostility would be hard to find these days. (Coaches of men's teams arbitrarily shouting homophobic slurs at athletes during practice, however, is another matter.) But women's sports have a storied history of "negative recruiting," whereby coaches try to steer athletes away from other programs by suggesting they tolerate or condone homosexuality. It's often a subtle nudging: emphasizing the "family values" at the coach's own program, or telling parents they wouldn't be comfortable with the "lifestyle" on other teams.
The practice speaks to the gender stereotypes that still pervade sports, despite social progress. Negative recruiting is basically nonexistent in men's athletics, where it's assumed (wrongly, of course) that everyone is straight. But it lingers in women's sports, where the assumption is the opposite. In part, that is why the reaction to Griner's coming out was rather muted compared to Collins'. (Collins is also the only athlete in a major professional sport to come out as gay. No male college athletes in a major sport – football, basketball, baseball or hockey – have done so.)
The same "don't ask, don't tell" culture that keeps athletes from speaking out keeps coaches in the closet as well. In their case, it's not an explicit decree from up the chain of command, but that same fear that having a lesbian at the helm will hurt a program's ability to recruit. Among coaches, the fear is "endemic," Griffin said.
Sherri Murrell, the only Division I women's basketball coach to publicly come out as gay, did so much the same way Griner did – Portland State University asked if she wanted a family photo in the athletics media guide, and she said yes. But that picture of Murrell, her partner and their two children transformed the coach into an icon and beacon of hope for the athletes and coaches who – whether for fear of retaliation or public scrutiny – haven't been able to be so open.
Just the other day, Murrell got an e-mail from a coach at a non-Division I institution whose athletic director told her to hire more men to help with recruiting so the program had more "straight" representation.
"People are still fearful for their jobs…. If athletic directors are forcing people to be in the closet, then you've got some issues," Murrell said. "What matters is that we are morally and ethically doing the right thing as coaches and teaching players that this has nothing to do with anything."
In addition to more education on the issue for athletic directors, Murrell sees a need for more straight allies to step up in support of gay athletes. But there is a paradox at play in women's sports: more lesbian athletes are coming out, but fewer straight athletes are speaking out (again, the opposite is true in men's sports).
"It continues to be difficult to have strong female voices talking about respect and inclusion," said Hudson Taylor, founder of Athlete Ally and a former wrestler at the University of Maryland at College Park. Part of that is a perception that it's easier for female athletes to come out. (Griner, in fact, was taunted and bullied about her "masculinity" and her sexuality for years.) But – as evidenced by Mulkey and Baylor – there are still some very real obstacles.
"When athletes come out, it puts the spotlight on what the current climate is actually like," Taylor said. "At the end of the day, if we're going to make meaningful change to our athletic community, we'll do it by educating a generation of allies to start speaking out."
Taylor worked with Griffin to write a resource guide on inclusion of LGBTQ athletes and staff in college sports, which was commissioned by the NCAA's LGBTQ subcommittee. They presented on the topic and the report (published in March) at the annual NCAA convention, and the NCAA has an entire summit devoted to inclusion.
All NCAA member institutions have access to the resource guide. But "inclusion" means "being open to them being open," Griffin said -- not saying, You can be out but not publicly out.
"It's an environment where people can just live their truth – they don't have to be afraid that if they reveal themselves to their teammate, to their coaches, to their fans, to whomever, that it will be bad," Griffin said. "Athletes and coaches can be as open as they choose to be about who they choose to love or how they identify themselves."
Many athletes, raised to put their sport above all else, segment their person – they might identify as gay, but they also identify as athletes, and the latter takes precedent.
"Sport culture is unique in that respect – you are forced to kind of privilege above all else your sport identity because that's what they're told they have to do to succeed," said Kristine Newhall, co-founder and contributor to the Title IX blog. "You hear the same kind of discourse coming from these female athletes who are saying, yes, I'm coming out to you, the world, but I was always out."
But Griner's announcing her sexual orientation – nonchalant as it may have been – shows that in today's world, to today's athletes, it's really not a big deal, Murrell said.
"The bottom line is the kid's an outstanding basketball player and brought home some championships to Baylor. That's a special thing, and they need to embrace everything, not just her rebounding, not just her shooting – but the fact that Brittney is a wonderful person who identifies as a lesbian," Murrell said. "I think there's going to be a lot of good positives to come from it."