You have /5 articles left.
Sign up for a free account or log in.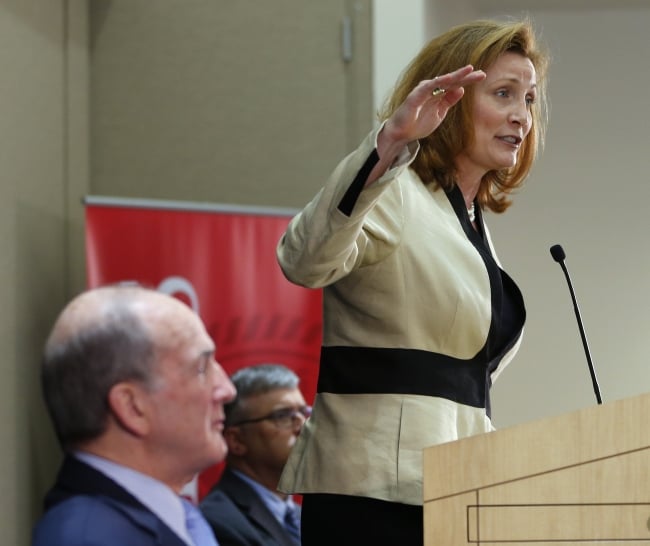 For Rutgers University athletics these days, if it isn't one thing, it's another.
Over the course of just a few days, Rutgers's new and crucial hire, Julie Hermann, went from being known as the university's first-ever first female athletics director to an allegedly abusive former coach who was targeted in sex discrimination lawsuits.
The new developments would be cause for concern at any institution, but at Rutgers -- which was just starting to move past the massive fallout from the former basketball head coach Mike Rice's abuse of players – they're downright shocking.
To top it all off, it has been just a few weeks since Rutgers had to admit that, contrary to previous assertions, its new men's basketball coach did not actually obtain a degree from the university.
The string of news raised questions about Rutgers's vetting process -- or lack thereof. The events of Hermann's past may have indeed warranted further investigation during the search process, experts who conduct executive searches said.
But more important is whether the Rutgers search committee and the firm it hired did their jobs thoroughly, exhausting all possible resources to get all the available information (and both sides of the stories), then made an informed decision that's right for that university.
"If there are flags, those flags should be investigated and then a determination should be made of whether they're warranted or not, and if they are warranted, there should be consequence to that," up to and including disqualification, said Jamie Ferrare, senior vice president of the Association of Governing Boards of Universities and Colleges and principal of AGB Search. He said it's unusual for major allegations or issues to emerge after a candidate has already been hired. "It goes without saying that in some searches, work is done more thoroughly than others."
Rutgers paid Parker Executive Search $70,000 to advertise the athletics director position, identify candidates and perform background checks on them, the Asbury Park Press reported Wednesday. According to the newspaper, the background checks included "media reviews for potentially controversial areas of concern," and checking criminal records, college degrees and references, both those submitted by the candidate and identified by the firm. (One search executive from a different firm told the newspaper a standard background check would include reviews of court filings.)
These days, most firms are going beyond traditional search practices, said Greg Santore, vice president and sports leadership practice leader at the Witt/Kieffer search firm.
"One way of exploring past experience is through "deep-dive" interviews, which take a very methodical approach and go through past experiences step by step and, importantly, how and why the candidate made key job and career decisions," Santore said. "These things take time, which people in the sports world don''t always like, but they''re important."
At least four Rutgers officials -- Rice and the former athletics director, general counsel and an assistant basketball coach – lost their jobs in the wake of the recent scandal, which exploded when a leaked video showed Rice physically assaulting and verbally abusing players with homophobic and sexist slurs. President Robert Barchi remained in office despite calls for his resignation, but on Tuesday a campaign to #FireBarchi was again emerging on Twitter. Barchi, however, issued a statement of support for Hermann, who said she was told she'll keep her job. 
Hermann's trials began last week, when former players she coached 16 years ago at the University of Tennessee told The Star-Ledger of Newark that she was verbally abusive, calling the athletes "whores, alcoholics and learning disabled." More than a dozen athletes met with her and delivered a written letter, they said, and Hermann responded by saying she was done coaching them, then moved to an athletics administrator position.
The Star-Ledger also reported that a jury in 1997 awarded Ginger Hineline, a former assistant coach at Tennessee, $150,000 after she claimed in a lawsuit against the university that Hermann fired her because she was pregnant.
Hermann says she remembers neither the players' letter nor the fact that she attended the former assistant coach's wedding, where she joked on a video for Hineline that the bride shouldn't have too good a time on her honeymoon because it would be hard to have a baby in the office.
Finally, on Tuesday, The New York Times reported that when Hermann was an administrator at the University of Louisville, she was targeted in a sex discrimination lawsuit by the former assistant track and field coach Mary Banker. The coach said Hermann was responsible for her firing in 2008 after Banker complained to human resources about male coaches discriminating against her. (A jury awarded Banker $300,000, but an appeals court reversed the ruling. Banker is now trying to get the Kentucky Supreme Court to hear the case.)
While the immediate response from many critics and sportswriters consisted of various twists on "Has Rutgers Even Heard of Vetting?," one shouldn't assume the university was in the dark during the candidate search process, Ferrare said.
The search firm did ask about the Tennessee assistant who was fired, Hermann told the media. But she was not asked about the players' allegations.
The athletes' qualms were not publicly known, and the fact that the search committee either overlooked the changes -- or at least decided they weren't concerning enough to raise with Hermann -- points to the importance of broad reference-checking.
Based on interviews with people involved in the search process, the Bergen Record also reported that Hermann was the favorite of the committee co-chair Kate Sweeney, that the search "seemed totally set up," and that the process was also rushed because of travel conflicts.
A good search involves speaking to a wide range of people who worked with a candidate, Ferrare said, either above, below or parallel to her. A Louisville spokesman said that its athletics director, Tom Jurich, to whom Hermann reported there (and who has spoken highly of her since the allegations and lawsuits emerged), talked "at length" with "individuals associated with Rutgers" during the search.
The candidate's boss is an obvious one to check off the list. But search firms and committees should also consult with people who reported to the candidate or worked under her -- which in the case of a former coach, Hermann said, would include athletes and assistant coaches -- about everything from how she treated others to her budget management to how she handled crises. Then, if issues emerge, you take them to the candidate and get a guarantee they won't happen again.
"Maybe [the problem] wasn't germane to this particular area, or it was unsubstantiated, or maybe the person has shown that they've grown from that experience, you've turned a negative into a positive," Ferrare said. "Sometimes there are conflicting opinions on an individual, so you try and do your best job possible to substantiate the truth."
A Tennessee spokesman would not say whether officials there communicated with Rutgers, but sent a statement from former Athletics Director Joan Cronan that was somewhat supportive of Hermann.
"My recollection of the time Julie was at the University of Tennessee is that it was a very frustrating time for everyone connected with the volleyball program, which had performed far below our expectations," Cronan said. "However, I do not recall it being an abusive situation."
Criticism of Rutgers over the Hermann hire has undoubtedly been magnified in the context of what came before it. After Barchi fired Rice, he said a "failure of process" kept him from doing so sooner, and if he had intervened earlier the coach would not have been able to continue his abuse for so long.
"You would think then that the due diligence on the next candidate would be ratcheted up a step," Ferrare said, noting that it's never too late for a president to confront a hire about a past he wasn't aware of, and that Barchi should do just that.
"The importance of selection is magnified in this day and age because the stakes are so high and processes are much more transparent than in the past," Santore said. "The cost of failure is so great because, when a new coach, athletic director or any leader doesn''t work out, a replacement again must be found and the organization''s reputation must be repaired—, which is not easy and obviously takes a long time."