You have /5 articles left.
Sign up for a free account or log in.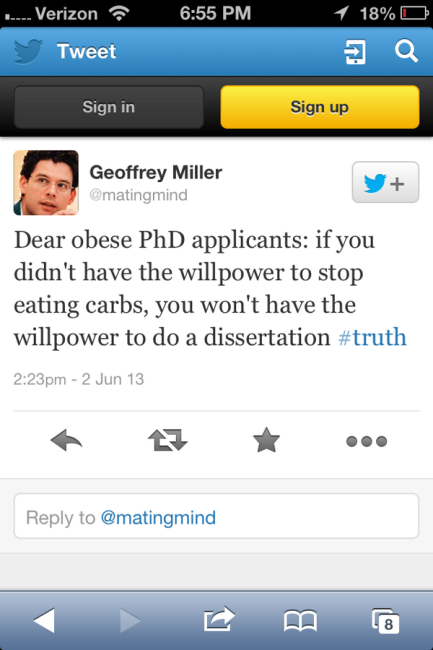 An evolutionary psychology professor sparked an uproar Monday after he told his Twitter followers that overweight students are not cut out for Ph.D. programs.
Geoffrey Miller, an associate professor at the University of New Mexico who is teaching this summer at New York University's Stern School of Business, tweeted this message on Sunday: "Dear obese PhD applicants: if you didn't have the willpower to stop eating carbs, you won't have the willpower to do a dissertation #truth."
The tweet was quickly deleted, but not before others had the chance to take screen shots of Miller's message and circulate the image on social media. And now the professor is facing #backlash — from the general public as well as from academics. Many are shocked that a professor whose job would include teaching students of all sizes would express such bias.
New York University journalism professor and media critic Jay Rosen tweeted, "Astonishing fatshaming tweet, since deleted, from an academic, @matingmind. The mind boggles," to his 117,200-plus followers.
A new blog was launched Monday in response to the furor. The blog is called Fuck Yeah! Fat Ph.D.s and features those proud of being "fatlicious in academia."
Chris Chambers, a psychologist and neuroscientist at Cardiff University's School of Psychology in Wales, wants to know whether Miller's tweet reflects the policy of University of New Mexico regarding admissions criteria for Ph.D. students. On his Twitter account, Chambers posted Miller's tweet along with an e-mail message he wrote to the University of New Mexico psychology chair, Jane Ellen Smith.
"I would also like to know what assurances you can provide that his previous student appointments were not based upon the body mass index of applicants," Chambers said in his e-mail.
A statement released by the University of New Mexico said that when Smith learned of the tweet, she contacted Miller. According to the statement, Miller told Smith his comment on Twitter "was part of a research project." In apologies Miller subsequently posted on Twitter, he did not mention any such research project. And Chambers said that he did not see how this could have been a properly run research project since the public did not give informed consent to participate in such an experiment.
In Smith's statement, she said of the claim that this was a research project: "We are looking into the validity of this assertion, and will take appropriate measures. As members of the UNM community, we are all responsible for demonstrating good judgment when exercising our academic freedoms regardless of the format," the statement said. It added that the tweet, "in no way reflects the policies or admission standards of UNM."
The university posted a video interview with Smith -- who studies body image issues -- on YouTube:

Miller did not respond to interview requests from Inside Higher Ed.
Following Miller's original tweet, he retweeted a Sophocles quote from @Patrick_Clarkin, which read, "All men make mistakes, but a good man yields when he knows his course is wrong, and repairs the evil. The only crime is pride."
Miller then sent out an apology tweet saying, "My sincere apologies to all for that idiotic, impulsive, and badly judged tweet. It does not reflect my true views, values or standards." One hour after that, he added, in another tweet, "Obviously my previous tweet does not represent the selection policies of any university, or my own selection criteria." (He has since made all of his tweets private.)
But many people aren't buying his apology. Linda Bacon, a nutrition professor at the University of California Davis and the City College of San Francisco, said Miller's tweet was "reprehensible." Not only is it "offensive to his students who may be overweight, but it also sets a negative tone for what is acceptable in his classrooms," Bacon said, by showing support for other students "who may have discriminatory attitudes." 
She said that even though Miller made his statement through a personal Twitter account, it is "still not acceptable" because it was specifically about what should happen at the university. She added that she believes both the University of New Mexico and New York University should take disciplinary action.
On Twitter, Atlantic correspondent and physician Ford Vox called the validity of Miller's apology into question, given an essay the professor wrote about Chinese eugenics.
"Not so sure: looking at your fawning writings re Chinese eugenics. Edge essay and Vice interview less 'impulsive?,'" Vox tweeted to Miller.
Miller's essay was published in Edge this year followed up by an interview with Vice, in which he argued that the Chinese government has a long history of eugenics, and he suggested that Western countries should be making greater efforts to pursue genetic research.
In an e-mailed statement, New York University spokeswoman Jessica Neville said Miller's tweet "was regrettable.  Professor Miller apologized for the Tweet and deleted it.  NYU considers the matter closed."
When asked whether or not he thinks there ought to be social media policies adopted for university faculty members, NYU's Rosen had a simpler idea: "My social media policy for media organizations is four words: don't be a jerk. I think that applies here," Rosen said in an e-mail. "We don't need specific policies dealing with discrimination. We need professors who understand why you cannot be a jerk on social media."