You have /5 articles left.
Sign up for a free account or log in.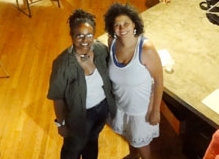 A federal judge has ordered Michigan to stop enforcing a law that has barred community colleges and many other government agencies (though not universities) from providing any benefits to the same-sex partners of employees.
While the ruling is only an injunction, Judge David Lawson used strong language in suggesting that he will soon throw out the law for good. He cited the Supreme Court's recent decision rejecting the federal Defense of Marriage Act to say that states cannot enact laws with the goal of discriminating against groups of people. "[I]t is hard to argue with a straight face that the primary purpose -- indeed, perhaps the sole purpose -- of the statute is other than to deny health benefits to the same-sex partners of public employees," he wrote.
Borrowing a metaphor from a court ruling in another case, Judge Lawson mocked Michigan's defense of the law as "close to striking [the court] with the force of a five-week-old, unrefrigerated dead fish."
The ruling does not affect Michigan's ban on same-sex marriage or require that public colleges or other agencies extend benefits to the partners of gay employees. Rather the ruling -- at least for now -- lifts a ban imposed by the state that resulted in such benefits being cut off. And the ruling could point the way, lawyers suggested, for gay employees of public colleges in other states without gay marriage to push for benefits. When some of those states barred gay marriage, they also barred any benefits from going to the partners of gay employees.
Stephen Sanders, an associate professor of law at Indiana University at Bloomington and an expert on the legal rights of gay people, said he saw the Michigan ruling as potentially significant for gay employees in many states without gay marriage. States that adopted laws for the purpose of cutting off benefits to gay people are going to be vulnerable, he said, in the wake of the Supreme Court's decision last week in Windsor v. U.S. to throw out the Defense of Marriage Act.
"Courts have sometimes held that such impermissible intentions may doom a program that otherwise might be defended on the basis of neutral grounds like saving money," said Sanders, who is involved with a suit challenging a benefits ban in Missouri. "Windsor's significance is that it underscores this principle," Sanders said via e-mail. "The usual deference courts show to policy makers is misplaced when the policy's purpose is to inflict harm. Just because a government policy disadvantages gays or some other group doesn't make the policy unconstitutional. But the Supreme Court has signaled in Windsor that lower courts should inquire more closely when the policy's primary purpose is to injure a group out of political or moral dislike."
If judges analyze these cases the way Judge Lawson did, Sanders predicts, some of these bans on benefits are likely to fall.
In Michigan, as in many states without marriage rights for gay people, many public colleges and universities have opted on their own to let their gay employees include their partners in family medical coverage offered to employees. That right was challenged after the state amended its constitution in 2004 to bar gay marriage. In 2005, the then-attorney general of Michigan issued an opinion saying that it would conflict with the state's amended constitution for any public entity to offer benefits to domestic partners. The reasoning was that these public entities were granting to the gay employees and their partners some benefits that the state had opted to restrict to heterosexual couples.
Several colleges and universities (and other public entities in Michigan) responded to this by creating a new benefits category of "other qualified adult," with whom an employee lives, shares finances and is not a blood relative (among other requirements). The other qualified adult might or might not be the same sex as the employee and need not be romantically linked. By making this a benefit not limited to same-sex partners, these public agencies believed they had found a way to resume benefits to same-sex partners and to others.
Michigan lawmakers, upset that some same-sex partners were again receiving benefits, responded by passing a law barring most public agencies (including community colleges, but not universities) from using the "other qualified adult" status to award health insurance or any other benefits.
The lawsuit that led to last week's injunction said that Michigan was violating its obligation to provide equal protection to gay employees by singling them out for discrimination, and Judge Lawson said that all of the evidence pointed to that conclusion, enough so for him to issue an injunction before a full trial.
He said that there was plenty of evidence that "animus" was behind the law, and he said there was little to back up the claims of state officials that they were motivated only by a desire to control health care costs. (Evidence presented by the plaintiffs showed that while the cost of lost benefits can be significant for those affected, the relatively small number of gay employees with partners who are not covered by other plans meant that the benefits were negligible in terms of total costs to the state.)
The office of Governor Rick Snyder, a Republican, told the Associated Press that state officials were studying the ruling. But the statement from the governor's office defended the law, saying it "was about ensuring fiscal responsibility and stewardship as domestic partner benefit policies, regardless of sexual orientation, can be written without real parameters and Michigan has to address the spiraling costs of health care for the benefit of our state's taxpayers and all Michiganders."
The significance of the ruling may be seen in the story of the plaintiff, who works at a community college. Denise Miller has been an English professor at Kalamazoo Valley Community College for 17 years, and for the past eight years her partner has been Michelle Johnson, who works for a nonprofit group that does not offer its employees health insurance. Kalamazoo Valley covered Johnson -- as Miller's partner - until the Michigan law was passed barring the college from doing so.
Judge Lawson's decision notes that Johnson has "non-malignant uterine fibroid tumors that may require surgery, fibrous breast tissue that requires yearly monitoring, and a family history of aneurysm that requires that she have regular scans." These conditions make it hard for her to obtain health insurance -- and since the Michigan law forced Kalamazoo Valley to drop her coverage, she has had none.