You have /5 articles left.
Sign up for a free account or log in.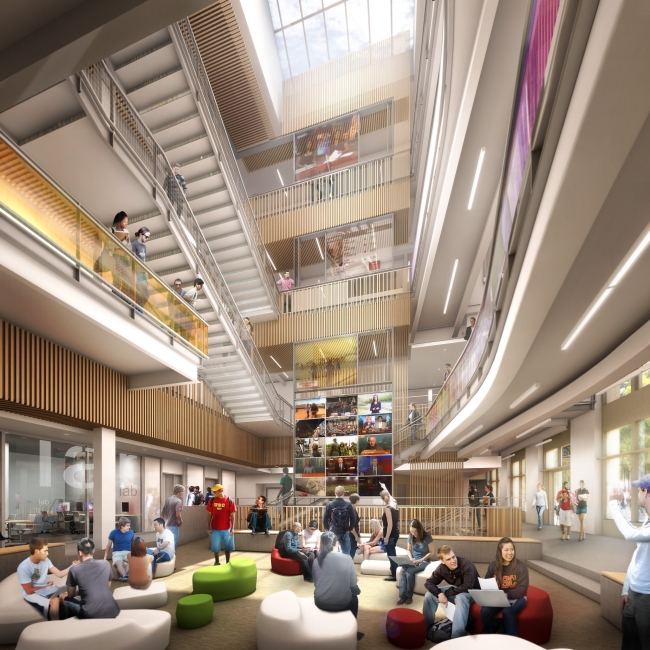 USC Annenberg School for Communication and Journalism
Shelling out thousands of dollars for a master's degree in journalism may seem illogical in 2013, as newsrooms continue to shrink at alarming rates. There are now less than 40,000 full-time professional employees working in newspaper newsrooms nationwide, compared to a peak of 56,900 in 1989, according to Pew's 2013 State of the Media report. It's the lowest number since 1978.
In one attempt to respond, the University of Southern California's Annenberg School for Communication and Journalism will do away with its two-year M.A. degree in journalism and replace it with a nine-month M.S. program beginning in 2014, the university announced this month. The new program coincides with the fall 2014 scheduled opening of the new Wallis Annenberg Hall — which will house a "digitally converged newsroom" where students can complete broadcast, print and online journalism projects in one space. The newsroom, as well as the pace and focus of the new program, will try to better-prepare students to work in a rapidly changing media landscape.
Michael Parks, director of the Annenberg School of Journalism, said the switch was largely a result of student concern. The school listened to students who said they "wanted to get on with their careers" more quickly, Parks said. The nine-month program will be almost as many credits long as the old one: 36 compared to 40. Classes will begin during the first week of August — three weeks earlier than when the current two-year program begins. It will offer the same courses as the two-year program but in an intensive, condensed format. Instead of attending a class two or three times per week, a student will go almost every day of the week, and class time will last longer, Parks said. So some courses that were 15 weeks long will be reduced to eight weeks. The nine-month program will also require a newly added quantitative analysis course.
"We're not watering down our program," Parks said.
The shorter program will have a greater emphasis on multimedia reporting and will "connect the classroom more directly with the newsroom," Parks said. In the past, students were given assignments and expected to hand them in the following week, Parks said. Now, along with weekly classes, students will simultaneously be assigned shifts in the "converged newsroom" for immediate reporting.
"There was a desire to change the way we teach," Parks said. "We wanted to pick up the pace to reflect more what happened in newsrooms."
Following the nine-month program, students can choose to add an add an eight-week summer internship or practicum at a variety of news organizations. Or they can intern during an study abroad program in Cape Town, Shanghai, Hong Kong or London. The internships will be funded through the news organization, the university or a combination of both, Parks said. But since students are required by law to remain students during the internships, they will have to pay for one credit hour during the experience. Internships abroad are typically unpaid, Parks said.
The shorter program will save students a year's worth of living expenses, Parks noted — which the University of Southern California estimates at about $16,000 per year. But the nine-month program still isn't cheap. Tuition for the two-year program in 2013 will be $64,582 compared to a projected $56,867 for the new program. Parks said other master's programs at comparative private institutions — like Columbia and Northwestern — offer one-year programs, and Annenberg wanted to be competitive in terms of cost. Tuition for the full-time 10-month M.S. program at Columbia is $58,000.
While some have debated whether a graduate degree in journalism is really worth that much, Parks argued that journalism schools could be more important than ever, because employers no longer have the time nor the resources to train their journalists. They want candidates who already know what they're doing when they walk into the door, and journalism schools make their students competitive candidates by giving them skills and professional experiences, Parks said.
"Do you need a journalism school to become a journalist? No. I didn't," said Parks, whose first job was at the Detroit News in 1962, where he was "taught journalism" by the city editor. "But I think I would have trouble going into any newsroom today with a degree in classics."
It is hard to say whether students are buying this argument; enrollment numbers for journalism schools at the graduate level have fluctuated over the past few years.
Enrollment in journalism and mass communications master's programs dropped 8 percent from 2010 to 2011, according to the most recent data from the the Cox Center at the University of Georgia. But there was a sharp growth in enrollment numbers from 2010 to 2011. And the 13,392 graduate students who enrolled in 2011 is up from 13,034 in 2009.
48 students have committed to the M.A. program at Annenberg this fall. This is an increase from the 35 students who entered the program last fall.
Another 2011 Cox Center survey shows that graduates from master's programs in journalism and mass communications faced much more limited job prospects than did graduates from years earlier. But this is slightly better than how those with only an undergraduate degree fared. 60 percent of graduates with master's degrees in journalism and mass communications held a full-time job by the October after graduation, compared to 53 percent of bachelor's degree recipients.
However these figures may not be representative of what is happening at journalism schools, since the Cox Center surveyed graduates of both journalism and mass communications programs, and communications occupations across the board are not necessarily in decline, noted Lee Becker, director of the Cox Center.
USC's journalism school is not the only one feeling the pressure to adjust.
After making significant changes to its programs in the past decade, Columbia University's Graduate School of Journalism is once again shifting its curriculum. Starting in the 2013-14 academic school year, students who apply to the 10-month M.S. program will not be asked to choose a single concentration, such as broadcast, newspaper, digital, or magazine — as they had to in the past.
"The choice that you made had a very significant impact on what courses you were and were not allowed to take when you got here," said Bill Grueskin who is the dean of academic affairs at Columbia's School of Journalism. "Many of us felt that a lot of the concentrations that made a lot of sense a few years ago don't make a lot of sense now."
However, Grueskin added, students will still have the opportunity to specialize in specific areas.
"We don't expect students to become equally proficient in every media delivery system. In fact, it can be a mistake to train students to do too many things at once," he said.
In addition to the elimination of concentrations, Columbia is adding a number of new classes to its M.S. curriculum this year, including a class on audiences and engagement, which is designed to give students a better sense of "who they're doing journalism for," Grueskin said. Also, the basic "Reporting and Writing" class that every student must take will be split up. So students will learn basic reporting skills in the first half of the program, and in the second half they will have a variety of writing classes to choose from.
The 10-month M.S. degree program is still being offered alongside Columbia's M.A. program, which was introduced in 2005 when Nicolas Lemann was the journalism school's new dean. The one-year M.A. degree focuses on the liberal arts and broader areas of study for more seasoned journalists, in which students can choose from one of four subject areas, while the M.S. program focuses on specific skills. In a 2005 interview with Inside Higher Ed, Lemann said he expected many students in the new program to be graduates of the older program, so students might actually earn both degrees. The expectation that students would complete both programs was inaccurate, according to Lemann himself in a 2008 self-evaluation memo that was leaked after being accidentally sent to his students.
"The biggest surprise about the M.A. program is that its students are mainly not members of the previous year's class in our Master of Science program, as we had anticipated, but young working journalists who are coming to the school for the first time. The strong interest from outside is gratifying and the weak interest from inside is disappointing," Lemann's self-evaluation read.