You have /5 articles left.
Sign up for a free account or log in.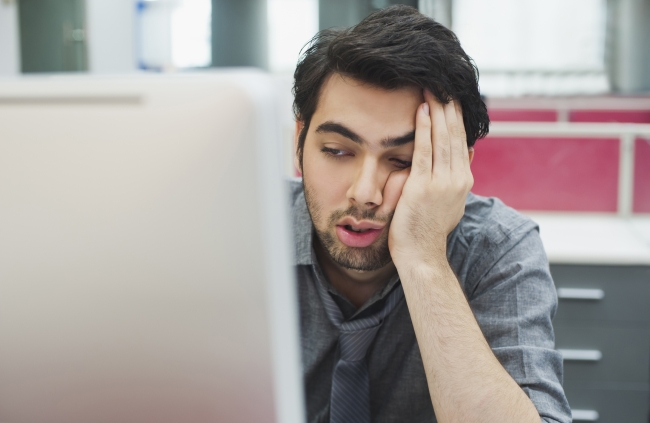 As politicians, pundits and the general public continue to question the "value" of a degree, defenders of academe have maintained a reliable counterpoint: college graduates are more likely to be employed.
Maybe so, but a new survey suggests that even if they're employed, many aren't particularly happy. College graduates whose highest educational attainment is a bachelor's degree say they are less engaged at work than people who completed some or no college, according to a new Gallup survey.
The difference isn't huge; 28.3 percent of graduates say they are engaged on the job, or "involved in and enthusiastic about their work," compared to 29.6 percent of people who finished some college and 32.7 percent of people who didn't go beyond high school. (Among those who completed some postgraduate study or a degree, 30.1 percent were engaged.) Nonetheless, the findings are "really stunning," said Brandon Busteed, executive director of Gallup Education. (Note: Inside Higher Ed had no role in this survey, but Gallup and Inside Higher Ed are partners on a series of surveys of college officials.)
"Given that what we all expect out of college is something better, you would think that college graduates are way more engaged in careers than everybody else," he said. "This is not a statement about liberal arts, it's not a statement about community college, it's literally about higher education in general – that there's something about the process and the experience that is preventing graduates from getting to a place where they're doing what they're best at."
The survey includes 150,000 adults of varying ages, so the findings can't be entirely attributed to the bleak job market that students have been up against since the economic recession.
Level of engagement was based on respondents' agreement or disagreement with a dozen statements on workplace elements that are tied to productivity. For example: "I know what's expected of me," "I have the tools and resources I need to do my job," and "At work, my opinion seems to count."
But the strongest predictor of engagement was the statement, "at work I have the opportunity to do what I do best every day."
Busteed proposed two reasons for the findings. Students, without clear paths in college and lacking strong mentorship, are getting stuck in jobs that don't require a degree and they're overqualified for. (This is true for half of recent graduates, according to a 2012 Gallup/Lumina Foundation poll.) Or, at the other end of the spectrum, they're settling for go-to career paths like law school, investment banking or consulting.
"I think we're kind of caught up in preconceived notions of what success should look like and it's landing a lot of college graduates in not the right place," he said.
But others said a rush to blame colleges would be premature.
"It seems like there's kind of a half-empty, half-full story here," said Alexander McCormick, director of the National Survey of Student Engagement. That is because fewer college graduates (16.7 percent) also report being "actively disengaged" – emotionally disconnected from their work and work place, to a point that jeopardizes colleagues' performance – than any group besides postgraduate employees. (Another 55 percent are "not engaged," or satisfied with their workplaces but not emotionally connected to them.)
"It's one thing to say people who are one, two, three years out don't feel like their job is very satisfying," McCormick said, "and another altogether for people who've been out of college for 20 years."
Data broken down by age were not available Thursday.
The report suggests colleges should build a better pipeline between campuses and the work place, and preparing students to get jobs in places where they'll feel engaged. This requires more and better mentorship for students in college, Busteed said, whether with deeper experiential learning or helping students figure out who they are as individuals and what sort of work fulfills them.
But the findings seem to reveal more of a problem in the work place than in higher education, said Philip D. Gardner, director of Michigan State University's Collegiate Employment Research Institute. Companies aren't training and developing new employees like they used to. Company loyalty has become less of a factor as the nature of jobs has adjusted to fit a global economy.
People's goals and behavior are a factor too, Gardner said. Younger employees job-surf more than they used to; more highly educated people don't settle down as quickly. And many young people today do not consider work a central part of their identity.
As for colleges doing more career counseling, Gardner pointed out that most students don't even seek it out what's available to them now.
"If I put them in a mandatory class, they're not going to do any better than if they do nothing at all because they're just sitting there waiting for class to be over," he said.
According to the NSSE 2012 findings, 43 percent of college seniors said they talked about career plans with a faculty member or adviser often or very often, 39 percent did sometimes, and 17 percent never did. Those who did most often studied the sciences, education, and arts and humanities.
"I don't mind people throwing darts at higher ed, but it doesn't have to take the blame for everything," Gardner said.
Regardless, the defenders still have lifetime earnings on their side.