You have /5 articles left.
Sign up for a free account or log in.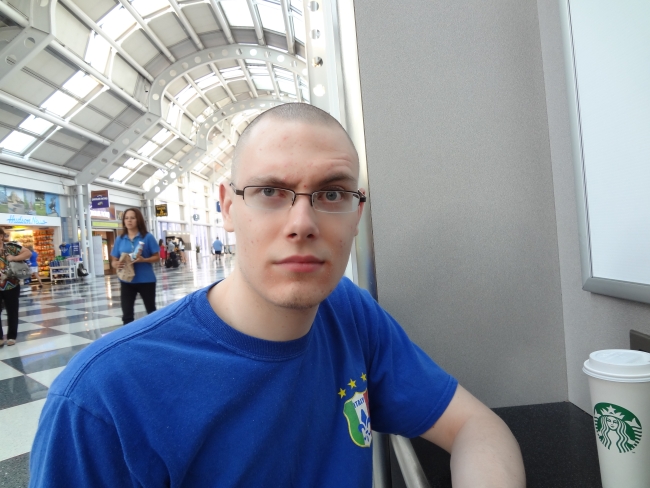 A groundbreaking form of competency-based education now has its Patient Zero. Zach Sherman, a 21-year-old sanitation worker in Ohio, earned a self-paced associate degree from College for America in early June -- just shy of 100 days after he enrolled in the online program.
Sherman is the first completer among a group of five College for America students who have successfully earned its competency-based general studies degrees. Southern New Hampshire University launched the college in January. It is one of three institutions now offering "direct assessment" academic tracks, which are not based on the credit hour standard.
That means students can control how fast they move through the program's task-oriented homework, assignments and assessments. There are no formal instructors at the college -- only academic coaches and reviewers who determine if students have mastered each task by checking each assignment and sending them back to students for more work until they demonstrate competency.
In three months Sherman earned the equivalent of 60 credits, even though the 120 competencies he mastered do not track directly to credits.
"The emphasis is what you know and can do," says Kate Kazin, College for America's chief academic officer.
The degree program wasn't easy, Sherman says.
He works nights at a ConAgra Foods plant in Troy, Ohio, which is north of Dayton. The facility makes Slim Jim snack meats. Sherman typically pulls 56-hour workweeks, with a cleaning shift every night from 10 p.m. to 6:30 a.m. Sometimes he dials it back to 48 hours a week, but he says he needs all the pay he can get.
"I'm buying a house right now," says Sherman.
His studies came in the daylight hours after he got off work. Sherman says he would get home, shower, eat something and start plugging away at his College for America assignments. The tasks included writing papers, learning how to use software tools like Excel, creating presentations and participating in group projects. (Click here for a college presentation about the program.)
Sherman began on March 1. He took only a few days off during the months he was working toward the degree. He worked for several hours every day before calling it a night (day, really, given his work schedule) and going to sleep before his next shift.
His pace was steady at the beginning. But after one phone conversation with his college-assigned coach, Andrea, he decided to step it up. Her encouragement was what he needed.
"From that moment on something really clicked in my brain," he says.
Coaches at the college are both full- and part-time employees, all based in New Hampshire. They have backgrounds in social work or coaching, and went through a "rigorous" training process, according to the college.
In the groove now, Sherman began working for up to six hours a day on the coursework. He says he averaged at least 30 hours a week in May. "That last month got pretty crazy."
Sherman had worried that the self-pacing at the college would encourage him to procrastinate. But the opposite happened, he says, and he actually accelerated as he went along.
Sherman says the assignments and course material -- much of it open-source documents that the college steers students toward -- were a good balance of challenging and manageable. He had to resubmit some assignments more than once to get the mark of mastery (there are no grades).
One time it took him three or four times to get an assignment right, which he says was a "flustering" experience. But after another of his chats with Andrea, some of which lasted an hour or so, he successfully completed it.
"I really needed her at the beginning and at the end" of the degree program, says Sherman.
Competency or Bust
College for America enrolls about 500 students, its leaders say. The bulk of the students enrolled through partnerships the college has inked with big employers like Anthem, ConAgra, FedEx and the City of Memphis.
Sherman is not typical of most students who attend College for America or other competency-based programs. He's young – a traditional-aged college student. In contrast, the average age of a student who attends Western Governors University is 36. (Western Governors is the most established of competency-based institutions, although it does not offer direct assessment programs.)
His situation is also somewhat unusual, Kazin says, because he is single and lacks the family responsibilities of most adult students. That helped him push through 80-plus-hour weeks.
Few students will move as quickly through the program as he did. The expected average time to degree is two years, according to college officials. (The college has posted videos of interviews with several students, including Sherman, here.)
However, Sherman is in the program's wheelhouse for one key reason: This was only college option he felt he could try.
"Most of our students are really not looking at other alternatives," says Kris Clerkin, College for America's executive director. "They're not shopping around."
Sherman grew up in nearby Piqua, Ohio. The small city was a manufacturing powerhouse, specializing in automotive parts. But most of those jobs have dried up. Sherman graduated high school there, having gone through a vocational track, which he says he enjoyed.
He enrolled in the local Edison Community College a year after earning his high school diploma. He attended the college for only a year before quitting.
"It was going fine," Sherman says. "But I started at ConAgra and working crazy hours. It wasn't really plausible for me."
When pressed, Sherman also says the traditional college classroom experience was underwhelming. His faculty and coursework at Edison were good, he says. But going to class reminded him of elementary school.
"I don't necessarily like that sit-down format," he says. "It felt like we were robots at times."
Sherman's peer group -- younger students who for some reason don't make it through community college -- is hardly a small one.
"There's a vast population that hasn't been served by traditional higher education," Kazin says.
The timing was right when Sherman heard about College for America at a town hall-style meeting at his ConAgra plant, which employs about 800 workers.  
Another plus was the free tuition. College for America didn't charge its initial pilot group anything, thanks to discounts fronted by Southern New Hampshire and a grant from the Bill & Melinda Gates Foundation.
Next month, when the college enrolls a new cohort, it will charge subscription-style fees. The "all-inclusive" tuition rate is $2,500 per year.
College for America will offer financial aid. And because the program has received approval from the U.S. Department of Education (as well as its regional accreditor, the New England Association of Schools and Colleges), students can qualify for Pell Grants. Employer partners will also kick in tuition subsidies.
The feds have also granted approval to a direct assessment program at Capella University. Northern Arizona University is currently pursuing that approval. Both universities have earned a green light from their accreditor, the Higher Learning Commission of the North Central Association of Colleges and Schools.
Direct assessment doesn't look much like most people's notion of college. It has critics. And College for America, Capella and Northern Arizona will feel extra pressure to get it right as the first programs out of the gates.
"The institutions have to have real, serious institutional control to ensure that there isn't progress that isn't warranted," said David Bergeron, a former official the U.S. Department of Education who recently joined the Center for American Progress as an expert on higher education. "There's tremendous scrutiny that's going to be applied."
That said, direct assessment has plenty of promise, Bergeron said. "Wouldn't it be great if we had an educational system that rewards people for moving with pace?"
Next Steps
Students cannot transfer college credits into the program at College for America because the degree isn't based on the credit hour. But they can use their knowledge and learning from previously taken college courses to more quickly demonstrate competencies. And the college's associate degrees can be "translated" into course equivalencies if a student or graduate attempts to continue his or her studies elsewhere.
Unlike Sherman, Michelle Coppola enrolled in the online degree program with no college experience under her belt. The 43-year-old employee at Anthem, a health insurance giant, had not been in school for more than two decades.
"I had never gotten to go to college," says Coppola. "It was never a possibility for me."
The Manchester, N.H., resident began living on her own at 17. After she got married, her now ex-husband opposed her attending college.
In January the account service representative and her fellow Anthem employees received an e-mail from the company about College for America. Tuition was free.
"It was a no-brainer," Coppola says. "I wanted it so bad."
She and about 40 other employees signed up for the 10 available slots. But College for America admitted all of them.
Like Sherman, Coppola says the coursework was challenging. She also leaned heavily on her coach, Bob.
The program's learning objectives are based in part on the Degree Qualifications Profile (DQP), a Lumina Foundation project to determine what earning a college degree should signify in terms of learning. The associate degree's 120 competencies are organized into about 20 "task families" and around 10 competency clusters.
Coppola liked the control of the self-paced College for America.
"I'm typical Type A," she says. "I don't like to wait for other people."
She finished her degree last Thursday after enrolling at the end of January. She's the fifth graduate, although college officials are still auditing students' work, so that number isn't firm.
Coppola got into a weekly ritual, which began on Monday with reading material for her assignments. Tuesday she did required research. Then, on Wednesday, she dug into the tasks, usually wrapping them up on Thursday. On Friday she reviewed her work and submitted it.
Sometimes her studies leaked into the weekend. Over all, Coppola says she spent two or three hours per weeknight on the assignments.
Students' work is assessed by 15 reviewers, who are essentially the college's faculty members. Kazin says they typically have advanced degrees and college teaching experience in their subject areas of expertise.
Reviewers are required to send "actionable" feedback to students within 48 hours, Kazin says, although they are averaging a turnaround of less than 30 hours so far.
The college is ready to ramp up quickly by hiring more reviewers if enrollment climbs. They'd better be, as Southern New Hampshire's president, Paul LeBlanc, says the college is aiming for an admittedly optimistic enrollment goal of 350,000 students by 2018.
College for America is considering several new direct assessment degrees, officials say, including a bachelor's degree in communications, with specialties in health care management and business. That degree won't be ready for primetime until next year. The college is also working on associate degrees in a "health care context" as well as in sales and distribution.
"These are the first of many programs that we'll create," says Clerkin.
Both Coppola and Sherman say they'd be interested in a bachelor's-degree option at College for America. But first they want to use their new associate degrees to see if they can advance in their companies. Both have applied for new positions.
The real test for competency-based education is the value of credentials in the market place, said Michael Horn, co-founder and executive director of the Clayton Christensen Institute for Disruptive Innovation. He hopes the approach takes hold, in part because traditional college sometimes holds back students like Sherman.
"That's really educational malpractice," Horn said.
Sherman threw his hat in the ring for a sanitation supervisor job at the plant. He says that he's talked about his College for America degree with ConAgra human resources staff, and that they were impressed by the credential.
"I really do feel it's going to help me move up there," he says. "They're really big on degrees."