You have /5 articles left.
Sign up for a free account or log in.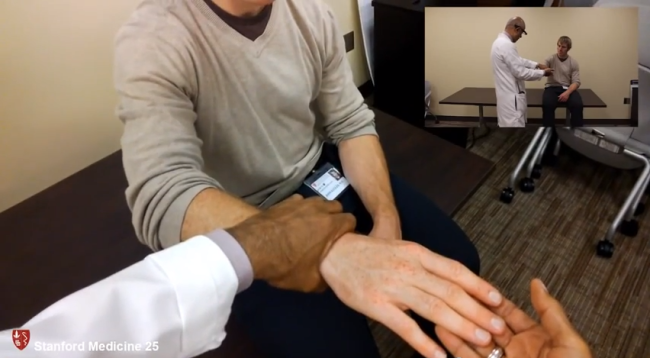 Google Glass, the search engine giant's augmented reality device, is in the hands of a select few beta testers -- and among them, a small number of educators. While many instructors say they will spend the fall semester determining whether the gadget deserves a role in the classroom, Glass is already affecting how some medical professors teach their craft.
Since Glass was announced in 2012, developers and users itching to stay at the bleeding edge of technology have conjured up ideas about the device's potential. Indeed, Google's February raffle on Twitter and its own social network, Google+, invited anyone to justify why they deserve an early version of Glass -- in 50 words or less -- using the hashtag "#ifihadglass." If chosen, raffle winners still had to shell out $1,500.
There are about 8,000 testers, called Explorers, in the wild, looking as though they were trying to recall a fuzzy memory every time they glance up and to the right to read information off the gadget's heads-up display.
Users unlock most of Glass's features by letting it piggyback on an iPhone or Android device's data connection -- if not, Glass requires a wireless Internet connection. Saying "O.K., Glass" puts the device in listening mode, and users can then tell it to record a video, navigate to a location or launch a video chat session, among other functions. More self-conscious users can flick through the options using the touch-sensitive pad along the right temple.
With the beginning of the fall semester only days away, most professors with Glass are anxiously awaiting the first day of class. Meanwhile, many professors of medicine have already found an opportunity to put their devices -- and their ideas -- to the test.
Martin Olsen, residency program director for obstetrics and gynecology at East Tennessee State University's College of Medicine, convinced Google to name him an Explorer with a poem:
Med students in the nation
Would get great surgical stimulation
Improvements in patient care
Could be found in hospitals everywhere
All this could come to pass #ifIhadGlass
"I'm still waiting for a call from the English department to teach in their cornball poetry class," he said.
Olsen uses Glass along with Surgical Chloe, an anatomically correct surgical simulator who has her own Google+ profile. During simulations, both students and Chloe, playing the patient, get a chance to wear Glass.
"It's really helpful for [students] to get a patient's-eye view, since they can evaluate their professionalism," Olsen said. "I think education of the future is learner-driven. Rather than me saying, 'Stop chewing gum,' it's a chance for them to see themselves chewing gum from a patient's perspective."
Olsen previously used a head-mounted camera to record demonstrations on Surgical Chloe, but said he found Glass a more accurate representation of watching procedures through a surgeon's eyes. "Even though it's just a four-inch difference, it's what the surgeon sees rather than what the surgeon's forehead sees," he said.
Olsen flew to New York six weeks ago to pick up the device, and said he is already in the process of petitioning his university's research board to approve a project where a student would complete a medical procedure while being remotely guided through Glass by a doctor in another part of the hospital.
"Imagine you're an emergency medical technician doing a delivery you've never done before," Olsen said. "You put Glass on, and you connect with an obstetrician who can guide you through it step by step."
Should the project be successful, Olsen said he could one day imagine consultants "giving advice to a doctor in a third-world country over a cup of coffee."
At the moment, some Glass Explorers' grand ideas for the gadget may be fueled by inflated expectations. After all, any advanced function beyond the device's photo and video capture, online and social features needs to be written as a separate app, which Google calls Glassware. Several of the testers confirmed that they have been in contact with Google's engineers, who are assisting them with app development.
Then, there is also the novelty factor. As the beta test continues, what if Glass's battery life concerns (recording for more than 45 minutes can deplete the battery) and memory restrictions (12 gigabytes available out of 16 total) cause doctors to dismiss the device as a neat but flawed toy?
Hartford Hospital in Hartford, Conn., will in the near future attempt to determine if physicians using Glass outperform their disconnected counterparts. Using a custom app, the hospital will conduct a study where half of participating resident physicians will have simulated patients' vital signs, lab results and treatment options fed directly into their line of sight through Glass. Their responses to various vital sign changes will then be compared to physicians who tackled similar scenarios but had to monitor patients unassisted.
"What we're looking at is tracking, for example, if we were to display a vital sign alert, how long it takes for them to identify that," said simulation technician Christopher Madison. "The people on Glass would automatically receive an alert that the heart rate is low and would theoretically respond faster."
Other medical doctors have found simpler uses for Glass, such as recording patient exams and sharing them online. Errol Ozdalga, clinical assistant professor of medicine at Stanford University, said Glass is a perfect fit for the Stanford Medicine 25, an initiative that helps medical students and physicians develop their physical exam skills.
The Stanford Medicine 25 regularly shares videos of physicians examining patients, and Ozdalga said he could see all future videos incorporating Glass by giving students multiple perspectives of the same lesson. "It provides that first-person point of view that's just really, really valuable when you're trying to create a connection with the patient," he said.
Ozdalga said he also anticipates Glass can improve distance learning, and that the Stanford Medicine 25 will look to host online video conferences that anyone looking to improve their bedside manners would be able to join.
"Technology has gotten so amazingly great that we just have less time with the patient," Ozdalga said. "Now we're using the newest of new technology to really bring physicians back to patients."