You have /5 articles left.
Sign up for a free account or log in.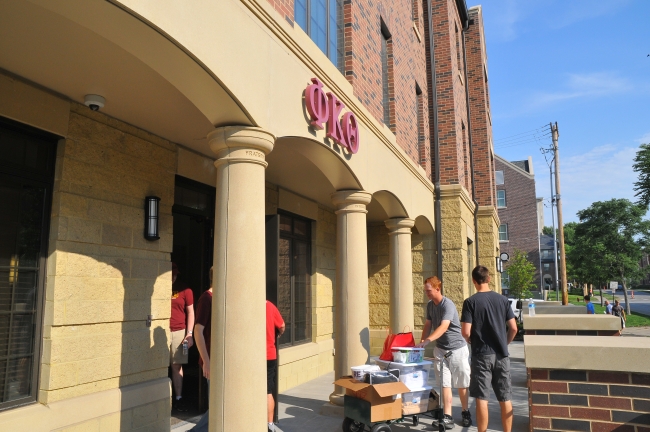 Troy Fedderson, University of Nebraska at Lincoln
The new Phi Kappa Theta fraternity house at the University of Nebraska at Lincoln has a defining characteristic: most of its members identify with the Roman Catholic Church.
The fraternity – on private property that is considered part of campus, but opened, owned and operated by the St. Thomas Aquinas Catholic Newman Center at the university – is already filled to capacity, with about 65 beds claimed. The fraternity itself has existed for a half-dozen years, but this is the first time its members have enjoyed their own housing.
"That's been the remarkable thing, is that even without the living space, there has been this demand," Nebraska Dean of Students Matt Hecker said.
Nebraska is one of several public and private universities that are adding various forms of faith-based housing. This fall alone, new residences are also opening up at Florida Institute of Technology, Troy University and Texas A&M University at Kingsville. Another, at Purdue University, is slated to open within the next few years. (Others, including the University of Illinois at Urbana-Champaign, have offered such housing for decades.)
Most of these residences are privately owned by groups like the Newman Center -- and for students at public institutions, that separation from the university generally avoids legal issues raised by government support for religion. But that's not the only type of housing that's growing in popularity. Interfaith living-learning communities, where students learn about spirituality but aren't required to believe in any religion, such as the one at Southern Illinois University at Carbondale, are on the rise as well, said Patricia Martinez, president of the Association for College and University Housing Officers – International.
"Many are welcoming to all faiths and allow students to explore their own spirituality and define that for themselves," Martinez, who is also director for residential communities at Northern Illinois University, said in an email.
But some have caused controversy, including the new dorm at Troy, which requires applicants to submit letters of reference demonstrating some interest in faith or religion. While the Newman Student Housing Fund designed and developed the project, the university manages it. Initially, campus officials were quoted as saying that non-Christian students could move in "if there was space available."
When Troy officials announced earlier this month that they'd be opening a dorm for students who participate in community activities with churches or faith-based groups, the Freedom From Religion Foundation wrote a letter calling the 376-bed residence hall "illegal" and demanding that it not be built. Excluding nonreligious students would violate the First Amendment's separation of church and state, the foundation said.
However, despite initial reports, the dorm is technically open to anyone; nobody has been turned away. And, although it sits on university property, it was funded by Troy's private foundation.
"There's no charge to the taxpayers of Alabama for any of this. But it does resonate with a lot of values and perspectives that are cherished in Alabama," said John Dew, senior vice chancellor for student services and administration. "Data show us year after year after year that the incoming freshmen at Troy University are much more likely to state that they engage in religious or faith-based activities."
In fact, their interest is "dramatically higher" than the national average, Dew said, noting Troy's results from the National Survey of Student Engagement. "We feel like we're just being responsive to what we've learned about a large portion of our students."
Rev. Patrick Baikauskas of Purdue University's St. Thomas Aquinas Parish has a similar idea: He's working to open a faith-based residence hall (not restricted to any religion) within the next two or three years, to provide the 13,000 students active in Purdue's ministries with a more "enriching" experience.
"When students are living together and working together and praying together, it's just a totally different dynamic than when they're meeting occasionally and during the week," Baikauskas said. "Living together is a much more intense experience."
And students aren't the only ones who will benefit.
"Let's be honest – it's going to provide a cash influx into our ministry and we're going to be able to do even more," Baikauskas said. (Again, the dorm will be run by the church, not the university.) "We see it as a great resource."
The new residence hall near the private Florida Institute of Technology campus is also owned by the Newman Student Housing Fund, but the campus's Catholic minister, Rev. Doug Bailey, spent several years developing the plans for the dorm. Students apply through the university, and FIT manages its leasing, operations and maintenance.
There's a waiting list to secure one of the 148 beds – welcome news for the project's main orchestrator, Father Doug Bailey, who has wanted to pursue a project like this for years (and in fact spent years on this one).
"I was hoping there would be," he said, "but no, I wasn't certain there was a demand, not at all."