You have /5 articles left.
Sign up for a free account or log in.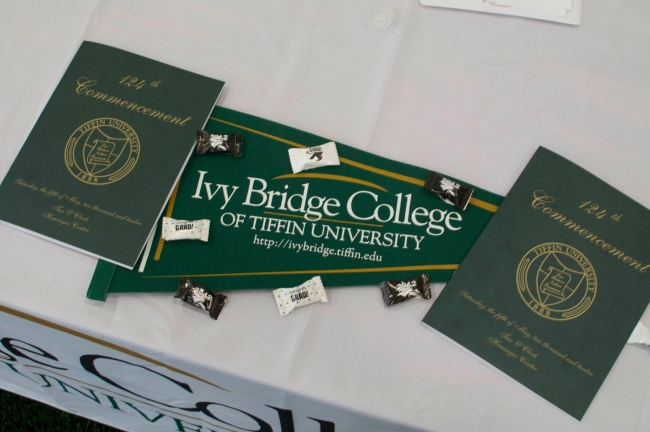 Ivy Bridge College will cease to exist next month, just five years after Tiffin University and Altius Education created the online, two-year degree program. Tiffin, a small private institution in Ohio, appears ready to move on after deciding to drop Ivy Bridge over accreditation woes. But problems for Altius Education may be far from over.
The San Francisco-based education company is now facing an investigation by the U.S. Department of Justice.
Paul Freedman, Altius's founder and CEO, said the federal inquiry may be related to questions Ivy Bridge's accreditor raised about institutional control of the program. The "false claims" investigation likely revolves around students' access to federal financial aid.
Ivy Bridge's demise has also contributed to an inquiry about another key Altius partnership. The Middle States Commission on Higher Education, a regional accreditor, recently contacted the president of Harrisburg University of Science and Technology to ask about two new online degrees the private university began offering this summer with Altius.
Ivy Bridge's History

Five years' worth of documents
show how an ambitious program
ended up in the crosshairs.
Click here to view a timeline
and review the documents.
To try to better tell his company's side of the story, Freedman gave Inside Higher Ed many documents relating to Ivy Bridge's accreditation (view interactive graphic here). Tiffin released a written statement.
The trove of letters and reports, traded by officials from Tiffin and the Higher Learning Commission of the North Central Association of Colleges and Schools, gives a rare glimpse into the inner workings of an unusual and controversial accreditation review.
Freedman said Altius has been unfairly targeted by the federal government and its financial-aid gatekeepers – regional accreditors – in a multipronged squeeze. The company's only misstep, he said, was trying to be innovative in a system that favors the status quo. He also said accreditors were inflexible in their crackdown on Ivy Bridge, leaving Tiffin no choice but to pull the plug.
Not so, said Sylvia Manning, president of the Higher Learning Commission, Tiffin's accreditor.
"People use the innovation cloak to wrap anything in," she said. "We have an obligation to look at the quality."
The accreditor in the last year discovered several potential warning signs about Ivy Bridge, most notably a strong suspicion that Tiffin had only "nominal control" over the two-year degree program and the quality of its academics.
As a result, the commission had questioned whether Ivy Bridge could operate under the umbrella of Tiffin's accreditation. However, Manning stressed that the commission was never able to reach a conclusive decision on that question because Tiffin's leaders made the decision to drop the university's bid to qualify Ivy Bridge under the commission's requirements, some of which had changed after the program's launch.
The consequences of Ivy Bridge's looming closure have been severe for Altius, which has invested more than $10 million in the college. The company has already laid off more than 30 employees in Ohio. Freedman was emotional during an interview as he discussed the hits Altius and his personal reputation have taken.
"This has put the company that 100 people work for at risk," he said. "The damage has already been done."
Ivy Bridge's demise also creates challenges for its almost 3,000 students. But the commission has allowed them to complete their associate degrees at Tiffin or to apply for admission as transfer students to the university's four-year degree tracks.
The documents Tiffin and the commission sent to each other in the run-up to the decision to dissolve Ivy Bridge are made public here for the first time. They may provide tips -- or serve as a cautionary tale -- for nonprofit institutions and ed tech companies that have similar partnerships in place, or the many more that are considering them.

It's difficult, if not impossible, to adjudicate the dispute between Tiffin and its accreditor, even for a lawyer and other experts who reviewed the documents. That's because the commission's policies were changing as Tiffin grew.
"It's a unique problem, in our history," said Manning.
However, one line stands out to several experts. That statement is in the final paragraph of the commission's 33-page "staff summary report" on Ivy Bridge, which was first sent to Tiffin in May and later revised. It compares the joint venture to the practice of for-profits buying accreditation from colleges, which regulators and even U.S. senators have denounced in recent years.
"Staff members note their concern with the apparent sale of accreditation to another entity," the report said. "Tiffin has invested no cash in the creation of the joint venture and licensed programs to Altius Education that it claimed to the fact-finding team had little value. The only asset it has provided is its accreditation."
New Rules, New Environment
Paul Marion, Tiffin's president, first told the commission about Ivy Bridge in 2008. The university received no response to two letters Marion sent about the joint venture with Altius.
"Tiffin University will remain fully and exclusively in control of all academic aspects of this degree group," Marion wrote to Steven Crow, who was Manning's predecessor as head of the commission, "as well as the financial aid, bursar, library and bookstore functions."
Then, in 2010, Tiffin drew no complaints about Ivy Bridge as the university successfully underwent a 10-year accreditation review. Some members of the commission's site visit team even gushed about the program.
"The concept of the Ivy Bridge partnership is an excellent strategic initiative," one member of the team said, according to the documents. "It addresses an underserved population through a strong curriculum, efficient and effective academic support, excellent instruction and a very good online portal for program delivery."

That's when the story gets messy.
Experts said Tiffin and Altius had good reason to believe that they were on firm ground with the commission. The university had just reaffirmed its accreditation while Ivy Bridge was already up and running. And in 2009, Dow Lohnes, a Washington-based law firm, wrote in a memorandum to Altius's funders that Ivy Bridge would operate "within the framework of the regulatory requirements of the educational regulatory agencies."
That situation changed, however, in part because of regulations the commission added shortly before Tiffin's review.
When Ivy Bridge was created, the commission had no policy that covered the formation of a joint venture, according to the staff summary report. But it had created a new policy governing a "change of control" shortly before the 2010 review. Those rules require the commission's approval for the "sale or transfer of an institution's assets, release of an interest in an institution, or other transactions."
It's not clear whether the commission's team for the 2010 review kicked the tires of Ivy Bridge with that policy in mind. But even if they didn't, it was Tiffin's responsibility to make sure that the program was properly vetted, according to the documents.
"Although the comprehensive evaluation team may have been aware of the joint venture and made generally favorable statements about it, the evaluation team largely considered it as an expansion of distance education and the creation of a center in Toledo," the staff summary report said this spring. "Commission records provide no evidence that Tiffin formally reported the legal arrangement and sought approval for it under these policies."
The accreditation process isn't like baseball, said Kevin Kinser, an associate professor of education at the State University of New York at Albany, who reviewed some of the Ivy Bridge documents.
When an umpire blows a call in a baseball game and fails to call a baserunner out, the player gets to stay on base even if he was clearly out. Tiffin is now paying a price for what appears to have been a mishandled 2010 call that the commission is now correcting.
Ivy Bridge also apparently ran afoul of another policy that the commission established after Tiffin's accreditation review. Those rules, which mirror the federal government's policies for financial aid programs, require colleges to get the commission's approval for the outsourcing of 25 percent or more of an academic program to an unaccredited entity.
As a result, Ivy Bridge and Tiffin have been "moving further out of compliance" as the rules continued to change, said Kinser.
Who's in Control?
Tiffin appears to have set off alarm bells at the commission's Chicago headquarters in late 2011, when it began moving to seek accreditation for Ivy Bridge with the Western Association of Schools and Colleges (WASC).
The university's plan was to earn independent accreditation for the joint venture and eventually spin it off by selling the college. A first step was to move its accreditation closer to Altius on the West Coast.
Tiffin owned 20 percent of the limited liability corporation that has operated Ivy Bridge. That means the university would have received one-fifth of the revenue if the college was sold to Altius or another entity.
Altius also contributed all the start-up cash, including an annual service fee that topped $450,000. The college had not yet proved profitable, which surprised some observers. But if it had become a moneymaker, Altius and Tiffin would have split any profits down the middle.
Manning wrote back to Marion in February of 2012. She demanded reams of information about Ivy Bridge and the terms of the joint venture, and gave the university 14 days to respond.
The subsequent exchange of letters and reports ended last month, when Tiffin dropped its bid to keep the college open. All operations must cease by the end of September, the commission ruled.
"The issue is very simple. If an institution has a new entity that is a part of it, we have to approve it," Manning said in an interview. "Tiffin didn't really own this. This is a different enterprise."
Marion vigorously objected to that characterization in numerous letters and a never-filed (at least officially) report to the commission. He said Tiffin was always fully in control of Ivy Bridge, including "all aspects" of the academic programs.
"The Ivy Bridge College structure is an organizational unit that has allowed Tiffin University to use the financial support and expertise of Altius Education to develop high-quality online courses and to market these to a wider audience than would have been available if Tiffin had tried to do this with our own resources," Marion wrote to a commission official in June. "The arrangement is similar to the contracts that many accredited institutions have developed with third-party service providers."
One lawyer, who read some of the Ivy Bridge documents but asked not to be identified given the complexity of the situation, said the commission may have had a point about institutional control. He said the failure of Tiffin to contribute financially was a problem, and could be so for other, similar arrangements.
However, he said the commission's policies were unclear on the matter. And the rules certainly wouldn't be consistent at other regional accrediting agencies. "Each accreditor will dictate what they are comfortable with," he said.
Freedman said Tiffin would have made any necessary changes to assuage the commission's concerns about Ivy Bridge – even offering to voluntarily drop the program's eligibility for federal financial aid. But he said the accreditor appeared unwilling to budge. For example, in a letter to Marion in May, the commission said that "with so many issues, it is likely that the board will be considering denial" of Tiffin's application to include the joint venture in its accredited status.
"What changed, in my mind, was the political environment," Freedman said, of the accreditor's stance after its review of Tiffin in 2010.
Manning was grilled on Capitol Hill by Sen. Tom Harkin in 2011. That hearing, in which the Iowa Democrat laid into Manning for the commission's handling of for-profits that bought colleges complete with their accreditation, drew plenty of notice around the academy.
Freedman and other observers said federal pressure has influenced the commission and other accreditors to be stingier about partnerships between nonprofits and for-profits. Some critics see those relationships as the next iteration of accreditation buying.
For her part, Manning said the problem was a joint venture that was never properly approved. She said the commission would have worked with Tiffin to help it find a way to be compliant, as it had with other colleges in somewhat similar situations.
Manning said the commission has approved several programs at other institutions that observers describe as innovative, or even controversial. In particular she cited the "direct assessment" degree programs, which are an aggressive form of competency-based education, at Capella and Northern Arizona Universities.
Freedman doesn't buy it.
"HLC at some point decided that they didn't like this relationship," he said, "and decided to kill it."
Structure, or Quality?
The academic quality of Ivy Bridge's programs eventually factored into the tussle over its accreditation -- albeit in a somewhat indirect way. It also became a public relations issue this month.
In several documents, commission officials said Tiffin lacked proper faculty oversight of degree programs at Ivy Bridge. The allegedly poor quality and rigor of some Ivy Bridge courses was evidence of that inadequate control, the commission said, as were relatively low student retention rates.
The commission found that only one in four degree-seeking students enrolled at Ivy Bridge in fall 2011 were still enrolled the following fall. That 25 percent "persistence rate" lags retention rates at Tiffin's residential, four-year campus (over 60 percent) and other two-year programs around the country, the commission said.
Those comparisons are unfair, said Freedman. Ivy Bridge is a transfer institution serving nontraditional students -- half of whom are mothers and most of whom are older than traditional-aged college students. When an Ivy Bridge student transfers to one of its 150-plus partner universities, that's a success, even if they haven't completed their associate degrees, he said.
It's a totally different story for students at Tiffin's traditional campus, Freedman said, which renders such comparisons useless.
Furthermore, both Altius and Tiffin have fired back with rebuttals to complaints about academic quality at Ivy Bridge. Altius cited one metric -- which includes graduation and transfer rates -- that showed Ivy Bridge outpacing a "benchmark" comparison group of two-year institutions by 65 percent to 28 percent.
Manning called the college a "bridge to nowhere," according to an article in The Chronicle of Higher Education. That soundbite migrated to other media outlets, including the Toledo Blade, which ran a scathingly critical staff editorial about the college under the headline "Ivy Bridge to Nowhere."
The quote rankled Freedman. He called it a cheap shot and inappropriate for a leader of an accrediting agency.
Manning basically agreed, calling her comment flippant.
"I would prefer not to have said it," she said.
More Trouble
Little information was available about the Justice Department investigation of Altius and Ivy Bridge. A letter from the agency didn't add much.
One possibility is that a whistleblower may have filed suit against Ivy Bridge – perhaps a student or former employee. The Higher Learning Commission cited a whistleblower complaint as a partial motivator of its stepped-up scrutiny of Ivy Bridge.
The federal government sometimes opts to join false claim lawsuits against colleges. For-profit chains have been slapped with several such cases in recent years.
Altius appears to still be in good graces with Harrisburg University of Science and Technology and its accreditor – the Middle States Commission.
Eric Darr, the university's president, said he received a call from a commission official shortly after news broke about Ivy Bridge's closure. But he said the call was just to check in. Darr said Altius is handling only student recruiting and the technology side of the two degree programs, which are both master's in computer science.
"Altius is doing a great job doing what they're supposed to be doing," he said.
Many observers had wondered what, exactly, went wrong at Ivy Bridge in the eyes of its accreditor. Some criticized the commission for not making the documents public.
However, Manning said that would be unfair, because Tiffin never went through an official process to have its case heard. The letters and reports were not the finalized versions that would have come if Tiffin had submitted a formal application. The commission should not make public preliminary documents about programs at colleges, she said.
The commission is moving toward following WASC's lead by releasing final reports. But Manning said that change will take some time.
Despite the fact that the letters and reports from the commission on Ivy Bridge were not fully "validated" by the accreditor's governing board, some of the consequences they described were serious.
This year the commission warned Tiffin that its relationship with Altius could lead to possible problems for the university. One document said the situation could result in a "recommendation for at least a sanction."
That warning may have played a role in the university's decision not to pursue accreditation for Ivy Bridge, which makes up roughly half of Tiffin's total enrollment.
"Tiffin felt they were putting at risk an institution that was founded in 1888," Freeman said. "That's a scary threat to a university."