You have /5 articles left.
Sign up for a free account or log in.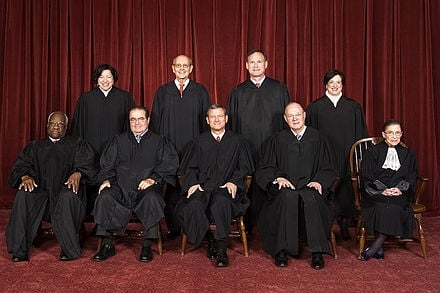 A U.S. Supreme Court ruling in June kept alive the right of colleges and universities to consider race in admissions. But in some states -- starting with California in 1996 -- voters have taken away that right, barring public colleges and universities from considering race and ethnicity in admitting students. While colleges and higher education associations have repeatedly urged state voters not to enact such bans, they have been largely on the sidelines of a legal fight over whether the bans themselves are unconstitutional.
That changed on Friday, when the American Council on Education, joined by 48 other higher education associations, urged the Supreme Court to throw out Michigan's 2006 ban on the consideration of race in admissions decisions. The challenge to Michigan's constitutional amendment came from a group called the Coalition to Defend Affirmative Action, Integration and Immigrant Rights and Fight for Equality By Any Means Necessary (commonly known by the acronym BAMN for the the last four words of its name, and the phrase popularized by Malcolm X).
States Where Voters Barred Public Colleges From Considering Race
Arizona
California
Michigan
Nebraska
Oklahoma
Washington State
BAMN has been arguing for years -- at first unsuccessfully but, more recently, with success -- that states that bar public colleges and universities from considering race in admissions are unconstitutionally squelching the political rights of minority citizens. The ACE brief does not go as far as BAMN in advancing that argument, but says that Supreme Court rulings have left it to colleges to decide whether to consider race in admissions, and that state referendums should not remove that right.
"Whether and how, within the bounds of the Equal Protection Clause, to pursue the educational benefits of a diverse student body are questions of academic policy and practice properly assigned to the judgment of colleges and universities," says the brief. The ACE brief notes that the college associations still believe in the educational value of diversity, but that because they do not view that as the central issue to this case, they don't make new arguments on it -- but rather refer the justices to the briefs they filed in the case the justices decided in June.
With this argument, ACE and the other college associations are backing the outcome sought by BAMN without necessarily endorsing all of its legal theories, or those advanced by judges who have already heard the case. Privately, some college leaders who favor affirmative action have called this legal case politically awkward for public higher education leaders, who generally don't want to be associated with arguments that could seem to suggest that the voters in their states can't decide certain issues.
At the same time, these college leaders have said that they would love to see the state bans reversed. If the Supreme Court sides with BAMN and ACE, a ruling would probably affect not only Michigan's ban, but those of several other states, including California. Indeed another brief filed Friday came from the president of the University of California system, and the chancellors of all of the system's campuses. The University of California brief provides an overview of how a statewide ban on the consideration of race has played out in the nation's most populous state. And the California brief takes aim at a competing one filed by Michigan's attorney general, who is urging the Supreme Court to uphold his state's ban.
The issue before the Supreme Court this term is not, strictly speaking, on the merits of affirmative action. Rather, BAMN has argued (and the U.S. Court of Appeals has agreed in two rulings, one by a 2-1 vote and one by an 8-7 vote) that Proposition 2 (Michigan's ban) effectively denied minority citizens the same right to influence the policies of public universities that other groups have. So, for example, if rural Michiganders want to encourage the public universities to adopt policies that would help rural students, they can do so. But under Proposition 2, those who believe that consideration of race is important can no longer try to get the public universities to do so in admissions. Proponents of Proposition 2 have said that the referendum is a race-neutral tool of democracy, and that states have the right to use referendums to consider policies with regard to public college admissions policy.
Documents in the Case
Scotusblog has an archive of all previous rulings and briefs in the case, adding full text of documents as they become available.
The appeals court rulings backing BAMN's position surprised many legal observers (even some of whom are strong supporters of affirmative action and who would have voted No on Proposition 2). Similar suits challenging California's voter-approved ban have been rejected in the courts.
The petitioner before the Supreme Court is Bill Schuette, Michigan's attorney general. He argues in his brief that, by definition, a constitutional amendment barring consideration of race by state agencies can't be found to constitute unconstitutional discrimination. "A law that infringes equal protection classifies a group and then treats that group differently without adequate justification," his brief says. "But [the ban] does not single out groups for differing treatment; quite the opposite, it prohibits public universities from classifying applicants by race or sex and treating them differently."
Schuette's brief also rejects the idea that the state's ban on consideration of race in admissions constitutes a "political restructuring" of the sort that can be subject to scrutiny on whether it limits the rights of minority citizens. "[I[f the Sixth Circuit is right that a political-restructuring claim voids a provision that eliminates discrimination and preferences, it is difficult for any law to require equal treatment," the brief says. "That is because every state and federal law elevates decisions to a higher political level. For example, the federal Fair Housing Act would be suspect because it stops homebuyers from lobbying state officials for race- and sex-based preferences. That result cannot possibly be correct."
Several groups opposed to the consideration of race in admissions have also filed briefs backing Schuette's position.
The California Association of Scholars (part of the National Association of Scholars, which opposes consideration of race in admissions), filed a brief saying that Proposition 2 and similar measures have had a positive impact, and also strongly contesting the legal theory accepted by the appeals court.. "Your ordinarily mild-mannered and forbearing Amici are not noted for a tendency toward hyperbole. When we call something a travesty of justice, as we do here, it is because we view it as exactly that.," the brief says.
Richard Sander, a professor at the University of California at Los Angeles who is a prominent critic of affirmative action, filed a brief arguing that Proposition 2 helped a minority group -- Asian Americans. His brief says that affirmative action as practiced by elite institutions results in Asian-American applicants needing to have much better qualifications than do other applicants. As a result, he wrote, members of that minority group might well want to vote to bar consideration of race.
"There is a long tradition in the United States of enshrining fundamental rights in constitutions, as evidenced by the Fourteenth Amendment itself. This constitutional protection is particularly important for groups that have suffered from discrimination historically, and for groups that are politically weak," Sander's brief says. "Asian Americans qualify under both criteria; they have suffered extensive discrimination in American history, and they were, at the time of Proposal 2's passage, pretty clearly the politically weakest of the four major racial groups in Michigan. Establishing a constitutional prohibition of racial preferences, which protects Asian-Americans from discrimination, is entirely consistent with other protections of rights in both the federal and state constitutions."
The Impact of Bans on Affirmative Action
While the case before the Supreme Court is at its heart about whether states can use referendums as Michigan and others have, many of the briefs focus on the effectiveness of affirmative action and the impact of state bans on their public colleges considering the use of race in admissions.
Schuette's brief says that "universities have experienced success without race- and sex-based preferences." And he specifically cites the experience of California's universities.

"The record level in African-American and Latino college-graduation rates in California is consistent with studies documenting that large race-based preferences can sometimes harm minority students by creating an academic 'mismatch,' where under-prepared students must compete with far better-prepared classmates."
These claims and others prompted the brief filed Friday by the University of California president and chancellors. Indeed the introduction to the California brief describes its purpose as primarily refuting Schuette. "The UC experience is highly relevant to the court's consideration of this case, because Petitioner has held the University of California out as an example of the purported success of race-neutral admissions in achieving diversity and providing access to underrepresented minorities. In fact, as Amici demonstrate below, Petitioner's assertions about UC's experience cannot be squared with the facts."
The brief acknowledges that the system has made progress -- especially since the deep declines in minority enrollments just after 1996 -- but argues that the progress has been "limited and disappointing."
Further, the brief says that Schuette and others ignore key parts of the enrollment record since 1996. "Berkeley has experienced dramatic declines in the percentages of its enrolled class that comprise African Americans and American Indians. The freshman class that entered Berkeley in 1995 included 202 African Americans (6.7 percent) and 56 American Indians (1.8 percent). The freshmen class that entered the university in the most recent academic year includes just 129 African Americans (4.2 percent) and 25 American Indians (0.8 percent)."
And while Latino numbers have increased, the brief argues that the crucial statistic is how Latino students enroll relative to their share of the state population -- a comparison that suggests that the university system is losing ground in its goal of serving all populations in the state. "For Latinos, the percentage of the admitted pool of California residents systemwide increased during this period (from 15.8 to 27.1 percent), as did the percentage of the enrolled pool (from 15.6 to 26.5 percent).55 But these bare figures must be considered in light of the explosive growth in California's Latino student population during the same period: from 1995 to 2012, the percentage of public high-school graduates who were Latino jumped from 30.0 to 46.2 percent.56 In other words, the growth in the number of Latino students, while substantial, is still far lower than one would expect based on the number of Latino high-school graduates in California."
Further the brief notes that University of California campuses have also had great difficulty enrolling minority professional students. "The proportion of underrepresented minorities at [medical] schools is a fraction of their percentage of the state population. In 2012-13, for example, 5.2 percent of the university's medical students were African Americans, 0.5 percent were American Indians, and 12.0 percent were Latino. The percentages at the university's four law schools were only slightly higher. This is in a state where African Americans make up 6.6 percent of the population, American Indians 1.7 percent, and Latinos 38.2 percent. In certain years during the 10 years ending in 2011, the medical schools at UC Irvine, UCLA, and UC San Diego and the law school at UC Irvine have not had a single African-American student."
Another brief filed Friday -- this one by social science scholars affiliated with the Civil Rights Project at UCLA -- says that it is unfair to say that Proposition 2 should be viewed as not harming minority citizens. "Petitioner's claims that Proposal 2 does not harm racial minorities ignores the real-world consequences that a decline in campus racial diversity has for students of color, including how racially isolating environments can undermine learning and persistence," the brief says. "The claims by petitioner and his supporting amici curiae that Proposal 2 in fact benefits racial minorities by preventing them from being admitted to selective institutions where they are academically 'mismatched' and cannot compete are strongly refuted by the weight of scientific evidence. Reliable social science research consistently shows that racial minority students admitted to the most selective universities under race-conscious policies have higher completion rates than similar students enrolled in less selective institutions."
More from Traditional-Age