You have /5 articles left.
Sign up for a free account or log in.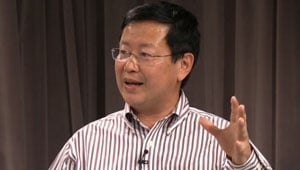 More than 130 faculty members at Wellesley College have signed an open letter saying that they will urge the college to reconsider its institutional partnership with Peking University if a professor of economics there is fired for his outspoken advocacy of democracy and individual freedom. Peking University's School of Economics is expected to hold a vote on the ouster of Xia Yeliang this month for reasons, as the Wellesley letter states, "based solely on his political and philosophical views." 
"We believe that dismissing Prof. Xia for political reasons is such a fundamental violation of academic freedom that we, as individuals, would find it very difficult to engage in scholarly exchanges with Peking University," says the letter, which is addressed to Peking University administrators. "If he is dismissed, we will encourage Wellesley College to reconsider our institutional partnership." In June, Wellesley signed a memorandum of understanding with Peking to include faculty and student exchanges, joint research and virtual collaborations.
The letter from Wellesley faculty is not the first instance of a faculty banding together to voice concerns about academic freedom raised by an overseas partnership -- though it could prove to be the first case of a faculty derailing one. Faculty members at Yale University, which just opened a liberal arts college jointly with the National University of Singapore, approved a resolution expressing concern about Singapore's poor record on civil and political rights, and Duke University's Academic Council compelled the university administration to scale back its plansfor a campus in China after raising a variety of concerns about the venture, academic freedom among them.
The case at Wellesley is different, however, in that it does not involve a broad statement about principles of academic or other freedoms but rather is a response to a single, specific case. 
"The line just got crossed," said Susan M. Reverby, the Marion Butler McLean Professor in the History of Ideas and a professor of women's and gender studies at Wellesley. "This is a pure and absolute example of the failure of academic freedom. Then the question becomes what's our position as the partner here? What's our moral position?"
The partnership between Peking and Wellesley makes Xia "our colleague," said Thomas Cushman, the Deffenbaugh de Hoyos Carlson Professor in the Social Sciences and a professor of sociology at Wellesley. "We need to protect him. It's almost a duty."
Xia, a classical liberal economist who describes himself as a fan of Milton Friedman, is one of the drafters of Charter 08, a manifesto that called for the end of one-party rule in China. "We think in China we need a constitutional democracy," Xia said in a video-taped interview he gave with Cushman and Reverby during a recent visit to Wellesley. 
"Forerunners have been fighting for this for over 100 years. We're still at a crossroads; we cannot find the solution, a correct path to that way. It's a great pity for the Chinese people. I feel the Chinese people have suffered so much in [their] long history without sufficient protection of human rights, without the execution of rule of law. We're lacking a lot of core values. I think the ideology of Marxism, communism, actually brought a lot of disasters to China."
Cushman, who studies human rights, said that the Wellesley partnership was signed at a time that the Chinese government was growing increasingly repressive and intolerant of Western, liberal thought. A government memo this spring outlines seven topics that are considered taboo, including in universities: among the "speak-not subjects" are "universal values" of human rights, press freedom, judicial independence, economic neoliberalism, and historic mistakes of the Communist Party. 
"I knew about that intensification of the repressive environment [in China] at the same time I was hearing from our college administration about this glorious new exchange," Cushman said. "So my question originally in the early part of the process is to what extent is the college cognizant of the fact that the academic and intellectual environment is becoming more repressive even as we go into an exchange that we're celebrating for all its liberal virtues?"
Yet C. Pat Giersch, an associate professor of history and an expert on China, worries that the way in which the letter is being presented and framed could result in Wellesley potentially "painting itself into a corner" as far as its engagements with China go. "I am concerned that we could be getting into a situation where we define almost any exchange with a Chinese institution as something that morally we could not do because we will not find an institution where academic freedom is absolute," he said. 
"In the end I think we need exchanges with China and they're not always going to be under the conditions that we set for ourselves at American institutions, especially liberal arts institutions," Giersch continued.
Neither Xia nor the dean of Peking University's School of Economics could be reached prior to deadline. If Xia is in fact dismissed it is unclear what the next steps will be: the text of the letter says that signatories will ask the college to "reconsider" the partnership (not, necessarily, to nullify it). It is possible there could be a vote in the Academic Council on whether to terminate the partnership. (There was no such vote on whether to initiate it.)  According to two accounts of the most recent Academic Council meeting, President H. Kim Bottomly said that if faculty were to vote to end the institutional partnership, it would not move forward. 
"The partnership between Wellesley and PKU can only exist with faculty support," Bottomly said in an e-mail to Inside Higher Ed. "We will follow our faculty's lead. While I believe it is important to speak up about academic freedom, I also believe that dissolving the partnership would have negative consequences for faculty here and for faculty in China. Partnerships with leading colleges and universities around the globe are important, because of their potential to enhance our students' education, and because of the relationships and opportunities they open up for our faculty. The continued exchange of ideas is essential to achieving academic freedom, and to advancing the entire academic community worldwide. That's why I believe our partnership is more valuable than ever, and I am hopeful that -- under the leadership of our faculty -- our partnership with PKU can continue to develop and flourish."
Bottomly also said that she intends to have a conversation with administrators at Peking University "about the importance of academic freedom to members of Wellesley faculty and to all of our community, and about the seriousness with which we would view the dismissal of Professor Xia. I will also express my desire to continue the collaboration to advance our common goals, which includes academic freedom."