You have /5 articles left.
Sign up for a free account or log in.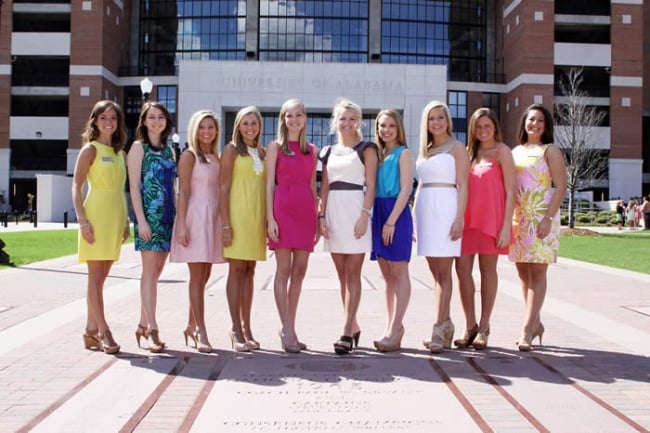 The University of Alabama has faced a barrage of criticism over the past several days, after its student newspaper published an account of black students being denied membership into white sororities because of their race.
Among the complaints is that Alabama is especially behind the times, having been slower than other campuses to integrate its sororities in the nearly 60 years since Brown v. Board of Education and five decades since Alabama Gov. George Wallace personally blocked a campus door to prevent the first two black students from enrolling there.
But the allegations out of Alabama are not particularly shocking to some who study diversity in the Greek system, in which informal segregation has remained the norm on campuses far beyond the deep South.
And the norm at most campuses isn't to track the issue. So colleges that know the racial make-up of not only their student bodies, but also of students in particular fields of study or on athletic teams, say that they don't know for sure that many Greek houses lack any racial diversity.
The Crimson White reported last week that four Alabama sororities denied membership to two black women due to interference by advisers or alumnae. One of the women was a prime candidate, the report said – high grades, impressive public service record and familial connections to the university – and despite her success in wooing the potential future Alpha Gamma Delta housemates, alumnae told current members that her membership status would not be put to a vote per usual procedure, the Crimson White wrote.
An alumna from that sorority denied that the woman's race had anything to do with the decision, saying it was policy-based.
While Alabama is in the spotlight for race issues in its Greek chapters, Smith College made the news Wednesday for a student who gauged interest in a new sorority "which would basically just be an exclusive group for straight girls, a little friend group." Jezebel published a letter the woman sent out to students, one of whom posted it on her blog.
"Personally as a straight girl at Smith, I feel marginalized and I feel like the minority," the student wrote, "and I think this could be a really great way to socialize with people we identify more with at smith (sic), and to meet more guys."
A Smith spokeswoman did not respond to a request for comment Wednesday.
It's been 50 years since Alabama's 40-plus sororities and fraternities – not to mention thousands of others across the country -- became "integrated." Yet reports resembling those out of Alabama are so common that one emerges every year or two, said Matthew W. Hughey, an associate professor of African American Studies at the University of Connecticut who has studied racism in white sororities. (And there are probably many more unknown reports.)
"It's de jure illegal, but de facto in practice," Hughey said. "The bigger point here is that the Greek letter system – all over the United States, not just in the deep South – has traditionally been based on exclusion…. We shouldn't think organizations based on exclusion will all of a sudden become inclusive."
About 12 percent of Alabama students are black, and 24 percent of all students are members of Greek organizations. (The more than 60 chapters include eight historically black sororities affiliated with the Alabama National Pan-Hellenic Council.) The first black Alabama student to pledge a traditionally white Panhellenic sorority did so in 2003 – and no one has followed suit since. On Wednesday, students and faculty marched across campus to protest racism on campus.
"When our tuition money subsidizes repeated acts of racism, we are allowing George Wallace's dream of segregation today, segregation tomorrow, segregation forever to live on," Faculty Senate President Steve Miller wrote in a letter inviting colleagues to march. "This is unacceptable."
The controversy is also focusing attention on other traditions that may discourage the mixing of groups of students with different backgrounds. On Wednesday, the student government at Alabama announced that it was suspending block seating for student groups at Saturday's home opener for the football team, AL.com reported. Block seating for student groups has been very popular, but the best blocks have gone to traditionally white fraternities.
Jimmy Taylor, the student government president, said that "our campus has been the subject of attention for alleged discrimination within the Greek system. I want to address the situation and do my best to foster a sense of inclusiveness and diversity in all areas of campus."
'Laissez-Faire Approach'
Because many fraternity and sorority chapters operate under a national private umbrella organization, college officials often say their hands are tied when it comes to controlling what goes on in the houses. But they are by no means completely separate from the organizations, either.
For instance, while sororities may be private organizations, the houses they occupy are often owned by the university. And although there can be a slew of chapters focused on serving minority students, white Greek letter organizations usually get the most campus resources, Hughey said, and have the most knowledgeable and seasoned advisers.
"We're not just talking about a matter of separation in terms of space," he said, adding that deliberate segregation is allowed to continue in part because campus officials take a "laissez-faire approach," assuming students are just going to do what they want to do. "If administrators don't take a proactive stance…. then of course you're going to see the same habit reproduced year after year after year, long after the laws are taken away."
In the last two or three decades, while there's been an "explosion" in the number of fraternities and sororities designed for different ethnic or special interest populations (Hispanic, Asian or gay students, for example), historically white chapters have not increased in number, said Ron Binder, associate dean of students at the University of Pittsburgh at Bradford.
Most campuses don't track Greek membership by individual race, nor does anyone measure it nationally, said Binder, who is also co-chair of the Fraternity and Sorority Knowledge Community for NASPA: Student Affairs Administrators in Higher Education. Several campuses contacted for this article either did not respond or said they do not track that information, while a few noted that their traditionally white sororities do include non-white women, though there's no data to show for it.
"Both our men's and women's groups have been integrated," said Thomas Reardon, dean of students at the University of Mississippi, which has been quicker to integrate than Alabama, according to the Crimson White article. "Perhaps not to the extent that we want, but we continue to encourage progress in this area."
While Binder has noted an increase in diversity in chapters on his own campus, with 8,000 chapters nationwide, "you're going to find some that are going to be more diverse than others," he said.
"The numbers are still probably pretty small, and not all that representative of Census data," Gregory S. Parks, an assistant professor of law at Wake Forest University who studies race in Greek life, said of the prevalence of non-white students in traditionally white sororities. This is part due to lack of interest on the part of non-white women, although, Parks said, "There's probably certainly more interest than in the past, and maybe more interest than people think."
Parks's niece, for instance, just joined a predominantly white sorority without even considering a historically black one. But for her and others, the question now becomes not "Will I get in?" but "What happens now?"
"How responsive are the members – and now in this instance (Alabama) – alumni, in having non-white members of their respective chapters?" Parks said. Alabama has been spotlighted amid other, more explicit racial tensions before. In 2011, a string of incidents involving students using racial epithets – including one instance where a member of a white fraternity shouted from the window at a black student walking by -- prompted faculty and administrators to remind the campus that such behavior is intolerable.
On Monday night, the same day the Crimson White published a letter from concerned students and faculty members demanding the university do more to desegregate, Alabama President Judy Bonner ordered sorority chapter leaders to begin using a rush system through which they can accept members who haven't gone through the entire rush process. Theoretically, this would allow sororities to admit black members who were not admitted through the traditional rush process.