You have /5 articles left.
Sign up for a free account or log in.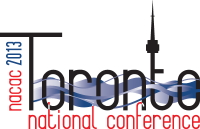 TORONTO – Two years ago, a proposed change to National Association for College Admission Counseling (NACAC) policy on the use of commissioned agents in international student recruitment was a subject of intense debate. A session on this subject at NACAC's annual conference on Thursday was, however, notable largely for the lack of drama.
There were references to bad practices and predatory behaviors, but for the most part the discussion centered around questions of a technical nature – questions regarding clarification on language and the like – and of first steps for institutions that choose to engage commissioned agents internationally if and when NACAC lifts its long-standing ban on the practice. 
The NACAC Assembly will vote on Saturday as to whether to do just that, in the culmination of what's been a more than two-year-long process. In 2011, NACAC proposed a revision to its Statement of Principles of Good Practice clarifying that the association's ban on incentive-based recruitment, which U.S. law bars in the case of domestic students, applies in overseas contexts as well. After being flooded with comments, however – more than 300 of them – NACAC formed a Commission on International Student Recruitment, which this past summer issued a report recommending that the association allow, but discourage, the use of commissioned agents in international recruitment, and that it hold universities that do choose to use agents to high standards around issues of accountability, integrity, and transparency. At the same time the commission recommended continuing NACAC's mandatory ban on the use of incentive-based compensation in domestic student recruitment.
It's hard to say with certainty what the muted atmosphere surrounding Thursday's discussion of the commission's recommendations foretells for Saturday's vote, but Inside Higher Ed's own surveys, conducted this year by Gallup, have documented a shift in attitudes toward this topic. In 2011, the majority of admissions directors (65 percent) backed NACAC's then-draft policy banning the use of commissioned agents in international recruiting, while this year the majority (58 percent) support the new draft policy permitting the practice. No doubt helping to bring about the change in views is the fact that a growing number of U.S. universities -- NACAC members -- are now openly using agents: the proposed policy is thus in some ways catching up with the practice.
Fifteen of the 28 members of the commission were on hand to discuss the recommendations and answer questions on Thursday. Throughout the session they straddled the line they drew in the report, reiterating that it is possible to responsibly and ethically work with commissioned agents, while warning of the dangers involved in doing so. Although members of the commission did not reach consensus on whether per-capita compensation of agents is to blame for abuses such as misrepresentations by agents to students and institutions, the majority of members believed that the practice "tends to compound the likelihood of such problems occurring."
"There's no question that the issue of protecting students was foremost in everyone's mind," said Mark Sklarow, chief executive officer of the Independent Educational Consultants Association.  "The important task for us was [determining] is there something inherent to incentivized compensation that makes it impossible? I think if you look at the recommendations, #2 says that it's not best practice to do this. You've got to give serious thought to doing it, because there are difficulties and you've got to approach it the right way. And I hope people take that item #2 very seriously. You should not enter into this until you're sure that you're protecting the best interests of students. That's gotta be first."
"I just want to make sure we know where we've been and where we're going," said Jim Miller, a former NACAC president and retired admissions director at the University of Wisconsin-Superior. During the commission's deliberations, he said, members learned that "there were folks dealing with agents well and that there were real problems with some agent behavior and relationships that led us to go from a complete ban, which had been the case, to saying, 'OK, there are some ways you can do this, it's fraught with challenges, but if you do it with transparency and accountability, we are comfortable that it's an allowable practice.' So we've moved from no one can, to you can if you do it responsibly."
"If this passes the Assembly on Saturday we will go from a ban to an allowance with those provisions, and then we can work out the details," Miller continued. "If we don't get it through the Assembly on Saturday, then we've got the ban."
Among the details that came up during the session was how the language of "domestic" and "international" students included in the commission's recommendations applies to NACAC member institutions based outside the U.S.  Members of the commission acknowledged that they did not address this issue specifically in their report, but said that the association's newly formed International Advisory Committee will be continuing to tackle questions such as these in the year ahead. 
"This is the first step of many," said Douglas L. Christiansen, the vice provost for enrollment and dean of admissions at Vanderbilt University.