You have /5 articles left.
Sign up for a free account or log in.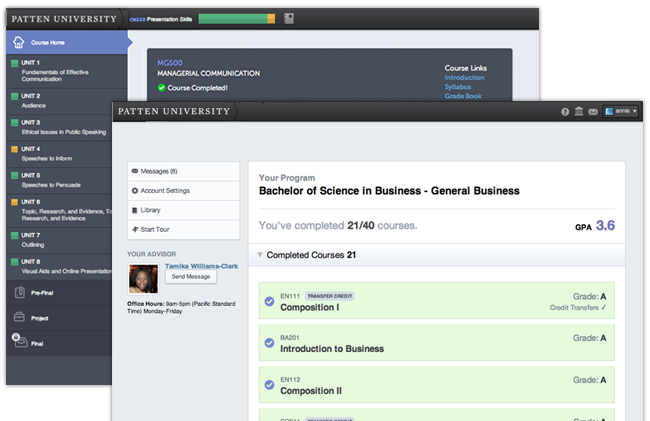 UniversityNow's Patten University may be the first institution to successfully renew its regional accreditation while also voluntarily dropping out of federal financial aid programs.
That move is one of several that make the Bay Area startup novel, or at least a new twist on emerging models in higher education.
UniversityNow operates New Charter University and Patten, a former religious college in Oakland the company bought last year. The two sister institutions both offer competency-based degrees that are self-paced and online, but feature a relatively heavy dose of faculty support.
The company is unapologetic about how it has copied liberally from Western Governors University, a nonprofit pioneer in competency-based education. UniversityNow even poached talent from the university, including Salvatore Monaco, WGU's former provost, who is New Charter's CEO and president.
But UniversityNow has deviated from WGU's successful playbook in several ways – most notably with its for-profit status and by forgoing federal aid eligibility.
The aid decision is a big part of how the company manages to keep its tuition levels down.
Participation in federal aid programs comes with a lot of red tape. Colleges spend time and money filling out required paperwork. As a result, research shows that colleges that remain on the outside of Title IV, which is the law governing federal aid programs, generally are less expensive than their counterparts.
For example, UniversityNow spends under $100 to enroll each new student, said Gene Wade, the company's CEO and founder. He said federal aid processing costs would drive that number up -- way up.
"Our enrollment process is 20 minutes," Wade said. "It's two phone calls."
UniversityNow's Pricing
Patten University:
Online, undergraduate: $350 per month, $1,316 per term
On-campus, undergraduate: $1,316 per term (up to 18 credits)
New Charter University:
Online, undergraduate: $199 per month, $796 per term
The online tuition rate at Patten is $350 per month for undergraduates and $520 per month for graduate students. The university charges a flat rate for its term, which students are typically expected to complete in 16 weeks. That works out to $1,316 per semester equivalent for undergraduates.
Patten's on-campus tuition is higher, but still relatively affordable. And the fully online New Charter, which is not regionally accredited, is priced even lower than Patten (see box).
The payoff for students, Wade said, is that tuition rates are reasonable enough that they eliminate the need for federal aid.
Innovation and Politicization
The company raised eyebrows last year with its purchase of the struggling Patten.
That's because it has gotten tougher for a for-profit to buy a ground campus that comes with accreditation. The once-popular technique of "accreditation shopping" has drawn the wrath of a powerful U.S. senator and other critics of the industry. But UniversityNow was able to make it work by promising to maintain Patten's mission of serving lower-income students.
"We've married for-profit with social justice here," said Janet L. Holmgren, Patten's CEO and the former president of Mills College.
In July the senior college commission of the Western Association of Schools and Colleges (WASC) reaffirmed Patten's accreditation. It also approved two of the university's new online business degree programs – one bachelor's and one master's.
"That's really when things began to take off," said Gene Wade, UniversityNow's CEO and founder.
Wade said the university's growth has been rapid since then. Along with New Charter, the two universities total enrollment recently topped 1,000 students, with the bulk enrolling online through Patten. And last month UniversityNow landed $19 million in venture capital funding.
"More students are interested in a regionally accredited institution," he said.
While UniversityNow is still in its infancy, the model has generated a lot of buzz. And not just from foundations and others interested in potential "disruptions" to traditional higher education institutions.
Bob Shireman, the former U.S. Department of Education official who tangled often with for-profits, applauded the company for its low cost and focus on job training. Another prominent critic of the sector, Barmak Nassirian, echoed that praise.
"In the abstract, I absolutely want them to succeed," said Nassirian, who is director of federal relations and policy analysis for the American Association of State Colleges and Universities.
The reason, he said, is that UniversityNow has taken the risk of forgoing federal dollars. Nassirian has long argued that for-profits should be able to thrive without such a heavy reliance on students who receive Pell Grants and other federal aid.
"I respect the fact that they have stepped away from Title IV," he said. "They are exposing themselves to the market place."
Wade knows about the strings that can come with public funds.
He previously headed Platform Learning, a K12 tutoring firm. In 2005 the company lost contracts in Chicago amid complaints about administrative lapses and other snags. At the time Wade said bureaucracy in the city school district, which was headed then by Arne Duncan (now the U.S. education secretary), contributed to the mess.
Wade said the experience taught him that it's much easier to innovate when you can avoid politicization. "Not taking government money makes us not political," he said.
Support and Self-Pacing
Michelle Rhee-Weise, senior research fellow at the Clayton Christensen Institute for Disruptive Innovation, has kicked the tires on a lot of online learning platforms, including ones that are competency based. But Rhee-Weise said UniversityNow has the most impressive one she's seen.
"They're being thoughtful about it in terms of learning science," she said, calling the platform "sleek and impressive."
The company is also giving potential students a chance to see how the courses work before enrolling. They can watch video lectures for New Charter courses, take an initial assessment and work through course material and assignments. The only missing piece is the final exam.
"It doesn't cost you very much to let people try the product," Wade said.
A growing number of students have gone the "try before you buy" route at New Charter and then enrolled at Patten. Wade said that probably wouldn't be possible if UniversityNow was participating in Title IV.
Self-paced online learning remains controversial, in part because it looks so different from the traditional classroom. Critics worry that it moves higher education toward being a box-checking widget factory, where learning finishes a distant second to test-taking.
New Charter and Patten are trying to ease some of those concerns by featuring plenty of opportunities for students to interact with instructors.
The two universities' faculty members will be full-time employees, Wade said. And the company expects them to work with students for at least 32 hours per week.
Peter Francis is a Patten instructor. He teaches business courses and an introductory course of learning strategies for new students, many of whom have been out of school for a long time.
The goal is to help students "function as independently as possible," Francis said. But when they get stuck on a concept, Patten makes sure they have an instructor available to help. Francis said he is available "on demand" and talks often with students through the university's internal messaging system.
"I list my office hours as 9 to 9, every day," said Francis, who has also taught as an adjunct for the University of Phoenix.
Patten's students are encouraged to work together, which the university's leaders said is a distinctive feature for a competency-based program.
The company uses a software-based system that places students with peers who are working at similar paces. Those cohorts move through the course material together, and can lean on each other for help.
Employer partnerships are a big part of UniversityNow's plans for expansion. The company has already struck deals with the cities of Sacramento and Oakland, whose employees pay nothing out of pocket to attend the university thanks to tuition discounting by the company and the cities' tuition assistance plans.
Wade said UniversityNow is working on partnerships with a dozen large private employers as well, and has begun recruiting students from their ranks.
One reason for that approach, Wade said, is that potential students might not understand how competency-based education works at first glimpse. It helps to have employers vouch for the university.
UniversityNow isn't the only low-cost, competency-based provider that cultivates relationships with employers. In addition to Western Governors, the upstart College for America has made noise of late, as have others.
More are coming, Wade predicts. He thinks many colleges will soon charge roughly $5,000 per year for online degree programs.
"That's what we're gearing up for," said Wade. "The market's going to move this way."