You have /5 articles left.
Sign up for a free account or log in.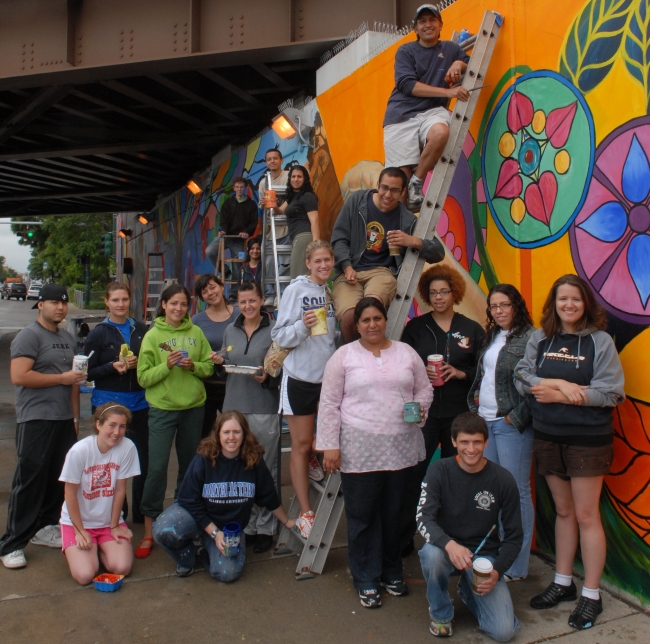 Joe Davis, Northeastern Illinois University
One can't very well expect two dozen students who live an hour or more away from a campus to drive in for a community service project on a Saturday morning. An event like that might work for a fraternity or residence hall, but not for a 12,000-student commuter campus.
So Northeastern Illinois University is taking the projects to them. By mapping out where students live around Chicago and its suburbs, officials have identified the areas most densely populated by students and arranged for service learning projects in those neighborhoods.
"There're a lot of our students who, that will have a very personal connection for them and they'll be much more likely to participate," says Frank E. Ross, vice president for student affairs at Northeastern Illinois. "A lot of times people make a wrong assumption that at a campus with a lot of nontraditional students," such as commuters or adults with families, "that they don't have an interest in community work," he says. "We found that isn't the case."
The mapping project is part of a larger civic engagement initiative underway at Northeastern Illinois. And that initiative is part of a growing effort by officials at commuter universities, community colleges and minority-serving institutions to put adult and other students to work on city streets.
Missouri State University at Springfield employees helped an online student in Colorado set up a stream restoration project. An official at Waubonsee Community College, a Hispanic-serving institution in Illinois, is forming a student leadership program that melds academic and civic learning.
Those students have just as much to gain from community engagement -- greater familiarity with heir surroundings, connecting to people they live with, understanding how coursework relates to real life -- but their campuses may not have the built-in avenues to get them involved. For instance, there are no Greek houses or residence hall associations to organize projects. There are typically fewer resources devoted to student affairs. There may not be as many active student organizations, or students may simply not have the time to seek them out.
Northeastern Illinois and others are tackling this idea as part of their involvement in the Lead Initiative on Civic Learning and Democratic Engagement, a new coalition organized by NASPA: Student Affairs Administrators in Higher Education. They are not the first to target nontraditional students in civic engagement efforts, but are adding to a growing trend and hoping their networking with the 73 campuses in Lead will help drive best practices.
"Recognizing that our student bodies are only going to become more diverse, less likely to see the traditional educational experience, I think having these conversations about engaging our students is very important," says Laura Sponsler, director of civic learning and democratic engagement at NASPA.
At Missouri State at Springfield, the only university in the state with a public affairs mission, Citizenship and Service Learning Director Katherine Nordyke has a new, $250,000 complex shared by student and academic affairs. It is a hub for everything from evaluation and assessment of students' civic engagement, to projects like evaluations of sidewalk safety that bring together the curricular and co-curricular aspects of campus life. The university offers about 240 academic service learning courses.
But Ross's specialty is service learning for online students. One might want to develop a new transportation system in a rural town. Another could do a walkability project for city government, or maybe throw a fund-raiser for a local nonprofit.
"The students, in most cases, can't come to campus. So it's looking at, where did they live, what are they passionate about and interested in, and what's their major?" Ross says. "There is an evolution in service learning, just like there is an evolution in online learning.... We want students who are taking online courses to have the same experience as the students would if they were in a seated environment."
Some research has suggested that students who engage in co-curricular activities focusing on civic learning are more successful academically. There's also a popular (though unsupported by data) line of thinking that students will be more attracted to and invested in colleges when they see opportunities to do good in their communities, says Peter Levine, director of the Center for Information and Research on Civic Learning and Engagement at Tufts University.
It's a case that officials make when lobbying for administrators' time and money to set up such programs. But that can be difficult when outdated or pre-conceived notions are at play, said Amee Bearne, national coordinator of The Democracy Commitment, which promotes civic learning at community colleges. That organization and others drew from the the Civic Learning and Demographic Engagement National Task Force's 2012 "Crucible Moment" report, which argued civic learning should be more widely accessible.
"[Students] don't see their community college as a vocational one, but rather a way in which they could get an education that is cost-effective as well as exceptional," Bearne says -- in other words, they want to be learning outside the classroom, too. "But if you talk to other people, maybe professors, who have to work with commuting students or students who initially went to school to get just a certificate.... they have different views on that."
Bearne works to make everyone -- students and staff members -- see civic learning as a pedagogical tool. She points to one community college student who was homeless, finally returned to school and got talked into attending a city council meeting for a class. And it worked -- now, he wants to run for city council in Michigan.
"It was because of the work he did in his education that connected him to politics, to community, and to real life," Bearne says.
For Melinda L. James, vice president of student development at Waubonsee, a leadership initiative -- and eventually, she hopes, a student development department -- was a natural extension of the community college's mission and purpose. Being a local leader, and actively collaborating with local organizations, is part of a strategic goal.
But now, James is starting to focus on specific learning outcomes. Many students at the Hispanic-serving institution don't see themselves as leaders because they're not president of a club, she says.
"What we want to do is get students to understand.... You are a leader in your community when you are giving back to your community. And the skills that you develop as a student leader and in civic engagement in the community can also help you lead on campus," James says. "We do this all the time, we just don't do it with quite the same structure as a four-year institution [does]."
At Northeastern Illinois, the mapping project is one of a few approaches officials are taking. They have also organized quick, simple lunchtime events like a campus trash pickup, where students who know they'll be on campus all day but have a half-hour to spare can sign up to help.
Civic learning has also emerged more prominently in university courses. The mandatory first-year experience class uses a "Discover Chicago" theme where students learn about subjects like history or geology or social issues through the prism of the city. One art professor took her class to a highway overpass in a Latino neighborhood, where they painted a mural over the graffiti.
Ross's own research has shown that these types of activities have "tremendous impact" on students' connection to their surroundings and interest in the welfare of those neighborhoods.
"I would say engaging students in this kind of intentional way on an urban campus is pretty new," he says, noting that residential campuses got ahead of the curve about 20 years ago. "And it really has a ripple effect."