You have /5 articles left.
Sign up for a free account or log in.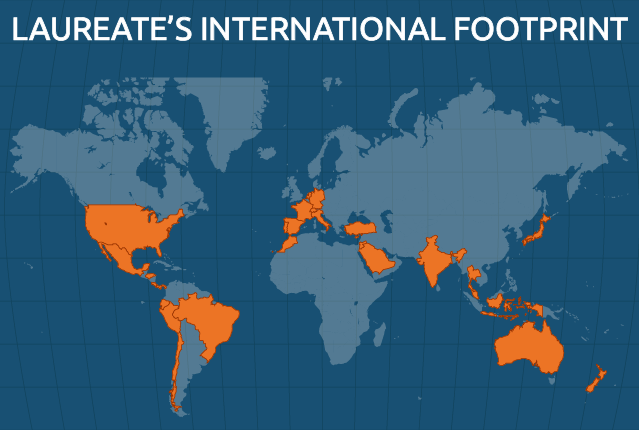 Laureate Education is big. Like 800,000 students attending 78 institutions in 30 countries big. Yet the privately held for-profit university system has largely remained out of the public eye.
That may be changing, however, as the company appears ready for its coming out party after 14 years of quiet growth.
Laureate has spent heavily to solidify its head start on other globally minded American education providers. In addition to its rapid growth abroad, the company has courted publicity by investing in the much-hyped Coursera, a massive open online course provider. And Laureate recently made news when the International Finance Corporation, a World Bank subsidiary, invested $150 million in the company -- its largest-ever investment in education.
The company has also kicked up controversy over its affiliation with the struggling Thunderbird School of Global Management, a freestanding, nonprofit business school based in Arizona.
The backlash among Thunderbird alumni, many of whom aren't keen on a takeover by a for-profit, has dragged the company into the ongoing fight over the role of for-profits in American higher education, which Laureate had largely managed to avoid until now.

A Closer Look at Laureate
For a graphical view of the network's geographical reach, enrollments and finances, click here.
In fact, Laureate likes to distinguish itself from other for-profit education companies. It is a strange (and substantial) beast to get one's arms around.
Laureate is a U.S.-based entity whose primary operations are outside the U.S. It is a private, for-profit company that operates campuses even in countries, like Chile, where universities must be not-for-profit by law.
It is unabashed in its pursuit of prestige: Laureate boasts of partnerships with globally ranked public research universities like Monash University and the University of Liverpool as indicators of quality. It also aggressively promotes the connection to its honorary chancellor, former U.S. President Bill Clinton. When Laureate secured approval to build a new for-profit university in Australia (where for-profits are called "private" institutions), the headline in a national newspaper read: "First private uni in 24 years led by Clinton."
Laureate likes to use the tagline "here for good." The company has moved into parts of the world where there are insufficient opportunities to pursue a higher education, investing heavily in developing nations. It's based on this track record that the IFC invested in the company with the stated aim of helping Laureate expand access to career-oriented education in "emerging markets": Latin America, the Middle East and Africa.
The strategy of expanding student access in the developing world has won Laureate many fans. And for a for-profit, it gets unexpectedly little criticism.
Until recently, at least. With Thunderbird, Laureate has done what it has done in many countries around the world -- purchasing or in this case partnering with a struggling institution with a good brand, offering an infusion of capital, and promising to help develop new programs and grow enrollments and revenues. This time around, however, widespread skepticism about for-profit education has bedeviled the deal.

The Bird's-Eye View
Laureate's footprint outside the United States tops that of any American higher education institution. The company brought in approximately $3.4 billion in total revenue during the 2012 fiscal year, more than 80 percent of which came from overseas.
For comparison, the Apollo Group -- which owns the University of Phoenix and is the largest publicly traded for-profit chain -- brought in about $4.3 billion in revenue last year. However, Apollo Global, which is an internationally focused subsidiary, only accounted for $295 million of that.
Indeed, in the late 1990s, when most other for-profit education companies were focused on the potential of the U.S. market, Laureate looked abroad. The Baltimore-based company, at that point a K-12 tutoring outfit known as Sylvan Learning Systems, purchased its first campus, Spain's Universidad Europea de Madrid, in 1999, and has since affiliated with or acquired a total of 78 higher education institutions on six continents, ranging from art and design institutes to hotel management and culinary schools to technical and vocational colleges to full-fledged universities with medical schools
Laureate operates the largest private university in Mexico, the 37-campus Universidad del Valle de México, and owns or controls 22 higher education institutions in South America (including 11 in Brazil), 10 in Asia, and 19 in continental Europe. It manages online programs in cooperation with the Universities of Liverpool and Roehampton, both in the United Kingdom. It has a new partnership with Australia's Monash University to help manage its campus in South Africa and it runs seven vocational institutions in Saudi Arabia in cooperation with the Saudi government.
In contrast, Laureate's largest and most recognizable brand in the U.S. is the online-only, predominantly graduate-level Walden University, which enrolls 50,000 students. And even Walden is global, with students in 145 countries.
Douglas L. Becker, Laureate's CEO, says that in the late '90s, when folks at Sylvan began researching investment opportunities in higher education, "the conclusion we came to was that the opportunity outside the United States was, to us, much more interesting, much larger."
The U.S. market looked crowded with well-established public and private colleges. For-profits were largely relegated to competing with community colleges to try to enroll working adults in vocational programs.
Outside of the U.S., on the other hand, where in many countries demand for higher education outstrips supply, and where heavily subsidized public universities are often highly selective, Laureate identified a need for reputable, comprehensive private universities.
"We believe the projected growth in the size of the middle class worldwide and limited government resources dedicated to higher education creates substantial opportunities for trustworthy private institutions to meet the growing unmet demand," the company states in an extensive 2012 financial document that Inside Higher Ed obtained. The document provides detailed information on the company's finances and operations worldwide with the exception of Asia, where many of its institutions are owned by a sister company.
Laureate's growth strategy, as outlined in that document, can be summarized as: increase operating efficiencies, expand existing campuses and add new programs -- in part by leveraging existing academic programs across its network of institutions. In addition, the company looks for colleges it might buy, focusing on ones with good reputations and relationships with regulators. In the five years after 2007, when the formerly public company went private, it acquired 28 new institutions for a total of $915 million.
Company officials say they have no intention of slowing down, with continued plans for growth through buying and expanding institutions.
In some ways Laureate has moved into the space occupied by ed-tech companies that help colleges expand their online offerings -- the so-called "enablers." But Laureate owns or manages the campuses it brings online.
Along the way the company has racked up a substantial amount of debt. "We are highly leveraged," it reported in the financial document. Laureate holds $3.5 billion in debt – roughly equivalent to one year of revenue.
The relatively high debt levels have prompted bond ratings agencies to assign lackluster ratings to the company. But those reports have been about individual slices of the Laureate pie, as opposed to the entire company. And the agencies have said that Laureate's overall financial health remains "stable."
Becker is frustrated that critics of the the company have used the debt figure to suggest that Laureate's finances might be precarious. He says the company is under attack by some Thunderbird alumni. "The agenda has been hijacked by a very bitter and critical group."

Becker says the company can more than handle its debt. Laureate drew offers for more than 10 times the capital it sought to raise from investors during an offering last year, he says. The company's holdings are diversified and its revenue is increasing faster than debt levels. Laureate also owns a city's worth of valuable facilities and land around the world.
As for its modus operandi, Laureate employs a variety of models, ranging from outright acquisitions to partnerships with nonprofit universities. In the latter case the business approach revolves around Laureate selling educational services to the nonprofit entity, ranging from curriculum design to the use of real estate to finance, legal or other management services.
When Laureate acquires or affiliates with an institution, the Laureate name takes a backseat to the institution's preexisting name and brand: "Laureate" is used to refer to the network of universities, but with the exception of some of the technical institutes in Saudi Arabia, none of the institutions in the company's network have "Laureate" in their name. This is a contrast, to say, DeVry or Kaplan, for-profit college chains that brand their campuses and online degree programs with the company's name.
Paula Singer, CEO of Laureate's global products and services division, last month told Congress about the company's approach to partnerships.
"The partners or parties we choose to support are those that want to take the good education they already provide and leverage it," Singer said in written testimony for a hearing held by the U.S. House of Representatives' subcommittee on higher education, "often either through the introduction of online education or new global locations or experiences or the provision of new services or program offerings to their students."
The diversity of types of institutions Laureate owns and manages allows it to be more responsive to the needs of different markets, Becker says. And the scale of the company allows it to try strategies that work in multiple venues.
"We do benefit from taking our ideas from one country to the next," he says.
There are also commonalities across the network. Becker says those include a student-centered approach and an emphasis on employment, with, in most cases "a very strong overlay of internationality." Though it is short on specific numbers, Laureate says "thousands" of students traveled from their home campus to another company-managed institution for a short- or long-term exchange program in 2012; there are also "more than 25" dual degree programs throughout the network.
(Laureate tends to be vague when asked for hard data about its institutions -- a benefit of its privately held status.)
Laureate's campus-buying spree has created college-going opportunities for thousands of students, Becker says, many of which would not have existed without the company. The expansion has also transformed the company into a major global player in a relatively quick amount of time.
"We build huge, first-rate universities," he says.
'An Aura of Quality'
Latin America has been the company's largest market, accounting for approximately 60 percent of the company's revenue.  Its largest single university is the University del Valle de México, which has about 120,000 students. Since Laureate acquired the institution in 2000, the number of campuses has grown from 12 to 37.
In a chapter in State and Market in Higher Education Reforms (2012 Sense Publishers), Angélica Buendía Espinosa, a professor at the Universidad Autónoma Metropolitana who formerly taught at UVM, analyzes what happened after Laureate took over the institution.
Under Laureate's control, the university became more market-oriented in its focus, Espinosa wrote: "The primary growth strategies centered around the fulfillment of 'enrollment goals' using aggressive publicity strategies to 'win' more market share: these strategies were based on the benefits of 'UVM's internationalization.' "
Espinosa's article identifies a tension: while Laureate officials were largely hands-off when it came to academic issues, preferring to leave those decisions in the hands of "experts," the pressure for enrollment growth necessarily had an impact on academic decision making. "The academic plans that were created on the campuses always depended on the 'achievement' of enrollment goals, which in some cases were excessive," she wrote.
Espinosa also wrote that Laureate placed an emphasis on accreditation and a respect for the regulatory framework. On its website, UVM currently advertises accreditations for more than 60 of its programs.
Becker boasts of Laureate's "culture of regulatory compliance." Laureate does not enter a new country without consulting with the government first. "We don't want to go someplace where we're not wanted," he says. And the company counts the welcome it's received from diverse governments, from Saudi Arabia to Australia, as persuasive evidence of its strong track record and reputation for quality.
"In the last 25 years the Australian government had not created a new private university license: they finally created one and they gave it to us," Becker says.
"There's an aura of quality that surrounds the Laureate name and I think it's partly because they have been successful on a global scale for a while without having regulatory controversies follow them around," says Kevin Kinser, chair of the educational administration and policy studies department at the State University of New York at Albany and an expert on for-profit and cross-border higher education. "They've been able to navigate the regulatory minefields in the 30-something countries that they're now in without there being a major scandal and perhaps without there being a minor scandal. I'm sure there are some things here and there."
(One such thing: Laureate's universities in Chile were among those singled out in a 2012 Chilean Chamber of Deputies committee report accusing some private institutions of failing to comply with Chilean law requiring universities to be nonprofit. That report was subsequently rejected by the whole Chamber of Deputies, Congress's lower house.) 
"Whether that means they are a high-quality institution, we don't have good measures of quality and it's not like anybody's opening up their books and curriculum," Kinser says. "But from the perspective of the regulatory agencies that pay attention to this stuff, they've been able to work within the rules and provide solid investments in education systems in various countries, expanding the number of seats and providing at least something of value presumably to the students who are enrolled."
In a study of employment outcomes for 2009, '10 and '11 graduates that Laureate commissioned from Millward Brown Optimor, the research consultants compared 6- and 12-month employment rates and starting salary information from eight Laureate institutions in five key countries (Brazil, Chile, Mexico, Peru, and Spain) with market benchmark data they obtained from random samples of 400 recent college graduates, per country, obtained via survey paneling.
With the exception of the Instituto Profesional AIEP, in Chile, where the starting salary level was 11 percent below the market benchmark, all other Laureate institutions in the sample either performed on par or outpaced the market benchmarks: at Spain's Universidad Europea de Madrid, for example, the 12-month employment rate was 29 percent higher than the market benchmark of 61 percent and the starting salary 39 percent higher than the benchmark of €929 per month. For the purposes of the survey, employment was defined as full-time and lasting more than one month, but not necessarily in the field of study. Inside Higher Ed was unable to independently verify those statistics.
Stateside Story
Laureate keeps an exceptionally low profile in the United States. Critics are hard to find outside of the Thunderbird deal. And when the company is discussed, it's usually in a positive light.
For example, the company invested $5 million in Coursera in July. Daphne Koller, the massive open online course provider's co-founder, at the time told Inside Higher Ed that she wouldn't have been interested in investments from other for-profit companies.
Most Laureate institutions are largely campus-based. But roughly 60,000 of its 800,000 students are enrolled in fully online programs. The bulk of those online students attend Walden University, which is Laureate's flagship U.S. institution. The company's other domestic institutions are Kendall College, NewSchool of Architecture and Design, Santa Fe University of Art and Design and the relatively new National Hispanic University, which enrolls 800 students in undergraduate, graduate and certificate programs.
Walden has even earned the grudging respect of Sen. Tom Harkin, the Iowa Democrat, who has been a fierce antagonist of for-profits.
Last year Harkin released a voluminous report staff prepared on the industry and its alleged ills. While not all of the report's section on Walden was positive, the university fared much better than others. In fact, Harkin singled out Walden's performance, as measured by student withdrawal and federal loan default rates, as "perhaps the best of any company examined."
Because of the scope of Laureate's global operations, it is substantially less dependent on federal financial aid funds than are most U.S.-based for-profits. The vast majority of Laureate's money comes from individual students and their families. That, in turn, has helped it avoid some of the scrutiny that has dogged other corporate higher ed providers.
Roughly 78 percent of Walden's revenue came from federal financial aid in 2011. But only 12.4 percent of Laureate's overall revenue was from federal sources.
One common critique of for-profits is that their holding companies spend heavily on student recruitment and marketing -- and Laureate is not exempt from this critique. In 2009, the percentage of Walden's revenues dedicated to marketing (27 percent) and to profit (again, 27 percent) both exceeded the industry average. In 2009, Walden spent $1,574 per student on instruction and $2,230 per student on marketing, while taking in $1,915 per student in profit.
But perhaps the most striking Walden-related statistics in the report are its student loan default rates. The percentage of Walden students who default on their loans within three years of entering repayment ranged from 1.7 to 3 percent from 2005 to 2008, a rate that was dramatically lower than the average not only for for-profit universities (17.1-22.6 percent) but also for all U.S. colleges (8.4 to 12.3 percent).
The impressive numbers are partially due to Walden's predominantly graduate-student population, most of whom are working adults. Even so, Walden graduates are, by and large, employed and in a position to pay back their debt.  For its part, the university's alumni surveys find that 78 percent say their Walden degree helped them earn a pay raise, and 56 percent say it helped them change professions.
Thunderbird Blowback
Laureate's talk of outcomes hasn't impressed everyone. And the stigma surrounding for-profit higher education has proven real as Laureate negotiates the proposed deal with Thunderbird. Many alumni worry that the partnership with a proprietary education company will lead to a decline in quality and a devaluing of their degrees.
The terms of the partnership -- which was approved by Thunderbird's board in June but is pending approval from Thunderbird's accreditor, the Higher Learning Commission of the North Central Association of Colleges and Schools -- are several-fold. Thunderbird, a stand alone, graduate institution, will remain an independent, 501(c)(3) nonprofit entity, and Laureate will have the right to appoint three members to the nonprofit's board, which currently includes 23 voting trustees. Laureate will also purchase Thunderbird's campus for about $50 million and lease it back to the business school; with the infusion of cash from the sale, Thunderbird plans to pay back its $24.5 million debt and become debt-free for the first time in its history.
Thunderbird and Laureate will also create a jointly owned educational services company, with ownership initially split in a 50-50 fashion, though Laureate will have a 5-4 majority on the joint venture's board and also has the option to purchase up to an additional 25 percent. The joint venture will provide specialized educational services, such as marketing and recruitment or instructional technology, with an explicit aim of helping to develop Thunderbird programs at international locations: through the partnership, Thunderbird initially plans to offer programs at Laureate institutions in Paris, Madrid, São Paulo and Santiago, and a strategy for an Asia campus is in the works.
Key to the agreement are plans for a new Thunderbird undergraduate program, in which students from other Laureate institutions around the globe will be fed into Thunderbird for only the fourth and final year of the degree. Thunderbird is to set its own admissions standards.
"Laureate's model allows us to remain Thunderbird, not Laureate University, which doesn't exist, or Thunderbird-Laureate," says Larry Edward Penley, the school's president and former president of Colorado State University. He says the two sides have developed hundreds of pages of contracts that ensure that Thunderbird will a) retain control of its brand and b) retain control of academic decision-making even if its ownership of the service provider falls to 25 percent.
"It gives us a global footprint for a global school," Penley says. "Through Laureate, we'll be able to isolate pieces of their campuses and control our degree programs and have permanent locations [abroad]." 
Officials at Thunderbird see the alliance with Laureate as a solution to the dilemma of smallness: the school's Vision 2020 notes that, alone, its assets are too limited to allow it to compete effectively as a player in global business education. In deciding to forge an alliance, Laureate was not the only partner under consideration: Thunderbird also had talks with Arizona State University, Middlebury College, and Hult International Business School, all nonprofit entities.
"I honestly believe that we did not solicit a large enough number of prospective partners, and we focused far too quickly on the money option as opposed to quality or continuity or the appropriateness of the partner," says Merle A. Hinrich, an alumnus and a former Thunderbird trustee, who resigned to protest the partnership.
Hinrich says the terms of the deal -- including the fact that Laureate will have 5-4 control of the joint venture, will be Thunderbird's landlord and will have seats on the business school's board -- lead him to be concerned about "the future lack of control that Thunderbird will have. It puts them in jeopardy of being basically led, managed and directed by a for-profit enterprise."
Thunderbird and Laureate can give "lip service" to the fact that Thunderbird will remain an independent 501(c)(3), says Harry A. Cockrell, another trustee and alumnus who resigned, but it's just that: lip service.
"Except for a few years in New York my entire professional career has been in the Asia Pacific," Cockrell says. "I'm familiar with the quality of Laureate schools in the Asia-Pacific region, and they are not at the standard that Thunderbird is at, and therefore I believe that it will impact the value of our brand going forward: perhaps not in the first few years, but going forward. You're going to be associated with technical schools, cooking schools, a couple of universities which, at best, at least in the Asia-Pacific region, are second-or-third rate."
All that said, Cockrell adds that if the alumni had come out in support of the partnership, he wouldn't stand in its way. There was no consultation of alumni prior to the board vote on the partnership, a fact that negotiators attribute to confidentiality requirements. "In my world, I consult my shareholders," Cockrell, a businessman, says.
Certainly there are Thunderbird alumni in support of the partnership with Laureate (and a Thunderbird website includes testimonies from some of them). But more than 4,500 people have joined a "Save Thunderbird!!" Facebook group,  and a newly formed Thunderbird Independent Alumni Association has organized a letter-writing campaign to Thunderbird's accreditor in opposition to the deal, as well as a fund-raising drive for a $30 million "stabilization fund" to be used to support the school in the event that the Laureate partnership falls through.
The most likely way that would happen at this point would be if the Higher Learning Commission rejected the terms, which Thunderbird officials believe to be unlikely. Several Laureate institutions have HLC accreditation, including its flagship U.S. university, Walden.

The independent alumni association has posted on its website a long list of ways in which it believes the partnership could potentially run afoul of the accreditor's standards. Many of the items on the list boil down to concerns about the perceived academic quality of for-profit institutions: alumni cite the high proportions of faculty who are part-timers at Walden (about 90 percent) as one reason for concern. They have also raised questions about a lack of public information regarding the specific terms of the partnership, and how, in practice, the for-profit and nonprofit models can coexist.
"There is a clear conflict of interest between Laureate's profit driven model and Thunderbird's nonprofit 501(c)3, and it remains unclear how a firewall will be maintained between the two," the list reads.
The proposed changes to Thunderbird are hardly trivial, says Will Counts, a 2009 alumnus and an organizer of the independent alumni association. "We're talking about something that's life-changing to a lot of people."
Counts says the value of a Thunderbird degree is at risk. And he's most concerned about current students and recent Thunderbird alumni, who have yet to establish themselves in their professional careers.
"They didn't sign up for this," he says. "They didn't sign up for a Laureate education."
Clara M. Lovett, a Thunderbird board member and president emerita of Northern Arizona University, says she understands why some people are uncomfortable about partnering with a for-profit.
"Another concern was that somehow we would lose our academic identity and independence and therefore the Thunderbird degrees will be devalued," Lovett says. But she thinks the terms of the partnership are such that exactly the opposite will happen. "The school has an opportunity not only to remain independent but to grow."
G. Kelly O'Dea agrees.
"This is our opportunity to take Thunderbird to a higher level and give more people the training that we've become famous for on a much smaller scale," says O'Dea, who is the vice-chairman of the Thunderbird board and an alumnus. "My battle cry is 'this is our moment.' " 
Future Directions
As the flap over Thunderbird continues, Laureate in August announced a new partnership with Monash University, an Australian public university. The company will help manage and grow Monash's campus in South Africa, with a goal of doubling enrollment in five years, according to Ron Weber, the pro vice-chancellor and campus president. Monash's South Africa campus, which began operations in 2001, has about 3,400 full-time equivalent students.
Laureate has a campus elsewhere in Africa, in Morocco, but, the Monash partnership marks its first foray into the sub-Saharan region. "It's an important initiative for us," says Esther Benjamin, the CEO for Africa operations. "We really hope that the Monash South Africa partnership becomes a platform and an anchor for many of our initiatives in other countries in Sub-Saharan Africa.
"It is a region where the organization can definitely contribute," she says. "It's a region where the number of students in higher education is rapidly growing. There's an increasing demand for quality higher education, particularly with an international perspective and with an emphasis on employability."
Becker says he's excited about the potential in Africa.
"I don't think it's going to happen overnight. Africa feels to me like Latin America felt like 20 or 30 years ago: there's been enormous progress in Latin America in lessening poverty and moving people up into the middle classes, and Africa unfortunately has not had much of that, but I really believe it's coming," he says. "It won't be equally distributed. I think there are some countries that will be much better prepared to build their middle classes than others. But I'm very interested in Africa. I see it as a place where we can make an enormous impact."
A big part of what makes Laureate unique, Becker says, is how it mixes the public and private sectors.
"Here is a private company but we're owned in part by public sector institutions like the IFC, by pension funds, by university endowments. You can imagine all of those shareholders expect us to do the right thing in terms of social impact, social responsibility and reputation," he says. "That's another big difference between us and a classic, commercial enterprise. Most companies feel obligated to say that their main job is to generate shareholder wealth. That isn't what we say at Laureate. Our role is to create social mobility and to benefit students and we believe by doing that we can generate a return for our investors."
Becker seems distressed by the controversy over Thunderbird. Without prompting, he says the criticism that not all institutions in the Laureate network are of Thunderbird's caliber strikes him as unfair.
"We don't have universities that are bad universities," says Becker. "I think we've worked too hard and established too strong of a reputation for anyone to say that is the case. But we do have universities that are intended to be affordable and accessible."
And an accessible university that allows people in emerging markets to climb into the middle class is a good thing, Becker says.
"I'm just astonished there's been this debate over this," he says. "Why would the University of Liverpool choose to partner with us?" Or Monash, for that matter? "They don't need our money, they maintain their own independence. They control their brand and accreditation, and yet they found that we could do something for them that could help them be successful and we do it with a moral compass that they appreciate. It's not like this is our first partnership."