You have /5 articles left.
Sign up for a free account or log in.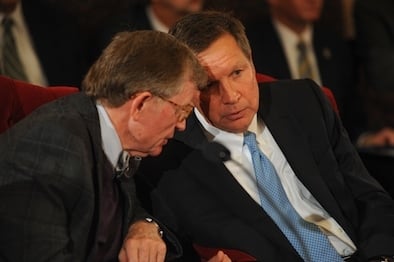 The six-time university chief E. Gordon Gee has a new gig, to answer what he calls "the question of our times" – how to curb college costs for the state and for students while improving quality.
Gee, the recently retired former president of Ohio State University, is expected to come up with answers by next summer as head of a state committee created by Ohio Governor John Kasich. The governor announced the committee and Gee's new role in a Monday speech in Ohio.
Kasich, a Republican, said he wants Ohio's 14 universities, 24 branch campuses and 23 community colleges to offer "better quality at lower prices."
Gee has a close working relationship with Kasich dating to Gee's first time as Ohio State's president in the 1990s, when Kasich was in Congress. Both men suggested that all options are on the table in Ohio.
Kasich hinted that the solution could be found amid a mix of privatization, commercialization, dual enrollment high school and college, and online college courses.
The governor cited Gee's decision to privatize Ohio State's parking as an example of the kind of thinking Ohio officials should turn to.
"He got a half-billion dollars by not running a parking garage anymore," Kasich said.
Neither man mentioned it, but faculty members may be closely watching to see if the effort ends up making recommendations about faculty unions. In 2011, Kasich signed a bill that would have severely restricted collective bargaining by public employees, but voters repealed the law.
During the speech at Columbus State Community College, Kasich said the state needs to do more to commercialize its college-generated intellectual property, citing Stanford University, Harvard University and the Massachusetts Institute of Technology as examples to follow. The governor said the state could easily fix roadblocks to commercialization, which he said had become a "bugaboo" for some of its critics.
Kasich said "online has a place" in solving the cost question but that he isn't keen for it to ever fully replace the traditional campus experience because "hanging out at the university is part of growing up and part of life."
Gee has already led two Kasich-backed committees to success. One produced a $350 million capital-funding plan. Another revamped the state's funding formula for higher education, resting 50 percent of operating funds at four-year colleges on graduation rates -- the highest percentage in the nation.
Both cleared the legislature without a dissenting vote, Gee said.
Gee, who has led universities in four states and acknowledges he's been involved in many attempts at grand plans that have disappeared, said times have changed because those plans usually relied on infusions of cash. No longer, he said, can colleges seek new money in an effort to "buy quality."
"Now we need to ask, how do we increase quality but do so without increasing funding?" Gee said in a telephone interview Sunday.
The Bill & Melinda Gates Foundation is interested in Ohio's efforts, Gee said.

Time will tell what Ohio is able to come up with, which could differ from efforts in other states because, as Gee said, Ohio is a Midwestern state with Midwestern values.
"We don't throw a lot of long balls but when we do we try to do it accurately," he said.
Kasich said his effort, just the latest in a series of ambitious efforts the governor has undertaken in his first term, is designed to rethink higher education.
"I don't know what they are doing in other states, but in our state, if we hold hands and think differently we can, in fact, impact our costs to make sure we preserve these institutions well into the future," he said.
Gee who departed Ohio State after a gaffe, alluded to the incident during an appearance Monday with the governor. "Now I have my First Amendment rights back," he joked.