You have /5 articles left.
Sign up for a free account or log in.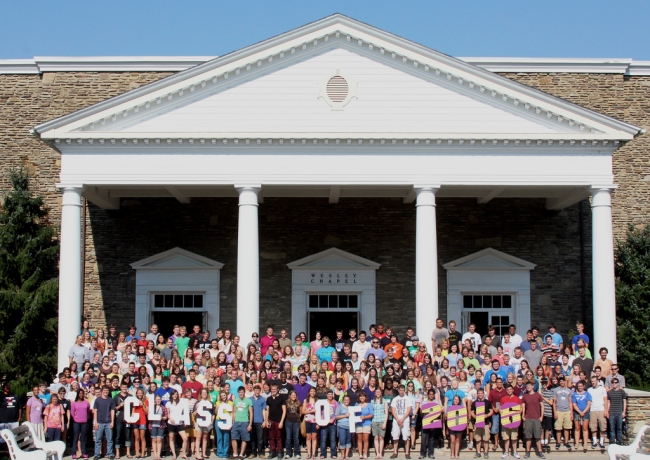 Some private colleges that managed to weather the recession are finding new troubles.
So they are announcing layoffs, cutting programs and more. Almost all of these small to mid-sized privates are tuition-dependent and lack large endowments. National declines in the number of traditional college-age population mean students just aren't showing up to privates, which are facing competition from public colleges that are more stable now than a few years ago and the reality that privates cannot afford to indefinitely lure students by cutting prices with generous financial aid packages. And this could become a huge problem.
College presidents, private college trade groups and higher ed consultants blame a confluence of long- and short-term trends for battering some private colleges, particularly the small to mid-sized privates that depend on tuition dollars because they don't have significant endowments.
It's hard to tell if there is an existential threat brewing that could close a significant number of colleges, as some pundits have grandly predicted. But a sampling of the cuts — primarily driven by falling enrollment — suggests serious challenges for many institutions:
Midway College in Kentucky is dealing with an 18 percent enrollment drop by laying off "around a dozen" of its 54 faculty, according to The Lexington Herald-Leader. It has also eliminated about 16 staff positions. In a recent speech, the new president said the college may try to become a "university," expand internationally and add graduate programs to help grow.
Holy Family University in Philadelphia cut 40 staff positions – about 7 percent of the staff – and, partially through retirements, reduced the number of full-time faculty to 81 from 100. The university is also shelving low-demand programs, selling land and dorm units and working on other cost-saving measures.
Anderson University in Indiana approved a plan to cut 16 of its 400 faculty and staff and end its majors in French, philosophy and theater. Anderson's president blamed a decline in enrollment and said to expect more cuts. 
Wittenberg University in Ohio recently eliminated nearly 30 of about 140 faculty spots — "15 occupied and 14 unoccupied faculty positions" — as part of a $4.5 million budget cut, according to The Dayton Daily News.
Martin University in Indianapolis expected 700 students to enroll this fall but only 522 did, so the university cut 16 faculty and staff positions in October.
Johnson C. Smith University in North Carolina, which was hit hard by changes to financial aid that hurt its enrollment, laid off 21 staffers, not filling 30 other positions and looking to furlough staff and outsource some services.
Moody's Investors Service just gave Ashland University in Ohio a poor credit rating and warned it could default because of three years of declining enrollment and a relatively small amount of cash compared to debt.
Central College in Iowa also got knocked by Moody's last month for a decline in first-year students from 412 in fall 2011 to 309 this year. This decline, the firm said, could cause a $3 million shortfall at Central.
Moody's put Woodbury University in California on a negative credit outlook after a 22 percent drop in the size of the incoming class created a $1.1 million shortfall.
Pine Manor, a women's college in, Massachusetts has dorm rooms for 600 students but decided to go co-ed and admit male students this summer when enrollment fell to 300.
Goddard College, a nontraditional college in Vermont, is trying to cut faculty and staff pay to deal with a $550,000 deficit in a budget of less than $13 million. 
Burlington College in Vermont is increasing teaching load and looking to increase enrollment from 190 full-time equivalent students in an effort to become sustainable. The college recently lost three department chairs who left after they were asked to go from full-time to part-time, though the college plans to fill those vacancies.
Nazareth College in New York has reportedly made unspecified cuts in an effort to come up with about $6 million in savings and $2 million more for student aid. The college's total income in 2011 tax year was about $99 million. Enrollment has fallen about 8 percent since 2000. 
Calvin College in Michigan recently announced a plan "to close current and projected budget deficits by eliminating or reducing programs, cutting staff, and raising revenue through enrollment growth and differential tuition rates," according to state news website MLive.
Dowling College in New York made cuts and reassignments, which its president called "not significant" but which were reported as part of a "downsizing effort because of declining enrollment and struggling finances" by Long Island Newsday. 
Some colleges are looking to work together in new ways, another sign of stress:
Cuts can be attempts to shore up institutions for a strong future. But some people say something fundamental and irreversible is afoot.
"I think the truth is it's really not going to get better under the old model," said Rick Staisloff, a consultant who is the former vice president for finance and administration at the College of Notre Dame of Maryland.
Houghton President Shirley Mullen said the crisis in higher ed is now of a greater magnitude than any she has seen. "I don't believe there is any going back," she said. "I just don't think that's the case. I think whatever happens going forward is something different than we've seen before – I don't think we know exactly what that's going to look like."
There isn't good real-time data on how institutions are doing. Indeed, some colleges have declined to comment on the extent of their problems to media and yet other institutions may be struggling silently in rural areas without aggressive higher ed reporting. Downgrades by bond-rating agencies tend to attract attention, but institutions in really bad shape that know they can't borrow may not even go in for a review.
But using anecdotes from here and there -- like this article does -- is dangerous, said Hal Hartley, senior vice president at the Council of Independent Colleges, which represents many private colleges "Clearly there are lot of difficult economic pressures hitting all colleges and universities – small and mid-sized private colleges are no exception – and for tuition-dependent colleges like the CIC colleges, enrollment is critical to the overall success and financial well-being of the institution," he said, "but I think it's dangerous to pick one year or a couple of examples and generalize that to broader trends."
The outside causes of recent troubles are numerous: a decline in high school graduates, worries about loan debt, students looking at college programs that would seem to ensure a job after college, new technology, competition from for-profit colleges, a decline in the amount of government aid, the recent economic downturn, the bond market and, because of some rebounds in the economy, a loss of graduate students coming back to college to get new skills.
Private colleges have their own unique challenges, too: small endowments mean they depend on enrollment to bring in tuition dollars, they have smaller class sizes so can't subsidize operations with large lectures, they traditionally have mostly tenured faculty, they are often in rural areas with shrinking populations and they are perceived as being unaffordable.
Sister Francesca Onley has been president of Holy Family for 32 years. She said the Federal Reserve's decision to taper a bond-buying program and other uncertainty in the bond market helped force the university's hand, as well as new competition in the market, pressures on Philadelphia high schools and rhetoric from President Obama has people reluctant to pay private college tuition. "Mr. Obama should go around and talk about what banks are doing to higher education," she said, instead of talking only about the high cost of college.
Holy Family cut costs by shelving low-enrollment programs, laying off employees and working to save money on things like printing and marketing. It also decided to add new nursing and accounting programs and rebrand itself. "We have and stand ready to deal with reality," Sister Onley said. "And I think that's what we did last year: we dealt with realities that we were small, that we had this small endowment, but we had this mission."
Institutions most frequently blame demographic shifts in the country on their woes, but not Holy Family. Pennsylvania is expected to graduate about 6,000 fewer high school students in 2016 than last year. But Holy Family's interim chief financial officer Pat McCormick said that works out to a very small problem for Holy Family – if the university is able to enroll the same percentage of Pennsylvania graduates as it does now.
"I think we're worried about two students," he said. "Given that, if we maintain our market share, we're going to lose about two students."
Other colleges cannot be so optimistic. From 2010 through 2012, freshman enrollment at more than a quarter of U.S. private four-year college declined 10 percent or more, according to a recent analysis by The Wall Street Journal.
Mark Putnam, the president of Central College, did his dissertation on why colleges fail. He said temporary things don't worry him as much as long-term trends. Despite recent enrollment losses that spooked Moody's, Central, which has about 1,500 students, is already looking more than a decade ahead as it plans its future.
Putnam said college leaders need to make sure their institutions don't become too big that they depend on high enrollment or too small that they can't thrive. 
"Managing those tolerances within any institution becomes the key work of management, to know there are thresholds of consequence, as I would put it," he said in a telephone interview. "And I as president need to know what those consequences are on the upside as well as the downside."
In a statement, he dismissed the implications of Moody's decision to downgrade Central based largely on its enrollment declines.
"This is not a new phenomenon in the history of higher education, nor are we alone," he said. "What is remarkable is that an institution that has not posted an operating deficit, not tapped any line of credit to support operations and has increased its net assets, improved liquidity and cash position, would be downgraded by Moody's on predictable enrollment fluctuations alone."
The number of graduates in Iowa and the Midwest is projected to remain flat or fall for the foreseeable future, according to a recent report by the Western Interstate Commission for Higher Education.
Nationally, about four in 10 privates colleges now report tuition revenue is not keeping pace with inflation.
Other demographic changes may be particularly challenging for some residential private colleges outside of major metropolitan areas. Some of these institutions are largely white and full of traditional college-age students at a time when demographers predict enrollment growth for part-time students, minority students and students from urban areas. "Historically these are not institutions that have been... visible in the minority community," said Richard Kneedler, former president of Franklin and Marshall College. "It means when their base shrinks it's really a challenge."
The president of Johnson C. Smith University, a historically black college in North Carolina, has similar worries.
"Watch this space," said President Ronald Carter, "see how predominantly white institutions will struggle if there are fewer white Americans to fill their seats. Will they fill them with international students?  How many minority students can they really afford with gap funding?"
Carter said American higher ed needs to negotiate the demographic shift carefully. Minority students are generally coming with less money than white students, so colleges that are trying to plug their enrollment losses with minorities are going to have to find some way to help the students pay. If colleges simply cater only to students who can pay their own way and minorities are shut out, "That's a recipe for civil unrest," Carter predicted.
Carter is particularly sensitive to changes in aid policy at the federal level. He said he had to lay off staff because of sudden changes to the PLUS loan program that hit HBCUs hard.  Carter scrambled to find institutional and donor-backed financial aid for a few hundred students who were going to have to leave the 1,700-student Johnson C. Smith because of the changes. He managed to keep many of them on campus.
Some of the larger worries about the health of privates have yet to play out in some data sets, said several private college experts.
Kneedler, who is carefully studying the tax filings of several hundred colleges, said he's seen an improvement in finances at privates since the recession. But that, he said, lags what may be happening now because tax filings come out longer after the budget year. Still, he is not particularly concerned about the mid-sized privates but only the smallest institutions without an endowment.
"I get really concerned when you drop down below 700 (students)," Kneedler said. "There, I think, it's really tough, and I think that's been the case for some time and it's not going to get easier, but I wouldn't ring really loud alarm bells for a school of 1,500."
David Warren, the  president of the National Association of Independent Colleges and Universities, said the number of privates that are closing has remained steady – about four a year. The number opening? About three a year.
He said there's no doubt institutions are encountering "whitewater" but they are also adapting. "I think over time you're going to see these institutions reshape themselves in the main and overwhelmingly," Warren said.
McCormick at Holy Family, for instance, said the university is able to launch its new accounting and nursing program only nine months after it decided to enter those markets. That flexibility, he said, does not necessarily exist at larger institutions. Programs like nursing already exist in the area, but Holy Family believes the market is "underserved."'
Mullen, the president at Houghton, said demographic pinches are forcing the college to do things it might not have done otherwise but that it should have.
First, she had to make choices several years ago, when the college reduced its contribution to employee retirement funds and cut pay for faculty and staff – by as much as 8 percent for top earners. The college has gradually increased pay, but not back to where it was.
Now, through its partnership with Indiana Wesleyan, Houghton hopes to begin an online program of some kind.
Mullen said it's too late for online education to be a short-term cash cow for her college, but with 1,032 full-time students, Houghton doesn't have margin for error if on-campus enrollment falls. Expanding online could change that.
"We believe that to prosper for the long haul we need to have a larger economy," Mullen said. "I think it's way too late think of online education as an instant revenue generator because so many other institutions are doing that."
Several experts on private colleges said it's time to expect colleges to look closely at new partnerships and even mergers.
Mullen, who said Houghton has no plans to merge, said colleges should team up while they still have strength. "I think if you wait too long you have what in the business world is a takeover more than a partnership," she warned.
Ann Duffield, founding principal of Ann Duffield & Colleagues and a former chief communications officer at the University of Pennsylvania, worries about colleges teetering without a nest egg and unable to invest in their future. Without thinking strategically, they could slip, fall and never get back on their feet.
"I think this is a time in American higher education history where we're really in danger of seeing the disappearance of liberal arts college and liberal arts colleges have, in fact, been the backbone of American higher education," Duffield said.