You have /5 articles left.
Sign up for a free account or log in.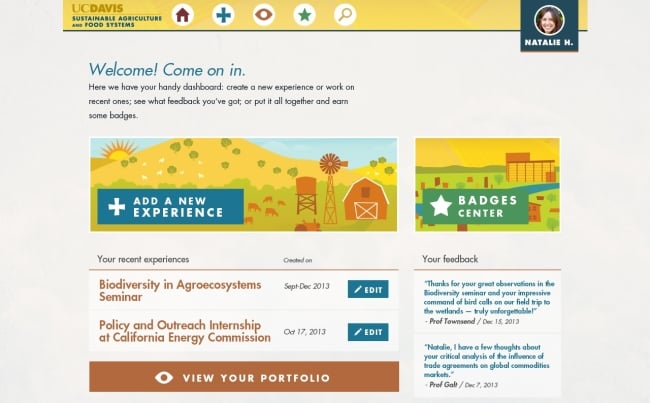 The University of California at Davis is creating what may be higher education's most promising digital badge system. But the badges are no threat to the university's degrees. They're add-ons – perhaps valuable ones for students.
"Badges can tell a different story," says Joanna Normoyle, the experiential and digital media learning coordinator at the university's Agricultural Sustainability Institute. She says they allow students to "differentiate themselves and tell a narrative."
Normoyle has helped lead the effort by faculty and staff members at UC-Davis to create a badging system for a new undergraduate major in sustainable agriculture and food systems. The final product, which went live with a small pilot group this fall, is more about competency-based education than alternative credentials.
The idea was hatched as the university worked toward the 2011 launch of the sustainable ag major. It's an ambitious interdisciplinary program, featuring collaboration among eight departments in the university's College of Agriculture and Environmental Sciences as well as the Agricultural Sustainability Institute.
The new curriculum is particularly hands-on, with lots of experiential learning that occurs outside the classroom, such as through internships and fieldwork. Much of that learning isn't captured by conventional grading.
The university wanted to help students find ways to describe their experiences, in ways that make sense to faculty, students, employers and themselves. It was a vexing challenge, because any solution had to stretch across the entire curriculum – not just individual classes.
Normoyle and her colleagues settled on badges, with an undergirding of competencies that describe the learning outcomes and skills students need to successfully complete the major. (Click here for a presentation from Normoyle about the competencies and badges.)
There are seven core competencies in the program. Employers contributed to the identification of those competencies, which include systems thinking, experimentation and inquiry, understanding values, interpersonal communications, strategic management, civic engagement and personal development.
For example, competency in systems thinking requires students to integrate societal, environmental and economic perspectives into their analysis of complex systems.
Each competency connects to digital badges students can earn for their experiences, skills and knowledge. The badges themselves are graphical representations of an accomplishment – basically the digital version of a felt patch a Boy or Girl Scout might earn.
This fall 20 students experimented with the badging system as part of a senior "capstone" course. Badges are not formally awarded at this point, as the system is still in its testing phase. But Normoyle says the sustainable agriculture programs plans to expand their use next semester. At some point assessments from faculty members and peers, as well as self-assessments, will be part of a final review process for the awarding of badges.
Students create an online profile where they can display the badges. Each one might be accompanied by detailed information, including a description of the student's experience, what they learned, photos, diagrams or even assessment scores.
Normoyle describes the profiles as learner dashboards or "media-rich, tiled portfolios."
For example, students might earn a badge for collecting soil samples from the student farm to test effects of different mulch treatments. They would write up that learning experience to be eligible for the badge. And the students get to decide which knowledge demonstrates their competency.
Faculty members and other students will be able to see the badges. They can also comment on them. But the students will be in charge of how they display their portfolio of badges.
"This is all about a self-reporting system," Normoyle says. "What do I think about what I know?"
The goal is for students to communicate their skills to others, and to learn about what they know in the process.
"Tools like this can complement what happens in in-person learning," she says.
Model Could Spread
Digital badges are a trendy idea. Many predict the nascent form of credentialing could pose a challenge to higher education. Ideally, badges could give people new ways beyond college credentials to prove what they know and can do.
The Mozilla Foundation, an open-source technology pioneer, has helped lead the way with its open badges project. The foundation created a "backpack" that earners can use to display badges on a résumé or social networks.
Along the way, badging has earned plenty of powerful supporters, including Bill Clinton and Education Secretary Arne Duncan.
"Badges can help engage students in learning, and broaden the avenues for learners of all ages to acquire and demonstrate – as well as document and display – their skills," Duncan said in 2011.
Duncan also linked badging to competency-based education, saying it "can help speed the shift from credentials that simply measure seat time, to ones that more accurately measure competency."
Not everybody is sold on badges, however. One reason is that anyone can award one, raising questions about quality control.
Peter Stokes is executive director of postsecondary innovation in the College of Professional Studies at Northeastern University. He's supportive of the concept behind badges, and thinks there are no real technical obstacles to making them work. But Stokes remains skeptical of badges having a major impact on higher education, at least for now.
"The big challenge with the badge is to create currency in the market," Stokes says.
UC Davis is one of the first traditional institutions to give badging a whirl. Purdue University has also been a pioneer.
Sheryl Grant, an expert on badges who is director of social networking for the Humanities, Arts, Science and Technology Advanced Collaboratory (HASTAC), said the badging work done by Normoyle and others at UC-Davis is the most interesting she's seen in higher education. Grant has helped administer 30 badging projects that won a contest and received support from the Catherine T. MacArthur Foundation. 
"They really are solving for something that the current credential system is not doing," says Grant, adding that Normoyle and company are doing so without "upsetting the apple cart" by tossing out the degree.
Grant predicts that UC-Davis's approach is one other colleges will copy. That's because, she says, they used a rigorous process to create a badging system grounded in the values of the institution, faculty, students and employers.
The end result, Grant says, is a "data visualization and recommendation system" that is "going to scale really well."
The university is drawing plenty of attention for the new badges. Normoyle is fielding invitations to speak around the country. Interest is also high on campus and among employers.
Several experts on experiential learning said they are taking badges seriously. So is Michael V. Reilly, executive director of the American Association of Collegiate Registrars and Admissions Officers.
Reilly said he is in favor of efforts to capture students' experiences outside the classroom, whether through e-portfolios, badging or other ideas.
"The transcript is pretty limited in what it does," he says. "Students want a broader representation of their experiences."
Reilly likes what he has heard about the badging system at UC-Davis, particularly because Normoyle isn't talking about replacing college credentials.
"It's very much the right way to go," he says, "and much less confrontational."