You have /5 articles left.
Sign up for a free account or log in.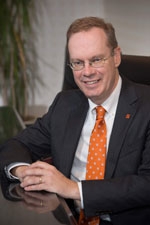 Syracuse University, which suffered on college ranking lists as it admitted more poor and minority students who didn't necessarily have the grades and SAT scores of other applicants, is looking to reverse that rankings slide under its incoming chancellor.
Outgoing Chancellor Nancy Cantor famously ignored and repeatedly criticized the "volatility and mystery" of college rankings, which she said were designed to sell magazines, namely U.S. News & World Report.
While other presidents fretted about rankings, Cantor said she ignored them as she launched an ambitious and controversial effort to increase the economic and racial diversity of students at Syracuse. It worked.
Now that vision for Syracuse, which was wrapped in idealistic language and criticized as a liberal experiment gone awry, may be curbed as Cantor leaves Syracuse for a job at Rutgers University.
Incoming Chancellor Kent Syverud plans to pay attention to rankings, though what he will do to change them and how that will affect the complexion of campus remains to be seen.
"They are imperfect, their metrics are manipulable and in some ways they're quite troubling what they value, but they matter because they affect decision-making of constituencies that matter to universities," he said in a November radio interview that dwelled on his approach to rankings. Shortly after Syverud's selection was announced in September, an editorial in the Syracuse student paper also praised his "recognition of the importance of rankings." A spokesman declined to make Syverud available to talk in more detail until he assumes office later this month.
The change could end Cantor's attention-grabbing effort to throw open the doors of Syracuse, a private university. Since Cantor took office in 2004, undergraduate enrollment increased by 22 percent. And, following a concerted effort to recruit students in urban centers, the number of poor and minority students has also increased significantly.
A decade ago, less than a fifth of Syracuse students were from minority groups and less than a fifth were eligible for Pell Grants -- a proxy for the number of low-income students. Now, about a third of students are minorities and about a quarter are Pell-eligible.
Amid the effort, the percentage of applicants who got into Syracuse increased – which didn't sit well with some students and faculty – and the yield rate, which measures how many admitted students decide to attend, went down. Both shifts negatively affect rankings.
Syverud, who is leaving his job as dean of the law school at Washington University in St. Louis, plans to make changes to the recruitment and admissions practices at Syracuse after he takes office. In a short email, Cantor said she believed Syverud "values access and diversity deeply" but she didn't elaborate on potential differences.
But his talk contrasts sharply with her own. In 2011, when Syracuse slipped on the closely-watched, much-criticized U..S News scale, Cantor wrote that while Syracuse was trying to educate "the broadest, most diverse population we've ever had, US News rewards institutions for the number of students whom they can reject, not for whom they reach." Syracuse, she said, was "succeeding – with or without the imprimatur of popular magazine rankings."
Faculty and students who value rankings are relieved by Syverud's change in tone.
"When you're charging what we're charging, that stuff matters," said Robert McClure, a professor in Syracuse's Maxwell School of Public Policy. "But to sit around and say they don't mean anything – nonsense. They mean lots and lots of dollars; I wish it weren't so."
McClure, a former dean, said the No. 1 ranking for the Maxwell School was worth millions of dollars every year in fund-raising and hundreds of high quality applicants. While the Maxwell School kept its top ranking among its peers, the university as a whole slipped on the U.S. News rankings from 52nd in fall 2004 to 62nd after nearly a decade with Cantor at the helm.
Syracuse's vice president for enrollment, Don Saleh, said Syverud has asked university officials to pay attention to the rankings but cautioned them not to be driven by rankings. Some of the things that help in rankings – factors such as retention and graduate rates – are things Syracuse cares about anyway, Saleh said.
"That should not take away from our socioeconomic diversity substantially," Saleh said.
Syverud wants to recruit students with better academic preparation, Saleh said. That means Syracuse is likely to focus more on test scores than in the past. While the average high school grade-point average for the incoming class has gone up from 3.5 to 3.6 since Cantor took office, the median SAT score has slipped (very modestly) to 1160 from 1180. The six-year graduate rate has hovered in the low 80s for the past decade.
Saleh said about 90 percent of the college's aid goes to students based on need. He said the university would likely stay in that range "in the near term."
Duane Ford, whose term as vice president of the Syracuse student government just ended, said black students have largely been very positive about Cantor's approach. "Obviously every school wants people who are All-American and president of all these clubs," Ford said, but Cantor's administration looked beyond test scores and extracurriculars.
Syverud is likely going to move to cut admissions rates, Ford said, but he hopes the new chancellor can do that without cutting diversity. Ford said some of Syverud's early remarks have eased concerns that Syracuse could become less diverse.
"I do think it's possible to have both, so that we still have high-achieving students but they don't all have to be of one specific gender or race or ethnicity or cultural background," Ford said.
Saleh said the university is not likely to make major changes to its recruitment pushes in urban areas, but it may pick up its recruitment efforts in the South.
"What Chancellor Syverud has asked us to do is to create the right balance to stay true to our values," he said. "This has been an institution that has for decades prided itself on being a place of opportunity and access and he does not want us to walk away from that."