You have /5 articles left.
Sign up for a free account or log in.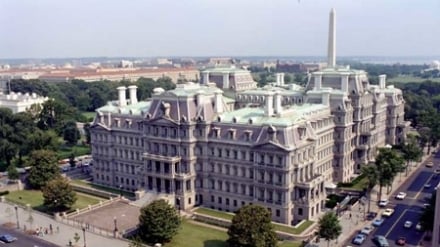 WASHINGTON -- President Obama will convene a meeting with more than 100 college and university presidents Thursday -- a chance for his administration to pivot away from its stalled legislative agenda to executive actions and also a rare opportunity for White House-level attention for a large group of academic leaders.
"I've got a phone that allows me to convene Americans from every walk of life -- nonprofits, businesses, the private sector, universities -- to try to bring more and more Americans together around what I think is a unifying theme: making sure that this is a country where if you work hard, you can make it," Obama said in remarks at the White House on Tuesday.
Not only is such a large gathering of college leaders by the U.S. president unusual, but it also comes as the administration's push on accountability in higher education has rankled many of the very same leaders with whom Obama will share space at the summit on Thursday. Private college presidents have been among the most vocal critics of the administration's proposed, but still largely undefined, college ratings system.
Administration officials have said in planning meetings with college presidents that Thursday's event, however, is unrelated to the work the Education Department is doing to develop metrics for its ratings system.
The summit Thursday will focus instead on improving college access for low-income students -- a cause that aligns with the focus of the First Lady Michelle Obama's new outreach to underprivileged students to encourage them to apply for and attend college. Both President Obama and the First Lady will address college leaders in the daylong summit, according to an email sent to invitees.
One of the topics that administration officials have focused on in planning meetings with college presidents -- and have discussed publicly -- is the issue of undermatching: a phenomenon education researchers have said occurs when high-achieving low-income students fail to apply to or enroll in the college to which they are best-suited.
The administration has specifically been interested, officials have said, in the academic scholarship on the undermatching issue completed by Caroline Hoxby, Sarah Turner and Christopher Avery. For instance, Hoxby, a Stanford University economics professor, and Avery, a Harvard University public policy professor, have found that many highly talented low-income students never apply to top colleges. Turner, a University of Virginia economics professor, and Hoxby have also found that sending high-achieving poor students information about their college options earlier in the admissions process can help reduce the under-matching problem. 
The presidents attending the summit have agreed to make voluntary pledges to do more to help low-income students enroll in and complete college. The White House is expected to highlight those initiatives Thursday, but in planning documents the administration had been eyeing "dramatic achievements" by colleges -- such as double-digit increases in remedial course pass rates.
Another suggestion the White House has floated in the past is for colleges to pledge to substantially increase the proportion of enrolled students who are eligible to receive Pell Grants, a key indicator of socioeconomic diversity.
Many college presidents involved in the event and other advocates for low-income students praised the White House for using its bully pulpit to address an issue they feel has not drawn enough attention.
"We think that it's great that the White House is focusing on this issue," said Emily Froimson, vice president of programs at the Jack Kent Cooke Foundation. "There's an assumption that high-achieving low-income students are fine on their own and don't need extra support, and that's just not the case."
Froimson said that some view the undermatching problem for the highest-achieving low-income students as an elite issue because it involves the nation's most selective institutions.
However, the involvement of elite colleges and universities in the problem can also benefit the conversation about college access, she said.
"Because elite institutions are involved, the issue attracts more attention," she said. "They're leaders in higher ed. They have the brand name."
Still, she said, "the problem cannot be solved by a handful of elite institutions." 
Political Stunt?
While most college presidents interviewed praised the administration's efforts and said they appreciated the White House-level attention on their institutions' missions, not all college leaders said they were on board.
Some college presidents, none of whom agreed to speak on the record, declined the administration's invitation to attend the summit, arguing that they were already pursuing many efforts to boost low-income enrollment and couldn't make additional commitments. 
One liberal arts college president said his institution is "already doing a lot in terms of low-income access" and criticized the event as "superficial" and "window-dressing."
He said his institution was "probably at the limit of what it could offer" in terms of aid to low-income students.
"This is something we all agree on, but without addressing the cost, this can't be serious," he said, adding that he did not want to gather with other college presidents to "sing kumbaya" without addressing the cost implications of filling more of his student body with low-income students since the associated "cost implications are substantial."
Catherine Hill, the president of Vassar College and a scholar of the economics of higher education, had a different perspective, praising the summit -- which she will be attending Thursday -- as important.  
Hill said that focusing only on expanding the applicant pool of qualified low-income students at selective colleges like Vassar would not be productive in solving college access issues.
"You're always making these tradeoffs between finding revenue and providing access," she said. "It's not just a question of getting talented kids into the applicant pools of these schools, because many of these schools still are not need blind or meeting full need."
But she said the White House attention to the issue is a good thing.
"The administration can encourage us to do things," she said. "Our sector has the resources and ability to have a serious conversation about this."
Expected at the daylong event at the Executive Office Building on the White House campus Thursday are the leaders of a range of institutions, including small liberal arts colleges to major research universities. For-profit college leaders appear to have been excluded from the event. The trade group representing the sector, the Association of Private Sector Colleges and Universities, issued a statement Tuesday saying it was "unfortunate" that the Obama administration had not extended an invitation to its members.    
The following is a partial list of the institutions and organizations whose leaders have said in interviews or public statements that they will be attending: Achieving the Dream; American Association of Community Colleges; American Council on Education; California Community College System; California State University; Chegg; Claremont McKenna College; College Board; Complete College America; Drake University; Hamilton College; Harvey Mudd College; Morehouse College; National Association for College Admission Counseling; Nebraska Wesleyan University; North Carolina State University; Northeastern University; Northwestern University; Pitzer College; Pomona College; Scripps College; Smith College; State University System of New York, Stony Brook; SUNY System; University of North Carolina at Chapel Hill; University of Virginia; University System of Maryland; Vassar College.