You have /5 articles left.
Sign up for a free account or log in.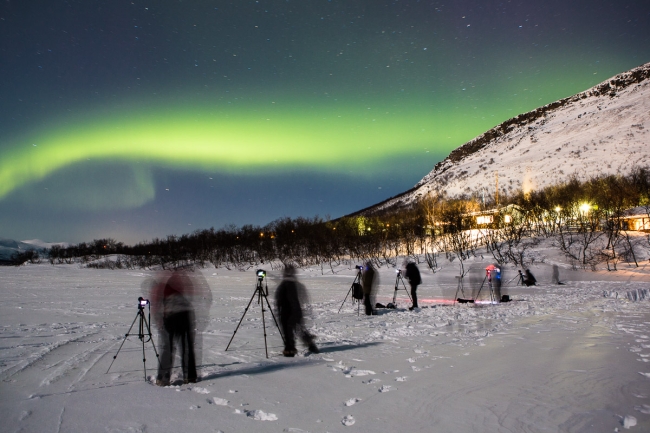 Photo by Alexander Markus Lembke. Courtesy of the University of the Arctic.
The Arctic as a region has a rising geopolitical profile. This is where the effects of climate change are at their most acute. As the sea ice melts, the rush to extract the region's vast oil and gas reserves is accelerating, bringing attendant disputes over national border lines and new concerns about impacts to the environment and the health and economies of indigenous peoples. The fishing, tourism and shipping industries are all expanding in the Arctic. In November, the Pentagon released its first-ever Arctic strategy, which described the region as "at a crucial point in its transformation from a relatively isolated region to one where receding ice is enabling increased human access."  
The University of the Arctic sees its mission as fostering research collaboration, joint educational programs and student and faculty mobility across the universities of the changing north. Its moniker is something of a misnomer: is not a degree-granting institution as the descriptor "university" would imply but rather an association of about 150 colleges, universities and research institutes from across the eight Arctic nations -- Canada, Denmark, Finland, Iceland, Norway, Russia, Sweden and the United States (Arctic by virtue of Alaska), plus a few associate members from non-Arctic states.  "We offer a path to the universities of the Arctic," said Lars Kullerud, the president of UArctic (as it is known). "If we were very picky we should probably be called the Universities of the Arctic and not the University of the Arctic, but that would be much more clumsy."
A main goal of UArctic is to increase access to Arctic-themed educational programs by increasing mobility and capacity both. "Lots of the parts [of UArctic] aren't unique, but all of the parts together make it unique," said Patrick Maher, an associate professor in the department of community studies at Cape Breton University and the former associate dean for undergraduate studies for UArctic.
Among those parts, UArctic has an undergraduate education component -- a series of seven circumpolar studies courses taught online by faculty at various UArctic institutions and open to students at any college within the network. It manages the intra-Arctic, north2north mobility program, which annually sends around 200 students on funded exchanges throughout the network. And it lends its imprimatur to 27 "thematic networks" and three institutes, which are both meant to promote research and teaching collaboration across UArctic member institutions on such diverse themes as Arctic geology, circumpolar policy, food security, health, indigenous arts, natural hazards, permafrost, and reindeer husbandry. 
Each of the thematic networks comprises experts from at least three UArctic institutions. A glance at the university's magazine gives a sense of just a few of their recent activities. The thematic network on communicating Arctic research sponsored a science and photography workshop at a Finnish field station last March. The network on managing small and medium-sized enterprises in the North launched a binational Russia-Norway international internship program with funding from the Norwegian government. And a network on Arctic extractive industries has collaborated on the development of Ph.D.-level courses and a UArctic certificate program that doctoral students can pursue as an add-on to their degree.
Timo Koivurova, research professor and director of the University of Lapland's Northern Institute for Environmental and Minority Law, chairs the thematic network on Arctic law for the UArctic, which is subdivided into three groups on indigenous peoples' law, oil and gas legislation, and Arctic governance. Among its recent activities, the network has published an ebook entitled Current Developments in Arctic Law and co-organized a conference last fall on the recognition of sacred sites for indigenous peoples. 
"These thematic networks are very important because in some of the disciplines you don't find this kind of Arctic-wide orientation," said Koivurova. "It has helped me in integrating the very dispersed community of those who are interested in Arctic legal issues. It has become a trendy topic in legal research in the last six years."
UArctic has "created both an institutional network and a person-to-person network that I'm not sure exists anywhere else," said Maher, the former associate dean of undergraduate studies who also leads the Northern Tourism thematic network. "I really do think it's pretty unique; it's pretty special. It's not without its problems by any means because you're dealing with all kinds of different systems and all kinds of different languages."
UArctic was the brainchild of the intergovernmental Arctic Council, which commissioned a feasibility study prior to the official launch of UArctic in 2001. Kullerud said the network receives some federal funding from Denmark, Finland, Norway, Sweden and Russia but is dependent above all on resources provided by the member institutions and governmental and foundation grants obtained for specific projects. The various offices of UArctic are scattered across its members: for example, the secretariat's office is at the University of Lapland, in Finland, the research office at Northern (Arctic) Federal University, in Russia, and the finance office at the University of Alaska at Fairbanks -- whose chancellor, Brian Rogers, is currently chair of the UArctic board.  "More than 90 percent of our activity is funded by the institutions themselves and not by the central organization," said Rogers. This year the central organization has a core budget of about €300,000, or just over $400,000.
"It's a consortium of voluntary efforts. There's some core funding, but UArctic really depends on people being committed to providing time, energy and resources to make things work," said Ross A. Virginia, the Myers Family Professor of Environmental Science at Dartmouth College and director of its Institute of Arctic Studies. He also co-directs the University of the Arctic Institute for Applied Circumpolar Policy, a collaboration between UArctic, Dartmouth and Alaska Fairbanks which has convened conferences and issued reports on topics including Arctic shipping and security.
"When you look at the Arctic, one of the things that jumps out at you is you have great distances and low population densities," Virginia said. "You have a relatively small number of institutions that have major resources and lots of smaller institutions that don't have the faculty and research resources to deal with the pressing problems that extend across the Arctic."
"I think what's fundamental to the mission of UArctic is struggling to find ways to connect and draw and amplify those resources and focus them on a globally important region."