You have /5 articles left.
Sign up for a free account or log in.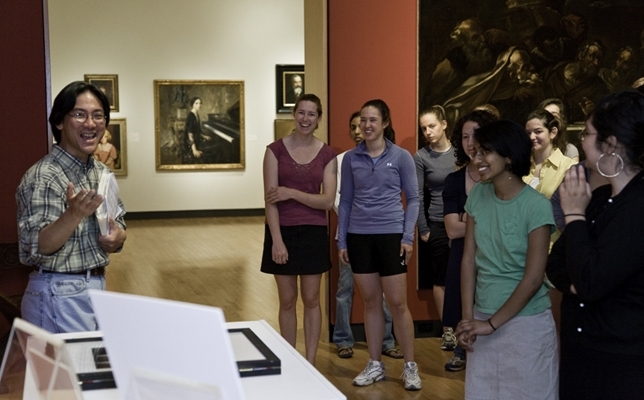 President Obama found common ground with Republican politicians Thursday -- in arguing that some liberal arts degrees offer poor preparation for a job. Obama took on art history, following in the footsteps of Republicans who have in recent years questioned the value of degrees in anthropology, English, philosophy and women's studies. (See chart below to keep track of which politicians have dissed which fields.)
The president's remarks came on a trip to Wisconsin, where he was promoting his proposals on job training and efforts to revitalize American manufacturing. Art history came up as a contrast, and the president's remarks suggest that -- almost as soon as he said the words -- he realized not everyone would appreciate them.
Here's what he said: "[A] lot of young people no longer see the trades and skilled manufacturing as a viable career. But I promise you, folks can make a lot more, potentially, with skilled manufacturing or the trades than they might with an art history degree.  Now, nothing wrong with an art history degree -- I love art history. So I don't want to get a bunch of emails from everybody. I'm just saying you can make a really good living and have a great career without getting a four-year college education as long as you get the skills and the training that you need."
There are all sorts of ironies about the president selecting art history as a discipline to question. He is a graduate of Columbia University, whose undergraduate college is rare in American higher education (outside of art schools) in requiring study of art history.
Then there is the fact that arts programs in American higher education (admittedly not identical to art history) -- fearful of the stereotype that they provide job training for Starbucks jobs -- have worked to study employment outcomes of their graduates. Their findings: Graduates of arts programs, while not all employed in the arts, are generally employed and have high levels of job satisfaction, using their arts knowledge in a range of ways. And then there is the study released just last week by the Association of American Colleges and Universities about the long-term success of liberal arts graduates in the world of work.
Carol Geary Schneider, president of the Association of American Colleges and Universities, said via email that she found the president's rhetoric disappointing. "In recent years, we've sunk into a 'what's in it for me' approach to learning, making career earnings the litmus test both for college and for different majors," she said. "The president speaks well in principle about our responsibilities to one another in a democratic society. 
"But he seems to have forgotten that college can build our desire and capacity to make a better world, not just better technologies. It was depressing to hear President Obama describe college mainly as vocational and/or technical training in the State of the Union address, and it's even worse to have him casually dismiss one of the liberal arts -- or even the whole idea of baccalaureate study -- because you can earn good enough money in a skilled trade. The fact of the matter is that human beings need bread and roses -- and people who help make things do it better, as Steve Jobs said and demonstrated repeatedly, when they study both the arts and technology."
Linda Downs, executive director of the College Art Association, posted a reaction on the group's blog, offering support for any federal effort to promote access for more people to higher education. However, the blog post went on to say: "When these measures are made by cutting back on, denigrating or eliminating humanities disciplines such as art history, then America's future generations will be discouraged from taking advantage of the values, critical and decisive thinking and creative problem solving offered by the humanities. It is worth remembering that many of the nation's most important innovators, in fields including high technology, business, and even military service, have degrees in the humanities."
Politicians Bashing Liberal Arts
| | | |
| --- | --- | --- |
| Politician | Discipline | Quote |
| President Obama | Art history | "I promise you, folks can make a lot more, potentially, with skilled manufacturing or the trades than they might with an art history degree." |
| Mitt Romney, former governor and Republican nominee for president | English | "I wonder whether you get information coming into college that says you know, this course of study will lead to this kind of jobs and there's a lot of opening here as opposed to – as you said, English – and as an English major I can say this.... as an English major your options are uh, you better go to graduate school, all right? And find a job from there." |
| Governor Rick Scott, Republican of Florida | Anthropology | "If I'm going to take money from a citizen to put into education then I'm going to take that money to create jobs. So I want that money to go to degrees where people can get jobs in this state. Is it a vital interest of the state to have more anthropologists? I don't think so." |
| Governor Patrick McCrory, Republican of North Carolina | Gender studies | "If you want to take gender studies that's fine, go to a private school and take it. But I don't want to subsidize that if that's not going to get someone a job." |