You have /5 articles left.
Sign up for a free account or log in.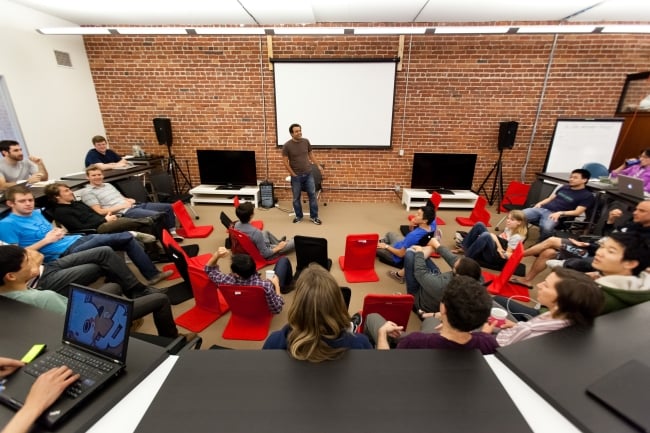 SAN FRANCISCO -- A new type of educational provider has quietly sprung up in San Francisco and several other major cities, providing specialized training in computer coding and other skills that are in great demand from technology companies and other entrepreneurs.
And, a bit belatedly, government regulators are noticing, agitating some of the providers and highlighting anew the tension between educational innovation and government regulation aimed at protecting consumers and ensuring quality.
The issue flared last week in California, where the Bureau for Private Postsecondary Education -- which licenses educational entities to operate, as part of the state's Department of Consumer Affairs -- sent letters warning as many as eight "coding academies" and other training providers that they were operating in violation of state law and threatening fines and potential shutdown if they do not apply for state recognition.
Russ Heimerich, a spokesman for the bureau, said that in the agency's continuing hunt for "unlicensed activity" by providers that "don't have good intentions for students," one of its enforcement specialists -- in a bit of "serendipity" -- recently came across an article about the coding academies, which began popping up two years ago to feed the explosive appetite of technology companies here and in some other high-tech corridors around the country.
The startups -- which include places like App Academy, Dev Bootcamp, General Assembly, Hack Reactor, Hackbright Academy, and Zipfian Academy -- offer intensive, full-time, short-term training programs in computer languages and other programming skills designed to lead directly to jobs. The fees are often steep -- typically between $8,000 and $12,000 for a six- to 10-week course -- and are paid directly by the students, since the classes and programs (which do not award degrees) do not qualify for federal or state financial aid.
Heimerich said it was clear to agency officials that the startups qualify as educational providers under the state's law, because they are "offering an educational course of instruction for which they are charging students," he said.
The letters warned the providers that they needed to cease operations immediately and faced fines of $50,000 if they continued to operate without being licensed.
Despite the missive's threatening language, Heimerich insisted that bureau officials neither "believe these schools are unscrupulous" nor aim to run them out of business.
"If you're making a good-faith effort to come into compliance, it's not like we're going to move to shut you down," he said. "If you're coming into compliance, you're not the type of bad player that we're worried about."
Shudders in Silicon Valley
The agency's crackdown spurred intense discussion -- and considerable consternation -- in the technology trade press and blogs that cater to Silicon Valley's exploding programming community, where much of the commentary portrayed the bureau's scrutiny as the type of innovation-stifling, backward-looking scrutiny of which accreditors and other regulators are often accused.
But it is far from surprising that at a time of burgeoning scrutiny for traditional educational providers because of rising prices and student debt, a slew of brand-new entities charging thousands of dollars for short-term training that they assert will lead directly to jobs are drawing the attention of regulators, too. (In some circles, these providers are seen (and see themselves) as alternatives to traditional colleges, while others see them more as supplements.)
And the savvier leaders of these startups seem to understand that, even as they expressed concerns about whether California's regulations might be too rigid and outdated to fully account for the type of training they aim to provide.
General Assembly, which got its start in New York City in 2011 but has now established locations in San Francisco and six other cities, is already a candidate for licensure in New York State. And it had begun the process of applying in California when its officials received the warning letter from the Bureau for Private Postsecondary Education.
Jake Schwartz, CEO and co-founder of General Assembly, said in an interview that he sees his company as part of a "nascent and dynamic industry" that aims to provide full-time, immersive programs and courses in relevant work place skills; more than 6,000 students have taken (or are currently taking) its long-form courses through early this year.
He does not shy away from the appropriateness of regulation, "for the stability of our sector."
"We are building GA to last for 100+ years," he said. "We value our students and their success over all else.  If there are providers out there that are ripping people off, that's a major concern for us." 
Shereef Bishay, the founder of San Francisco-based Dev Bootcamp, said his company had begun the process of applying for BPPE licensure several months ago, and submitted the "long, really detailed application" four days after receiving the agency's letter.
He said he was "glad something like the BPPE exists," to guard against the "shadiness" of some educational providers. And Bishay said he understands why its officials are applying scrutiny to a group of educational providers that believe, as he does, that "it can be way cheaper for students and better for industry and employers if you do not protract the process of getting an education for two to four years," as much of traditional higher education does.
But he also said the bureau's expectations and requirements make it clear that "the regulation was written without a new sector like ours in mind."
The rules require, for instance, that all instructors must have three years of teaching experience, and while Dev Bootcamp's instructors average 7-10 years of experience in their industries, where they have mentored employees and trained apprentices at companies like Google and Apple, many of them have little formal teaching experience.
"I totally get that the purpose of the regulation is that they want these teachers not to be hacks, but the implementation is so specific it could hinder us," he said.
Similarly, the BPPE regulations state that a provider must run any change in curriculum by the agency, and that approval may take up to six months. "We change our curriculum every three weeks, and we can't teach technology that's six months old," Bishay said. "If we  were to follow those regulations to the letter, it would hurt our students."
Schwartz and Bishay note that their companies are producing outcomes that many colleges and training providers would covet. General Assembly asserts a 96 percent job placement rate out of its full-time programs, and Bishay says that the vast majority of the 1,000-plus graduates of his three-month program are debt-free by the end of their first year out.
And both stress that neither they nor their students are taking any government money to do so.
"So yes, I would like to live in world where there is a BPPE, but I would like it to be an agile one that works with us," Bishay said. "Instead of telling me how to educate them, how to track them, and how often my curriculum can change, make sure my alumni are succeeding and that I'm not defrauding my customers. I support that 110 percent."
The Broader View
Andrew Kelly, who directs the higher education program at the American Enterprise Institute in Washington, sees the California agency's inquiry in the larger context of national debates over the appropriate balance between protecting consumers and taxpayers and encouraging innovation in the educational system.
Debate has been raging in Washington and elsewhere, for instance, about higher education accreditors, with many policy makers encouraging them to focus their requirements less on front-end expectations about library size and financial expenditures and more on the educational and other outcomes of students.
Kelly said he was struck by the thousands of students -- many of whom already have bachelor's degrees -- paying five-figure tuition out of pocket to these new entities, and firms snapping up the graduates. "This is a really interesting natural experiment, about what would an ecosystem look like if we were to start building a work force development approach from scratch," Kelly said.
Regulation is appropriate and necessary, he said, but inappropriate regulation could snuff out providers that have the potential both to help individual consumers and to create new forms of higher education more broadly.
The issue, Kelly said, is whether "regulators can update their view of what postsecondary education can look like, or maybe create a new category altogether."
Ultimately, he argued, "the question shouldn't be how much do they cost, and who is teaching the courses. The question should be, are the people who go to them successful, and are they able to pay back loans if they take them out?
"We should be looser on the definition of what a college is, and more rigorous on what the  outcomes are. That should be true for all types of postsecondary education."