You have /5 articles left.
Sign up for a free account or log in.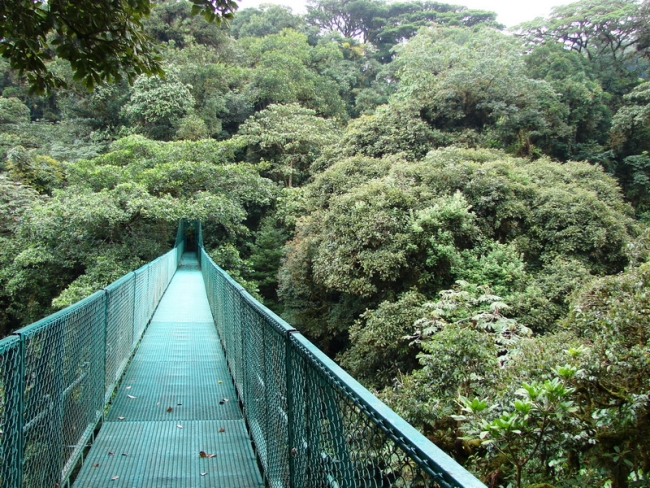 It is a Sunday afternoon, the Sunday after Thanksgiving, and Fran Lindau gets a call. A student on the semester-long study abroad program she directs in Monteverde, Costa Rica, has been raped during a weekend trip to the beach. A friend of the assaulted woman is calling: she does not wish to go to a clinic, but could Lindau arrange for her to get emergency contraception?
From here things are set in motion. After doing some research, including calling a doctor in the U.S. and accessing a Princeton University-sponsored website on emergency contraception, Lindau and her fellow professor and partner Catherine Murray obtain an over-the-counter packet of birth control pills, which can be used in high dosages for emergency contraceptive purposes, as the product known as Plan B is not a legal drug in Costa Rica. Murray purchases the birth control while Lindau drives to the beach to pick up the victim and three other students who had accompanied her there. Upon returning to Monteverde, Lindau asks again if the victim will go to a clinic; again, she declines. Lindau gives her the birth control pills with instructions on the appropriate dosage -- four pills now, another four in twelve hours – and asks her to come to her office first thing in the morning.
It is not until lunchtime the next day, until after Lindau has had the opportunity to interview the student and her three friends, that she reports the incident to her supervisor, the executive director of the Monteverde Institute (MVI), Debra Hamilton. Lindau will be reprimanded for this delay, as well as her unauthorized efforts to assist the victim in procuring over-the-counter medication (more on this below); she gets fired Dec. 18. Murray resigns 12 days later, under pressure, after both she and Hamilton express doubts that their working relationship could be remedied by mediation.
Yet from Lindau and Murray's perspectives – and the rape survivor's, too – it was only after the incident was reported to Hamilton that it began to be mishandled. The victim felt harassed by Hamilton into signing a legal waiver and was distressed by her insistence that Monteverde staff would have to report the crime against her wishes – which Hamilton said was her legal obligation though she stressed that neither the victim's name nor any details of the assault were shared with the police.
As the victim wrote in an account that has been posted online (and whose authorship has been verified by Inside Higher Ed), "I cannot continue in the knowledge that [Hamilton] has not only not been reprimanded for how she treated me, but that the very people who helped me have been punished instead."
Unraveling the response to this incident, and where it seemed to go wrong and why, offers a glimpse into the complexity of responding to cases of sexual assault in study abroad, the competing legal frameworks that study abroad programs exist within, and the tensions that can result when the best interests of the institution and the student are arguably not one and the same.
This is the kind of story where nobody wins, and the reverberations have been significant: the study abroad provider Living Routes, which operated the program in question in conjunction with its Costa Rican partner organization, the Monteverde Institute (MVI), was forced to shut its doors last month after suddenly losing its affiliation agreement with the University of Massachusetts at Amherst. The university, which provided academic credit for Living Routes programs, cited concerns about the provider's response to a health and safety incident that occurred on the Monteverde program "on or about" Dec. 1 and a delay in informing the university that the incident had occurred. In fact, the university learned of it from a member of the Monteverde community who wrote to UMass Amherst faculty with concerns about the handling of the incident and the victim's treatment.
'We Didn't Think Twice'
Let's rewind again to that Sunday, Dec. 1, when Lindau gets the call from the victim's friend.
"Given the circumstances that this was a rape case, we didn't think twice before saying of course we'll help," said Murray, who was a professor of service learning on the Living Routes program and director of short-course development for the MVI, which hosts a number of study abroad programs run by American universities. Noting that the pharmacy would have closed before the students returned from the beach, and that the effectiveness of emergency contraception declines the longer you wait to take it, Murray said that she was unpersuaded by what she described as one MVI board member's after-the-fact recommendation that she should have left it to the student to work out the situation herself – or at the very least, that she should have just driven the student to the pharmacy to let her buy her own drugs.
Murray's concern, she said, was not "what do you do to ensure that the Monteverde Institute is completely white and blameless and doesn't get their hands dirty by helping students."
"I acted as a human being and a woman supporting a woman in a tragic situation," said Murray, who emphasized that she and Lindau had educated themselves on emergency contraception issues in the past, before the incident occurred.
"You can tell me what is the best legal course of action, but that is not how I react to an emergency like this," she said. 
"I acted as a human being and a woman supporting a woman in a tragic situation."
--Catherine Murray
Complicating matters is the fact that the legal status of emergency contraception is murky in Costa Rica, a predominantly Roman Catholic country. Costa Rica's national rape response protocol outlines an emergency contraception regimen, but the relevant subsection also includes a perplexing parenthetical caveat that it has not been approved by the institution's board of directors (which institution, exactly, is not clear as it is an inter-institutional document). As Larissa Arroyo Navarrete, a Costa Rican lawyer who specializes in sexual and reproductive rights, explained via email, emergency contraception is not forbidden by law in cases of rape, but there is no registered product intended solely for emergency contraceptive purposes (i.e., Plan B). Hospitals can access and prescribe a regimen made up of a high dosage of regular birth control pills, but do not as a rule provide it.
According to Lindau and Murray's accounts, Hamilton overreacted regarding the potential safety risks of the emergency contraception, calling them at their home, where the student was temporarily staying, on the Monday evening after the assault to say that she had been informed by a Costa Rican doctor that the side effects can include severe hemorrhaging and birth defects and that the professors needed to watch the student overnight; if she hemorrhaged, Hamilton allegedly told Lindau, it would be "on your heads."
Hamilton declined to comment on Lindau's account of the conversation, subsequently explaining via email that she preferred not to get into a "she-said," "she-said" situation but that she hoped her silence would not be taken as assent with Lindau's characterizations. When asked about the drug (Noryglene) and the dosage, James Trussell, a professor of economics and public affairs who runs the Princeton website on emergency contraception, said there is no risk whatsoever of these or other serious side effects.  
Earlier that same Monday, Lindau and Murray had arranged for the victim to meet with an American doctor who lives in Monteverde but is not licensed to practice there. The student had continued to decline to visit the clinic and Lindau and Murray wanted her to get the best care possible in light of that decision – and in any case, as Murray said, she thought the student would get better advice from an American doctor than she would have from the local health center.
The physician, Noemi Gamel, who formerly was a pediatric hospitalist and faculty member at the University of Texas Health Science Center in San Antonio, said she took a basic medical history with an eye toward allergies and possible drug contradictions and, in consultation with the pharmacist, advised the victim about antibiotics she could obtain over the counter to help prevent a sexually transmitted infection. She also advised the student, who was returning home in a week, to see her doctor in the U.S. for HIV testing and counseling. 
Her lack of a license to practice medicine in Costa Rica was not relevant to the situation, Gamel said, because she did not perform an exam, did not charge the student for her services, and did not prescribe medicine (the drugs being available over the counter). She was providing medical advice as a friend with medical expertise, she said, not practicing medicine.
"With the limited resources available to Ms. Lindau, she ensured that the student received as close to 'best practices' care as possible in this community," Gamel wrote in a letter to the MVI board. "Emergency contraception is highly safe and is available over the counter in the United States thanks to its safety profile. I obtained the antibiotics over the counter for the student after discussion with the pharmacist. As such, I do not feel Ms. Lindau or Ms. Murray were practicing medicine. Speaking as a physician, I applaud Ms. Lindau and Ms. Cath Murray for proactively helping this student at a time of intense crisis. I wish that all people who work in education would be as engaged and accountable to their students as these two women."
"I sleep well at night knowing that we did the right thing," Gamel said in an interview. "Quite honestly, if we had sent this girl back pregnant or with an S.T.D., that would have been worse."
Protocols and Laws
Citing confidentiality and privacy concerns, Hamilton declined to comment when asked whether Lindau and Murray crossed a line in aiding the student. But an internal investigative report, provided by Lindau, describes the "administration" of medications -- a term Murray objects to as inaccurate – without prior approval as a violation of MVI protocol.
"The staff's delay meant that we ... didn't have the chance at the very start to work together as a full team to respond to a traumatic, complicated situation."
--Debra Hamilton, Monteverde Institute
The relevant protocols in this case include a generic emergency response plan, non-specific to sexual assault, included in the MVI course coordinator manual – which was written by Lindau and lists her as one of three people to contact in case of emergency -- and the Living Routes response plan for sexual assault (pages 50-51 of this document), which Lindau said she followed. She said that she first told her contact at Living Routes of the assault on Monday, after informing Hamilton.
Hamilton said that one lesson of this incident is that emergency response protocols "need to be really explicit. The roles that we play as professors and administrators have to be really well defined."  (Perhaps notably, Lindau wore three hats: as professor, as on-site director of the Living Routes Costa Rica program, and as academic director of the MVI).
The care of the student must be paramount, Hamilton said in an interview, "but at the same time, there are broader issues and this requires a team approach. The team approach is incredibly important for all sorts of reasons…. Protocols and rules of law are designed for the safety and protection of students. We are the advocates and the bridges to professional services; we are not the professional providers."
In a follow-up email, Hamilton added that the delay in notifying her as executive director foreclosed the possibility of such a team response. "Once they were aware of what happened, the failure of staff to immediately report the incident to the Executive Director of the Institute was in violation of MVI protocol and common sense," she wrote. "The staff's delay meant that we -- the MVI Executive Director, the MVI staff, and the MVI board -- didn't have the chance at the very start to work together as a full team to respond to a traumatic, complicated situation."
However, another variable here is the rape victim's own account, in which things seemed to go wrong when the MVI executive director and board – and the lawyers – entered the scene.
Legal Obligations
It is now Tuesday, Dec. 3, two days after the students returned from the beach. In a meeting, Hamilton presents the victim with a one-page document that she asks her to sign in order to acknowledge receipt. The document is copied in large part below.
"Your safety and health is our first concern," the document says, in part. "As an Institution that works with students, we offer to facilitate the following, as well our legal obligations regarding this matter. [sic] According to our legal counsel, we must facilitate the following but it is your legal right to accept or deny these services."
     "1) Reporting of the crime: if you are not willing or able to report this crime, the Monteverde Institute must report it. This can be done without your presence. Please inform me of your intention so that we may proceed with our legal obligations." (Again, Hamilton said lawyers advised her that it was the MVI's obligation to report to the police the bare fact that its staff were aware that a sexual assault had occurred, but that neither the victim's name nor the circumstances of the assault were shared: "no details were given and obviously no charges were filed," Hamilton said.)
     "2) Medical attention: I have been informed by Fran that you do not feel comfortable seeking medical attention. I was informed of your discussion with a local doctor who advised you to take antibiotics. A legal prescription is required for those medications, which we can facilitate by taking you to the local emergency clinic to see that doctor." (Yet Gamel, the American doctor, said the antibiotics the student obtained were all available over the counter.)
     "3) Psychological services: Suffering a trauma is a complicated issue. We will provide a trained psychologist or psychiatrist to offer you council." [sic]
     "4) We will provide housing for you if you prefer to be with others than your host family. If you stay in San Luis with your host family, transportation will be provided as you should not walk up the trocha." (The trocha was a steep, ascending pathway that the victim traversed daily on her way to class; in a written account sent directly to Inside Higher Ed, the victim wrote that she expressed befuddlement at this passage, at which point Hamilton told her she was "forbidden from walking up La Trocha because of the high dosage of hormones that [I was] on." Hamilton denied saying this.)
     "5) "We strongly encourage you to call your family. We will assist you in returning home if you so desire."
Liz Demmon, another participant in the study abroad program and an incoming freshman at the University of Colorado at Boulder, said she joined the victim partway through her meeting with Hamilton, at which point she found the victim crying and Hamilton holding a document. Demmon described the document as "poorly written and slightly insulting to the victim."
"She had to sign this document 2 and a half days after the incident. I understand liability, but this meeting was more insensitive than it was helpful for anyone," Demmon said via email.
On Dec. 8, Hamilton gave the victim another document to sign, this one being a legal waiver that released Living Routes and the MVI from any complaints or charges related to the sexual assault. According to the victim's account, she was walking back from town with Demmon "when Ms. Hamilton pulled over on the side of the road and attempted to make me sign another waiver." She refused to sign the document, which she described as "meaningless… it only insinuated further that I was seeking to lay blame for the incident on [Living Routes]/MVI, which I blatantly said I wasn't trying to do during our first meeting."
The sense that she was being treated as a legal liability, rather than as a person suffering a trauma, pervades the student's accounts. "I am troubled when I hear about how the student views my interactions with her, but I obviously can't negate how she feels," Hamilton said, via email. "The letter describing services available to her was requested by Living Routes and by MVI's legal counsel. The second letter, which she did not sign, was also requested by Living Routes and by MVI's legal counsel. I regret that the student felt that those letters were insensitive or that my request to review the letter and 'drop it off at the Institute if she wished to sign it' was intrusive – but it was my responsibility as Executive Director of the MVI to ask -- I had clear direction from Living Routes, the MVI Board and legal counsel on this matter."
"It was a struggle to balance all of the needs," Hamilton said in an interview, adding, "I really deeply care about this person."
Living Routes has closed its Amherst office; it expects to dissolve as a nonprofit organization this spring. Its former executive director did not respond to a request for an interview. The president of the Monteverde Institute board, Randal B. Smith, declined to comment beyond affirming that Hamilton retains the board's full confidence; in an open letter Smith wrote, posted online, he described Hamilton's handling of the events as "exemplary." He criticized letters circulated by former and "disgruntled" MVII employees as "misguided," saying that "It greatly saddens me to read the hurtful words being presented out of context and without merit by these individuals." 
"[W]hen communication breaks down inside of our own organization, we must act," Smith wrote. "When an individual intentionally ignores MVI protocol, we must act. When an individual operates without concern for management or the board of directors, we must act. If an individual willfully chooses not to inform those that are most impacted by their decisions, we must act. If an individual does not seek the professional guidance of their Executive Director, we must act."