You have /5 articles left.
Sign up for a free account or log in.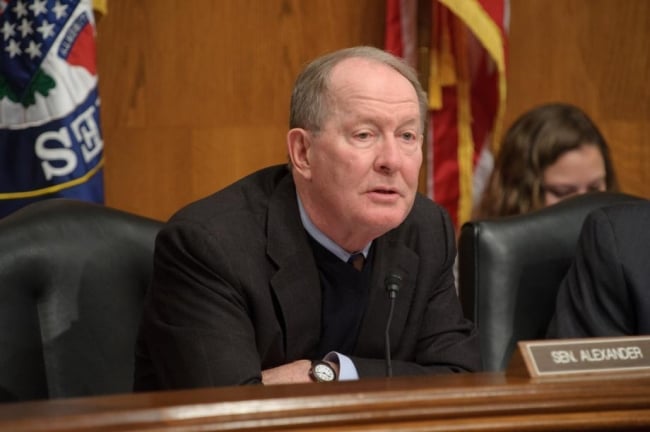 WASHINGTON -- The last time the Higher Education Act came up for a vote in Congress in 2008, Senator Lamar Alexander trotted out a five-foot stack of cartons onto the Senate floor to show the enormity of existing regulations governing higher education.
Now that lawmakers are once again contemplating how to rewrite that massive piece of legislation -- which authorizes, among other things, the $150 billion-a-year federal student aid program -- Alexander is returning to his props.
Speaking to a group of community college leaders Wednesday, Alexander unfolded the full paper version of the Free Application for Federal Student Aid, which was taller than he is, to underscore his distaste for the federal government's bureaucratic reach onto college campuses. And last week he made the same demonstration before a group of private college presidents.
Alexander said Wednesday that his goal is to "simplify and deregulate" higher education in the upcoming renewal of the Higher Education Act -- a process he has said should "start from scratch."
"What we're trying to do is establish a continuous process for deregulation to overcome the continuous momentum for overregulation," he said, noting that the "inertia" for creating new regulations comes from across the political spectrum.
"The conservative senators, from my party, they're sometimes the worst," he said, describing how he has to remind his colleagues that they are "the party of federalism, the 10th amendment" when they want to impose conservative ideas on how colleges should be run across the country.
All of their ideas "sound good, but you know what happens when you have to comply with it: it takes time and money away from your mission," he told a group of community college trustees and presidents.
Alexander has formed, along with three other senators, a task force to recommend ways to reduce federal regulations on colleges and universities.  
That group of higher education leaders gathered behind closed doors at the offices of the American Council on Education on Wednesday to begin producing recommendations on how to deregulate the industry. The panel consists of college presidents from a range of sectors and higher education associations.
Reducing or eliminating regulations on colleges has long been a goal of the higher education lobby in Washington, though previous efforts have largely been unsuccessful.
William E. (Brit) Kirwan, chancellor of the University System of Maryland and co-chair of the task force, said he was encouraged by the Congressional interest in reducing regulations.
"What seems different this time is the very strong commitment of these four senators," Kirwan said. "They are determined to address this issue and get our help in finding some meaningful reforms."
Alexander and Senator Michael Bennet, a Democrat from Colorado, guessing this should be somebody else, since you mention bennet later in sentence? also, can you add state affiliations? dl ** changed attended Wednesday's meeting, and two other lawmakers -- Senator Barbara Mikulski of Maryland, a Democrat, and Senator Richard Burr of North Carolina, a Republican -- are also on board.
The panel will focus on identifying "the most egregious, excessive regulations," but will also make recommendations on the Education Department's rule making process in general, Kirwan said.
"The hope is that we can make some suggestions that will enable us to meet our obligations and be accountable to the federal government but to do so in a way that is cost effective and not excessively bureaucratic," he said.
Kirwan said that one example of the type of regulations that his task force would be targeting is a campus safety rule that requires colleges to collect crime information from local police jurisdictions when students study abroad or when athletes travel to an out-of-town hotel.
The task force hopes to produce a report on its recommendations within the next 12 months, Kirwan said. The group will also be coordinating with the National Research Council, which was directed by Congressional appropriators last month to conduct a $1 million study of the cost of regulations on higher education.
Kirwan, who also chairs the subcommittee at the NRC that will oversee the study, said that work would be focused on all federal regulations that affect higher education, while the Congressional task force would focus only on Education Department regulations.