You have /5 articles left.
Sign up for a free account or log in.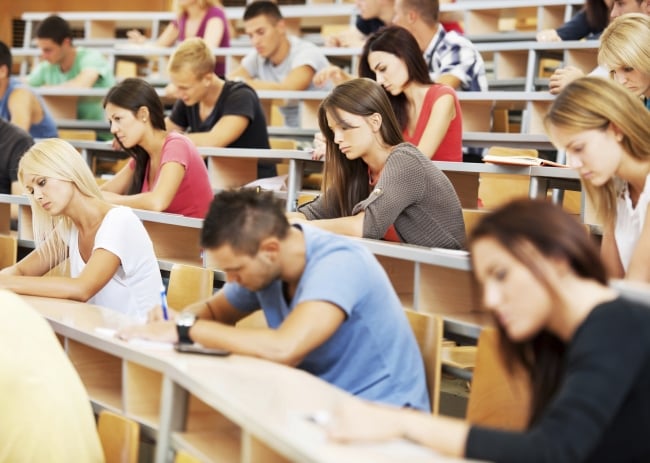 Only 100 or so colleges maintain honor codes, which are thought to bolster integrity and trust among professors and students by involving the latter in the creation and enforcement of academic standards. When a campus culture values open and frequent discussion about when and why cheating is socially unacceptable, the thinking goes (and some research shows), students are less likely to flout the rules – and more likely to report their peers who do.
Except when they aren't. Most traditional honor codes allow for unproctored exams, where the professor leaves the room and students are expected to report any cheating they observe. (Some even let students take the exam wherever they choose.) But the system is not working out so well at Middlebury College, where faculty members in economics will proctor their exams this spring semester.
The decision follows a not-exactly-glowing review of the state of Middlebury's honor code, which found that peer reporting across the board "is largely nonexistent."
The Middlebury Campus lamented the shift in an editorial, calling it "a shameful reminder of a broken system" and questioning why no students or professors are protesting the decision or pressing the importance of the honor code.
"The honor code is a part of the Middlebury brand. We love to point to the honor code as a demonstration of our integrity and the type of community we come from," the editorial board wrote. "What, then, does it say about our future selves if we cannot expect integrity from our community members now?"
Shirley M. Collado, dean of the college, declined to comment on whether cheating is particularly rampant in economics, but said via email that, on infrequent occasions, other departments have opted out of unproctored exams. "While some students report cases of academic dishonesty," Collado said, "we don't believe that students are taking action on all cases of academic dishonesty of which they are aware."
The economics department will work with the student government's Honor Code Committee to gather information and "see what approach will work best for the broader Middlebury community and to encourage an environment of academic integrity," Collado said.
"Middlebury's Honor Code is not facing a moment of crisis, nor is it functioning with optimal effectiveness," the review says. (A committee conducts the review every four years.) "Student ownership and responsibility for the Honor Code – a critical tenet of its founding – is severely waning."
The Middlebury Campus writers posit that because their peers had nothing to do with the honor code's creation, and "almost never hear about it after first-year orientation," it makes sense that students are not invested in the code.
Teddi Fishman, director of Clemson University's International Center for Academic Integrity, said the editorial is spot on.
"This writer understands academic integrity better than some administrators do," she said. It's not surprising that students wouldn't adhere to an honor code they had no say in, especially one that's rarely discussed, she said. "Just having an honor code doesn't do anything – it has to be part of the culture." (Similarly, a culture of academic integrity does not necessarily require a code.)
Fishman praised the economics department's willingness to recognize that the code isn't working, but said the campus should work to "revitalize" the honor code in the meantime, to launch conversations and get students caring about it again.
"In the absence of having established a culture of integrity, sometimes you have to rely on enforcement," she said. "At least they're sending an institutional message that they still care about cheating. It would be even worse if they had the perception that a lot of cheating is going on and they just left it as-is."
Donald L. McCabe, a professor of global management and business at Rutgers university who studies cheating, examined the impact of honor codes in three surveys of about 30 small- to medium-sized liberal arts colleges, slightly concentrated in the East. Fewer students at colleges with honor codes than those without reported copying exam answers from one another. During the 1990-1, 1995-6 and 2005-6 academic years, 13, 19 and 8 percent reported cheating at "code schools," respectively, compared to 31, 32 and 14 percent at "no-code schools."
But unproctored exams alone are another story, McCabe said: While they don't necessarily increase cheating, they definitely don't increase reporting.
"You can't expect them to report their friends. It's just not going to happen," he said. "You've got to give [Middlebury] credit, without question. There's a potential flaw, and they're going to take a look at it and make a decision."
At Haverford College, meanwhile, reports of cheating have piled up to the point where students on the Honor Council, which administers the code and holds trials for violators, have been resigning due to an unmanageable workload. However, most violators there are being turned in by professors, the Haverford Clerk reported. The college is considering ways to increase the efficiency and effectiveness of the council.
In recent years, more colleges have developed "modified honor codes," which typically make unproctored exams optional and do not require students to report cheating they observe. To specifically address the peer proctoring issue, the Middlebury review suggests exploring a modified honor code that would not entail the student reporting requirement.
Collado stressed that Middlebury is not doing away with, nor "lifting" its honor code. "It is possible to maintain a robust Honor Code that does not include a self-proctored exams component," she said.
Places like Middlebury have spent decades developing an atmosphere in which unproctored exams work, and students play by the rules, McCabe said. But when administrators stop working on the code and assume everything will stay constant, they're going to wind up in trouble.
"Today's students are changing," he said. "We've gotten much more competitive about grades, and it's harder for a student today to sit there, especially if they see someone else doing something that they feel is cheating."
After as many as 70 Harvard University students were suspended for collaborating inappropriately on an economics exam in September 2012, campus officials floated the idea of an honor code to help combat cheating. The idea was not unprecedented on the campus, but after the incident prompted considerable public fallout, administrators got to work developing a code. (Note: This article has been updated from an earlier version to correct the number of Harvard students who were suspended.)
A Harvard spokesman declined an interview request, but said "there is no discussion at Harvard of exams that are not proctored."