You have /5 articles left.
Sign up for a free account or log in.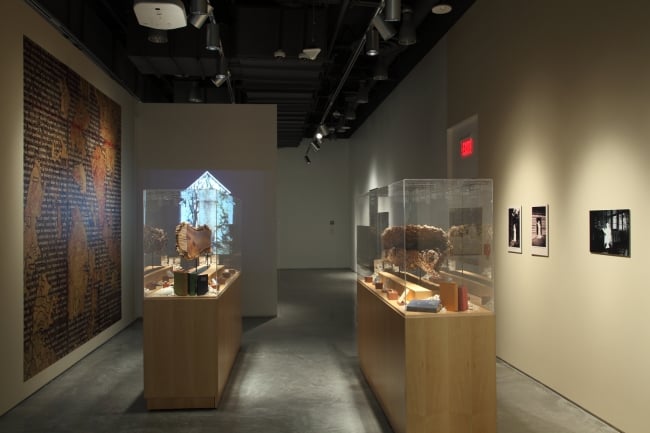 Photograph by Mike Jensen
Curators at the new art museum at Kennesaw State University had some last-minute work to do before its grand opening Saturday night. They had to quickly pack up an installation -- one the art museum had commissioned -- after university administrators ordered it killed for being insufficiently "celebratory" for the event.
The subject of the installation was the homestead of Corra Harris (1869-1935), who was a prominent author and whose homestead the university accepted as a gift to preserve in 2009 -- over the objections of some faculty members.
Harris's career was launched by an 1899 magazine article in which she explained lynching and in which she used vile language and stereotypes to do so. While Harris criticized lynching, she traced the practice to the dangers she said were posed by black men. She wrote: "Out of this cesspool of vice rises that hideous monster, a possible menace to every home in the South. He has the savage nature and murderous instincts of the wild beast, plus the cunning and lust of a fiend."
Harris went on to become something of a pioneer as a woman writer, publishing best sellers (rare for a woman in her day) and becoming the first female war correspondent during World War I. But her legacy has always been tarnished by the racist views that launched her career.
Kennesaw State is now being accused for the second time of whitewashing Harris's story. When the university accepted the homestead in 2009, critics asked why a university would be so anxious to associate itself with her. (The news release issued by the university in 2009 about the gift of the land makes no mention of the racist ideas Harris promoted.) Now the university has killed an exhibit about that land -- an exhibit that focused on many elements of Harris, not just her racism, but which did include that part of her biography.
The university released a statement Friday explaining the decision to remove the installation. "Yesterday, during a preview tour of the [museum], concerns were raised that the subject matter of one proposed exhibit, Ruth Stanford's "A Walk in the Valley," is not aligned with the celebratory atmosphere of the museum's opening. We therefore made the decision to display the exhibit at a more appropriate later time."
Stanford's work was part of an exhibit called "See Through Walls," in which artists were asked to produce work that related to different spaces and the way we interact with them. She said she was recruited for the project specifically to explore the Harris land.
In an interview, Stanford, associate professor of sculpture at Georgia State University, said she was shocked that the university ordered her work removed. She said that Harris's racism was just one feature of her installation, which also had maps, photos of the homestead, some of her books, and other writings. The exhibit also had a reproduction of the 1899 work, but it was partly obscured.
Stanford said that she felt an obligation to address that part of Harris's "complicated legacy," but that she didn't want the offensive words to hurt someone unprepared for them. Her solution was to include the letter, partly obscured, and to include information in the installation area and resource room for the exhibit so people could read the entire letter and learn about its impact.
Her approach to the issue was, she said, "very quiet," but she said she wanted to encourage "reflection" on the history. "My work demands a certain level of thought and consideration. The administrators who took my piece out of the show did not consider it."
Stanford also questioned the idea that a university art museum would ever restrict itself to "celebratory" works.
"This is a brand-new museum at an educational institution, so part of its mission is education, and as such it has a responsibility to present all kinds of art, and not all art is comfortable," she said.
Atlanta-area artists quickly organized a petition drive over the removal of the work. An online petition says: "KSU is a state public institution with an educational mission that should promote dialogue about history and difficult subjects, not squelch First Amendment rights and artistic expression. Stanford's work eloquently and tactfully addresses a contentious time in Georgia's history and KSU's controversial acquisition of property once owned by author and lynching apologist Corra Harris.
"In her installation, Stanford explores the complexity of Harris's views and literary works, which are both 'poetic and beautiful,' as Stanford says, and a reflection of the time in which she lived. The 'celebratory' opening that President [Daniel] Papp purports to be protecting has already been ruined by his very action, which undermines the autonomy and curatorial integrity of the museum staff."
If Kennesaw State was hoping to keep Saturday night's party for the new museum "celebratory," the plan may not have worked. There were pickets outside the event, with signs decrying censorship.