You have /5 articles left.
Sign up for a free account or log in.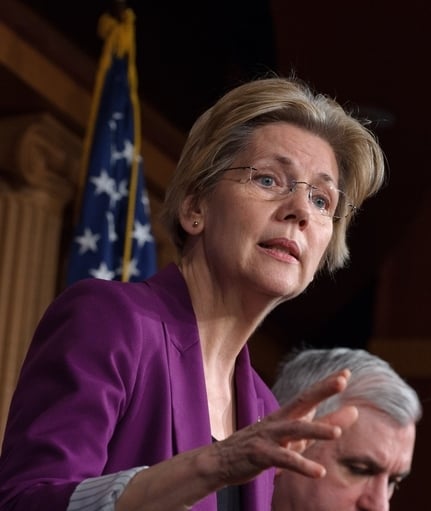 A coalition of progressive groups on Thursday formally began a new campaign aimed at curbing rising student debt and reducing the price of college.
The group of think tanks, student organizations, consumer advocates, and unions is targeting the country's "increasingly dysfunctional system of higher education," said Anne Johnson, executive director of Generation Progress, the youth division of the Center for American Progress, which is an organizer of the campaign.
Speaking at the launch event Thursday, Senator Elizabeth Warren of Massachusetts, a Democrat, said the $1.2 trillion in outstanding student debt was unfairly "penalizing young people for getting an education."
"The federal student loan program makes this problem worse," she said, citing the billions of dollars in profit that the government makes on student loans, though the extent of that profit margin is disputed.
Warren outlined new legislation she plans to introduce that would allow all federal student loan borrowers to refinance their debt at a 3.86 percent interest rate. She proposed paying for the refinancing program by raising taxes on wealthy Americans under the so-called Buffett Rule, which would impose a new minimum tax rate on personal incomes higher than $1 million.
The refinancing effort, Warren said, would effectively cut in half the interest rate on many existing federal student loans and save borrowers with the maximum federal loan for undergraduate education about $1,000 each year.
"This is real money back in the pockets of students who invested in their education," she said.
Aside from pushing policies that help existing student loan borrowers, the campaign -- dubbed "Higher Ed, Not Debt" -- also plans to mobilize efforts to reduce the price of college.
One part of that strategy is to persuade state legislatures to reverse the hefty cuts they have made to public higher education over the past several years. A report published Thursday by Demos, a liberal think tank that is also part of the coalition, found that 49 states are now spending less per student on higher education than they did before the 2008 recession. The cuts in 28 of those states were greater than 25 percent, the report said.
Another aspect of the agenda is to seek more accountability for colleges and universities.
"We need to push schools to keep costs down and spend more on education and instruction and less on amenities and administration," said Johnson, the Generation Progress leader.
Warren said the federal government should leverage the billions of dollars in grants and loans it doles out each year to "align school incentives" and promote "skin in the game."
She cited the legislation she is co-sponsoring with fellow Democratic Senators Jack Reed of Rhode Island and Richard Durbin of Illinois that would require colleges with high loan default rates to repay some of the federal student aid money they receive.
That's a concept that's increasingly gaining traction in Washington, but also generating its fair share of controversy. College and university presidents, for instance, have widely criticized the Obama administration's effort to promote more institutional accountability through its national ratings system.
Faculty unions, such as the American Federation of Teachers, which is part of the coalition of progressive groups pushing for student loan changes and greater state investment in higher ed, have also been critical of the Obama ratings plan.
David Bergeron, vice president for postsecondary education at the Center for American Progress, which has proposed its own version of an accountability scheme, said that while interest in accountability systems for colleges is far from universal, he thinks "it's growing in the right direction."
"We know institutions can do things to improve their performance, but what a ratings system does is it gets people out of neutral and into a direction of improving their outcomes," he said, noting that the on-time graduation rate for four-year public universities -- which hovers around 21 percent -- hasn't ticked upward in a decade.
Most of the proposals the campaign is pushing face significant odds in Congress and are likely to be taken up in reauthorization of the Higher Education Act, which may not happen for several years. Though Warren's plan to refinance student loan debt may be considered independently of the Higher Education Act, Bergeron said there is other low-hanging fruit that Congress should tackle in the meantime, such as allowing private student loan borrowers to refinance their debt with federal loans.