You have /5 articles left.
Sign up for a free account or log in.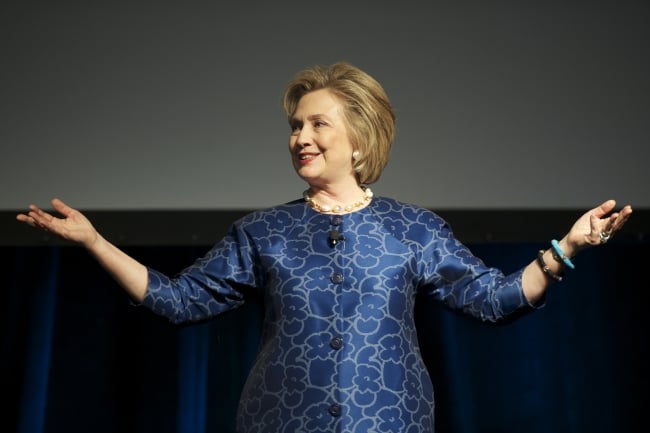 Courtesy of Academic Partnerships
IRVING, Tex. -- Hillary Rodham Clinton, a likely presidential candidate in 2016, outlined here Monday a vision for higher education globally and in the United States that would focus more on the disadvantaged and those who need postsecondary training, but not necessarily a four-year degree.
Clinton, the former secretary of state, senator and first lady, spoke at the Globalization of Higher Education conference organized by Academic Partnerships, which recently unveiled a "Specializations" initiative in which academic programs from American colleges will be translated and offered online in countries worldwide where English is not the primary language.
In her review of the needs of higher education in the developing world, Clinton strongly endorsed the idea of partnerships between American colleges and universities and their counterparts in other countries, and of online education. But she cautioned that new approaches to higher education may be needed at home and abroad, and that there may be limits (at least today) on the quality of online education.
American institutions seeking to work abroad need to ask what kinds of education "will make the biggest difference in a particular country or community," Clinton said. And in much of the world, that means resisting the temptation to simply reproduce "the extraordinary institutions" of higher education in the United States. In much of the world, she said, basic education and skills training is what is needed, Clinton said. In other countries, experiencing more rapid economic growth, education in "a specific sector," such as clean energy, may be the most important contribution.
Clinton also said that a problem she sees in much of the world is that countries have an elementary and secondary system, and a research university, but "no levels in between ... nothing like technical schools or community colleges." She said that building these kinds of models may be one of the most important contributions American higher education can offer.
When turning to the United States, she argued that American society "needs to reorient our social expectations and the signals we send" about the value associated with different kinds of degrees.
She said that it is time to "redefine higher education" so that more see the value of non-bachelor's-degree programs. "Just because a job requires certain technical skills and not a bachelor's degree" should not lead to a devaluing of those jobs or the relevant training, she said.
On online education, Clinton spoke of its potential, but without quite the enthusiasm of some of the other speakers here (such as MOOC proponent Tom Friedman) and with caveats that one doesn't typically hear from the technophile Obama administration.
She talked about the potential of online education to provide the best American education to students who might never come to the United States. But she said that as of March 2014, there is "no substitute for the kind of learning that takes place in a well-taught classroom."
She said that online education could provide the kinds of "world-class" education currently available in Cambridge, Mass., or Cambridge, England, elsewhere, but she quickly added "but it has to be a world-class education.... We must have a system of accountability."
Online education, Clinton added, can "open doors" for many students, and may offer as high quality an education as anything in some fields or for some students.
"But technology is a tool, not a teacher," she said. "It cannot replace laboratory-based experiments." And she questioned whether it could do as good a job as a teacher in encouraging creativity.
She also stressed that American higher education needs to preserve its emphasis on promoting creative thinking. The reason American higher education is "the global gold standard," she said, is that "we still value students thinking creatively, innovating and questioning authority." She said that these qualities are "part of the American DNA that remains an American advantage."
As she frequently does in her public appearances, Clinton spoke of the importance of providing full educational opportunities to women all over the world. But while she noted considerable progress in the United States in the availability of educational opportunities for women, she drew attention to inequities. She noted that women make up a majority of undergraduates, but only a small minority of those majoring in computer science.
Clinton told a story she has frequently recalled in the past as a sign of progress. After she was admitted to the law schools of Harvard and Yale Universities, Clinton said, she attended a reception at Harvard where a friend introduced her to a law professor there and asked for his thoughts on whether Clinton should enroll there or at the law school's "closest competitor."
The law professor replied that Harvard law didn't have a close competitor -- and didn't need any more women. Clinton enrolled at Yale.
While she noted (as she has in the past) that this shows how much progress has been made, she also gave a less optimistic interpretation to the story than she sometimes has in the past. There are still professors like that, she suggested. Of the professor's comment, she said that "some might think it, but they wouldn't be so politically incorrect as to say it."