You have /5 articles left.
Sign up for a free account or log in.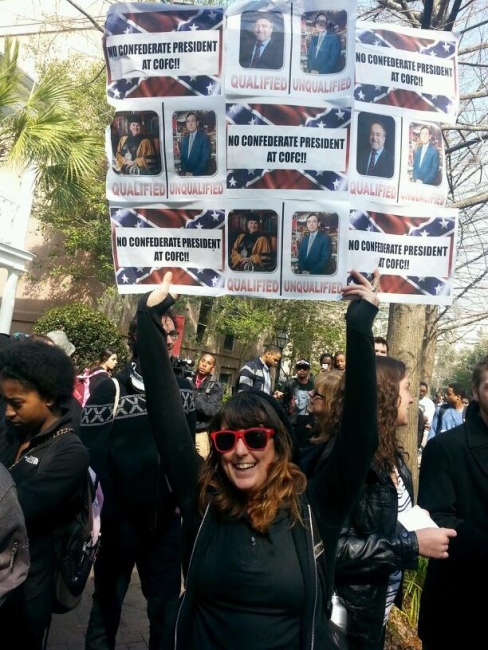 Photograph by Aleisha Catalina (@alliecat724) on Twitter.
Trustees at the College of Charleston are facing heat from faculty and students for picking South Carolina's lieutenant governor as the college's next president. In the process, critics say, the trustees brushed aside warnings that Lieutenant Governor Glenn McConnell's promotion of Confederate history could damage Charleston's reputation and turn away prospective students and donors.
In picking McConnell, the public liberal arts college's trustees reportedly ignored its own search committee, which did not recommend the politician -- who has never worked in higher education -- for president.
Backlash has been swift. Students rallied against McConnell's selection Monday in the largest campus protest in recent memory. "This is 2014 NOT 1814," one sign read. On Tuesday, the student government voted no confidence in the college's trustees. 
The Faculty Senate, which has been at odds with the trustees over more than just McConnell, is expected to take a no confidence vote in April. The resolution the faculty will consider alleges trustees have "undermined confidence in the integrity of the search and its outcome, creating the impression among faculty that the search was predetermined."
Faculty Senate Speaker Lynn Cherry said she imagines the resolution will pass. Faculty have been very vocal about the search process going awry.
"I know that concern still exists," she said. "In some ways, it has been even more solidified among faculty."
McConnell, who spent more than 30 years in the state Senate (including 11 as its leader before becoming lieutenant governor) is being eyed suspiciously for two reasons: his political connections and his association with Confederate history.
Faculty said the search process was a sham, given that McConnell emerged at the top of the heap despite reports the search committee didn't choose him as a finalist.
His critics also paint him as a Confederate sympathizer. He used to own a shop that sold memorabilia of the South's rebellion; he appears in a widely circulated picture dressed as a Confederate general; and he is a longtime supporter of flying the Confederate flag on the statehouse grounds. McConnell, whose office did not respond to a request for comment, has previously said his affiliation with Confederate regalia has to do with history and states' rights. During reenactments, for instance, he also plays Union soldiers.
In a radio interview, McConnell responded to the controversy by saying, "In government, so many times people take advantage of disagreements to try pull people apart and get headlines." McConnell's term would begin this summer.
But the NAACP and others are deeply critical. The NAACP said that McConnell's hiring would discourage black students from attending the College of Charleston. The college has an excellent reputation as a public liberal arts college and has promoted diversity in recent years. But like many South Carolina institution it has a past that includes support for segregation. In the mid-20th century, the college bought up land in its neighborhood to keep blacks from living nearby.
Joe Kelly, an English professor who is co-director of the current college president's diversity commission, said he wonders what signal McConnell's affiliations sends to prospective students.
"I'm worried about what is going on in the mind of that student when we see someone of the Confederate battle flag is now president," Kelly said. "There are a lot of subtleties to how you commemorate the Old South and a lot of those subtleties can be lost when you're deciding what college you're going to."
If students are turned away, that could hamper both diversity efforts and mess with the college's business model, which depends on money from out-of-state students who pay significantly higher tuition.
Faculty also find McConnell's lack of higher education experience to be "major concern," according to a research report the college released to press on its three presidential finalists. The same report said one student who turned in a survey about McConnell's visit said the lieutenant governor "couldn't cite one stat." AGB Search helped the College of Charleston conduct the search. A spokesman for the firm did not respond to an email seeking comment. Faculty are criticizing the trustees for ignoring the firm's best practices and have not pointed fingers at the firm.
Greg Padgett, the chairman of the Board of Trustees, said in a statement he's confident the trustees chose the right person for the job.
"With three excellent finalists, it would be surprising if all of our campus and community constituencies could agree on who should be the top choice for the presidency," he said. "Our job as the board was to make a choice between outstanding candidates, and I'm confident the board made a careful and thoughtful choice."
University of West Florida Provost Martha Saunders, one of the finalists for the job, told a local ABC News affiliate that she did not feel the board was partial to one candidate over another. Another finalist, Dennis Encarnation, a consultant and fellow at Harvard University, did not respond to a call and text message seeking comment.
Faculty discontent with the trustees is already running high. Some said the board did not do enough to stick up for academic freedom after the state's House moved to dock the college's allowance over freshman reading material that lawmakers found to be gay-themed and therefore offensive. The book, Fun Home, is a memoir by a lesbian; it has been widely acclaimed and was recently turned into a musical.
Faculty also worry the trustees are looking to merge the college with the Medical University of South Carolina, a public medical school just a few blocks away from the college in Charleston.
"This shotgun marriage to MUSC is a terrible idea," said Jennifer Wright, a psychology professor and member of the Faculty Senate.
McConnell has said the college and medical school should work together in some way but has stopped short of backing a bill introduced by state lawmakers that would merge the two. He said he favored some sort of cooperation and cited the Claremont Colleges model.
The trustees weighed in Tuesday night, saying the board is "committed to forever preserving and protecting 'College of Charleston' as the undergraduate name of this institution," but leaving open the possibility of collaboration.
There is concern that McConnell wants to shift the model in some way. In the radio interview, for instance, he said he wants to "make the liberal arts core relevant to the business needs and the community needs in this community."
Cherry, the head of the Faculty Senate, said there is concern that a shift in the college's focus and McConnell's Confederate hobbies and affiliations could turn away out-of-state students and hurt the business model.
"Out-of-state students of course pay higher tuition, so if we lose a significant number of out-of-state students, that will affect the financial model," she said.
In a letter McConnell wrote when he applied for the job, he said his connections could be a good thing for the college, where he was once student government president.
"I respectfully submit that the ability to build on that history and to 'network' those relationships would be an important asset to the future of the College of Charleston," he wrote.
Wright and faculty agreed that he has connections.
"The question is what exactly is going to happen with those connections," Wright said. "The state has not demonstrated itself to be our friend of late."