You have /5 articles left.
Sign up for a free account or log in.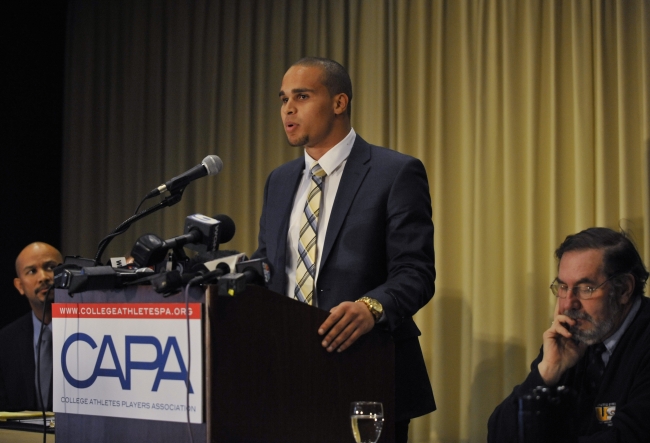 In what could be a landmark case, a regional office of the National Labor Relations Board on Wednesday backed a bid by football players at Northwestern University to unionize.
"I find that all grant-in-aid scholarship players for the Employer's football team who have not exhausted their playing eligibility are 'employees' under" the National Labor Relations Act, Peter Sung Ohr, director of the board's Chicago regional office, wrote in his ruling. Ohr said walk-on players -- those without scholarships -- do not qualify as employees.
The ruling cites multiple factors in concluding that the scholarship football players at Northwestern are employees: that they perform services for the benefit of their employer and receive compensation (in the form of a scholarship) in exchange, and that scholarship players are "subject to the employer's control in the performance of their duties as football players."
Ohr also differentiated the case of Northwestern's football players from those of graduate teaching assistants at Brown University (in which the NLRB ruled for the university in 2004) because "the players' football-related duties are unrelated to their academic studies unlike the graduate assistants whose teaching and research duties were inextricably tied to their graduate degree requirements."
"The players spend 50 to 60 hours per week on their football duties during a one-month training camp prior to the start of the academic year and an additional 40 to 50 hours per week on those duties during the three or four month football season," the NLRB ruling said. "Not only is this more hours than many undisputed full-time employees work at their jobs, it is also many more hours than the players spend on their studies."
The decision is historic in its own right, but coupled with controversies surrounding head trauma, lawsuits regarding athletes' rights (or lack thereof) to profit off their own image, and a new challenge to the National Collegiate Athletic Association's antitrust exemption, some experts believe it could contribute to the mounting assault on the underlying viability of the NCAA's century-old amateur model.
The Northwestern case is far from over, as the university said it will appeal the decision to the full National Labor Relations Board in Washington. Northwestern and the NCAA have strongly opposed the concept of a players' union, arguing that college football players are primarily students, not employees.
"We believe that participation in athletic events is part of the overall educational experience for those students, not a separate activity," Alan K. Cubbage, Northwestern's vice president for university relations, said in a statement, noting that many of the issues being debated are within the purview of the NCAA, not Northwestern. "Unionization and collective bargaining are not the appropriate methods to address the concerns raised by student-athletes."
The NCAA voiced its own objections to the NLRB ruling. "While not a party to the proceeding, the NCAA is disappointed that the NLRB Region 13 determined the Northwestern football team may vote to be considered university employees. We strongly disagree with the notion that student-athletes are employees," said Donald Remy, the sports organization's chief legal officer. "We frequently hear from student-athletes, across all sports, that they participate to enhance their overall college experience and for the love of their sport, not to be paid."
The football players' secret-ballot union election, which will determine whether they are represented by the College Athletes Players Association in collective bargaining matters, will take place in 25 to 30 days unless the NLRB board issues a stay, in which case the ballots will be impounded until that board rules. Whichever party loses at the national NLRB level is likely to appeal in the courts, and the case could well make its way to the U.S. Supreme Court.
Implications, Legal and Otherwise
Today's ruling is likely to stun the college athletics establishment. When Northwestern athletes first filed to unionize, many experts predicted a tough go of it. If upheld, the ruling could lead to dramatic changes in big-time athletics in higher education.
The players have said they're not seeking a salary. But their immediate goals for collective bargaining are significant: increasing scholarships and coverage for sports-related medical expenses, minimizing the risk of traumatic brain injury through measures like reduced contact in practice, improving graduation rates with help from an "educational trust fund," and securing due process rights.
"CAPA will give college athletes a seat at the table to secure much needed protections," the union's website says.
"It will create, perhaps, a permanent class," said Dan Julius, executive director of the State University of New York Levin Institute. "It could result, absolutely, in a diminution of coaches' authority, and it could result in a diminution of universities' authority of undergraduates."
There's still a long road ahead, Julius said, but "they've won an important first round."
The ruling applies only to private colleges, so athletes at public institutions would have to petition at the state level should they seek to unionize. But if the full board affirms the regional decision, its basis could ultimately be used by athletes at other universities as grounds to seek unionization, said William A. Herbert, executive director of the National Center for the Study of Collective Bargaining in Higher Education and the Professions at the City University of New York's Hunter College. 
"This is an important issue for both NCAA players and universities, along with graduate students throughout the country," Herbert said. "This case may present, for the NLRB, an opportunity to re-examine the decision of Brown University."
Ohr noted in his decision that the Brown case, in which graduate teaching and research assistants at private institutions were denied the right to unionize, should not apply to the Northwestern athletes. Northwestern administrators had cited Brown University vs. NLRB in saying that scholarship athletes are not employees.
That decision said graduate students were not employees because they are scholarship students, they play a role in graduate education and have a unique relationship with faculty. In other words, their role as teaching assistants was an educational one. Football players, on the other hand, must fulfill many duties completely unrelated to their education, Ohr said.
Michael A. Olivas, director of the Institute of Higher Education Law and Governance at the University of Houston, said he doesn't think this issues will ultimately be decided through a series of court rulings.
"I think it's going to come by Congress looking at this and legislating, because they're the only ones that can really consider this in the context of antitrust law, employment law, labor law, the variety of very specific subfields that are implicated," Olivas said. "You can't just do it on a sort of case-by-case basis."
Some legislators had already weighed in by early Wednesday evening.
"Imagine a university's basketball players striking before a Sweet Sixteen game demanding shorter practices, bigger dorm rooms, better food, and no classes before 11 a.m.," Sen. Lamar Alexander, Republican of Tennessee, said in a statement sent to reporters. "This is an absurd decision that will destroy intercollegiate athletics as we know it."
But Julius said if athletes ultimately are able to unionize, it won't have as big an impact as Alexander and many others are imagining. Being allowed to unionize hasn't transformed the educational process for graduate students, he said.
"I would suggest that the lesson of graduate student unions should be called into play here, and people should not jump to wild conclusions about striking," Julius said. "It won't change the nature of higher education to the extent that some people feel that it will, but it will be another organized constituency and it will change the nature of how we manage the whole student process…. Colleges are going to have to rethink how sports are conducted."
Glenn M. Wong, a professor of sport management at the University of Massachusetts at Amherst, envisioned several possible ways the NLRB ruling could have significant impact. If the athletes were ultimately to prevail and win collective bargaining rights, that could "open the door to the kinds of things we see in professional sports, like strikes and lockouts," he said.
Alternatively, Northwestern -- and the college sports establishment more generally, including the NCAA -- could try to settle the case, either by meeting some of the athletes' demands for more financial support (which could open the NCAA to expensive demands for equitable stipends for female athletes) or for more employment-style rights, which could create workman's compensation or taxation issues. 
And the case could also provide "ammunition," Wong said, to other legal challenges seeking to make the case that big-time sports is a commercial rather than educational enterprise. The NLRB ruling's finding that football players are employees could, for instance, help Ed O'Bannon make his case that he and other former players deserve a share of the money universities made off their likenesses, or give fodder to those in Congress or the Internal Revenue Service who think the NCAA should lose its tax-exempt status. "All these things are intertwined," Wong said. 
Roger Abrams, a Northeastern University law professor, stressed that "this is really very early in the first quarter, to use the football metaphor," but that the NLRB seems to be on the right track so far.
"These guys have to show up for practice and live in certain dorms and eat food at certain times and have to follow a certain dress code and follow the direction of their supervisors; sounds like employees to me," Abrams said.
"We're just so used to the system that operates now that we see this as such an aberration. And it's not an aberration, it's the way the labor union has always operated."