You have /5 articles left.
Sign up for a free account or log in.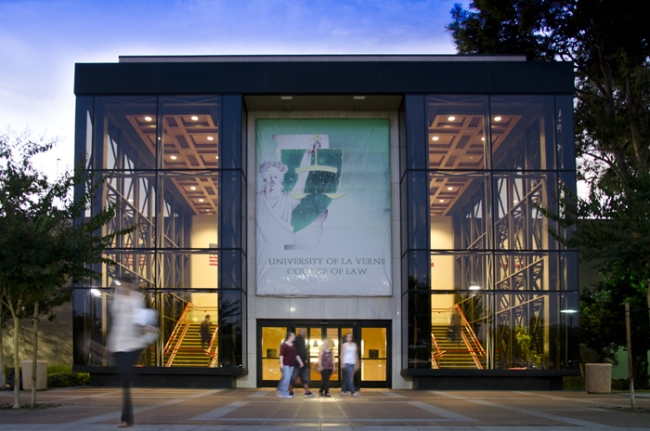 University of La Verne College of Law
The University of La Verne College of Law is the latest institution, and perhaps the first law school, to stop offering discounts to the top students it wants to attract.
Instead, the Southern California law school will charge all students a flat price of $25,000 a year. Before, its sticker price was $39,000, but many students didn't pay anywhere near that much. Its 127 students actually paid an average of about $25,000 a year, but the students with the highest test scores paid less. Overall, its discount rate -- the share of tuition charges the college forgoes in the form of scholarships -- was 46 percent.
La Verne's dean, Gilbert Holmes, said discount pricing, which colleges use to reward both low-income students and high-achieving students, can widen gaps between advantaged and disadvantaged students because the students who are most likely to succeed and make more money after law school graduate with the least debt. Often, students with that preparation have more advantages in their background than lower-scoring students who attend law school.
"You end up creating this gap that gets widened in part, not completely, by the discount model," he said.
Kyle McEntee, the executive director of Law School Transparency, a nonprofit consumer advocacy group for law school students, said how much students pay too often depends on their ability to negotiate. He said other law schools should think about following La Verne's lead.
"This flat-based tuition -- I think it allows people to just have a better idea up front, before they even apply, about what the costs are," McEntee said. "So they can do this analysis before wasting an application."
La Verne's law school, which saw a huge drop in its enrollment after the American Bar Association's accreditors denied it full approval in 2011, is betting that it can distinguish itself in the market by ending the pricing games law schools and other colleges play. The school, which started in 1970, now has provisional ABA accreditation. Holmes, who became dean last summer, hopes to raise enrollment to 350 students within several years. He expects the number of students with lower LSAT scores will increase, but he doesn't expect the average score to drop." (Note: This article has been updated from an earlier version to correct the date of the law school's founding.)
Over the years, some private undergraduate colleges in particular have begun cutting their sticker price and moving away from the "high tuition, high discount" model, which can lead to confusion among applicants who believe the price a college says it charges is what it actually costs.  The price cuts – which, for some students, may be more on paper than actual reductions in out-of-pocket expenses – are not a new phenomenon, but the rate at which small colleges are adopting the maneuver, as well as tuition freezes, appears to be picking up speed.
La Verne's law school is also locking in its tuition for all three years a student is there. Holmes said the college will need to boost enrollment by about 10 students to make the model work in its first year, because the college is cutting tuition for existing students as well as new ones.
La Verne is not the first law school to freeze tuition. When Holmes was dean at the University of Baltimore College of Law, he said, the school locked tuition for some years before it stopped. George Mason University current locks tuition, as does Monterey College of Law, which is a California-accredited school that is not accredited by the American Bar Association.
But the vast majority of law schools, low-priced or high-priced, play the discounting game. For many it is part of how they hope to rise in the rankings, in part through attracting more students with high LSAT scores or class ranks.
Holmes hopes the model can set the school apart amid an increasingly dismal law school market.
"We are, like every other law school, competing in a marketplace for student," he said.
He said he got the idea for fair pricing from Brian Z. Tamanaha's book Failing Law Schools, which criticized law schools for, among other things, buying high-end students to appease publications like U.S. News & World Report.
Holmes said ending tuition discounting is not for everyone, particularly law schools that are concerned about their rankings.
"I've spoken to other deans who have said, 'You know Gil, that's a really a noble idea, but you're kind of engaging in unilateral disarmament,' " he said.
Holmes said law schools in states with only a few law schools — like New Mexico and West Virginia, which only have one law school, or Iowa, which has two — or with solid reputations could stop tuition discounting without losing many of the students they desire.
McEntee said students who are in the know and who have good test scores have three ways to negotiate the tuition they pay, which other would-be law students either don't know about or can't take advantage of. They can negotiate the tuition price itself; they can get in stipulations that their discount will rise with tuition if the law school plans to increase prices; and they can negotiate the terms so that, for instance, the law school can't take the scholarship away if the student fails to meet certain grade-point average standards but remains in good academic standing.
He said there could be a push to move schools away from allowing this kind of variable pricing in favor of the model La Verne has adopted.
"There is a lot of chatter about how to incentivize schools to go to this model," McEntee said.