You have /5 articles left.
Sign up for a free account or log in.
WASHINGTON -- More than half the nation's most vulnerable college students are in courses taught by part-time, adjunct faculty members who lack the job security, credentials and experience of full-time professors – as well as the campus support their full-time peers receive.
Community colleges rely on part-time, "contingent" instructors to teach 58 percent of their courses, according to a new report from the Center for Community College Student Engagement. Part-time faculty teach more than half (53 percent) of students at two-year institutions.
Students who need the most help and are the least likely to succeed in college in particular lack access to full-time professors. That's because fully three-quarters of faculty members who teach remedial courses are employed part time.
"It confirms our worst fears," Kay McClenney, the center's director, said of the report. The profile of remedial instructors is particularly disturbing, she said. "We've got work to do."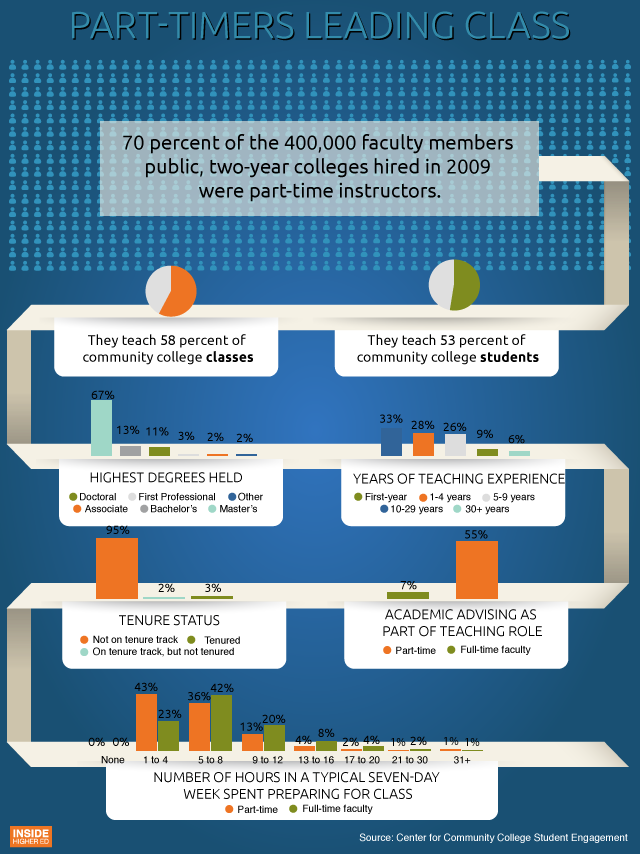 The study is the first extensive, data-rich look at the adjunctification of a sector that enrolls 45 percent of the nation's undergraduates.
There is a growing awareness in the academy about the challenges part-time faculty face, as well as how those problems might affect students. But the conversation often focuses on four-year institutions and largely ignores community colleges, said McClenney.
Part-time instructors typically earn less and receive little if anything by way of benefits such as health insurance. As a result they have become a "fundamental feature of the model that sustains" community colleges, the report said. That's because as public funding covers ever-smaller portions of their budgets, two-year institutions have cut costs by hiring more contingent faculty.
Public two-year institutions hired 400,000 faculty members in 2009. Part-time instructors made up 70 percent of the new hires, according to the report.
Researchers at the center used survey responses from more 70,000 faculty members between 2009 and 2013, as well as 32 focus groups, to create the study.
Increasing the ranks of adjuncts and part-timers may have been a rational response by fiscally challenged colleges, the study said. And many contingent faculty members are excellent, committed teachers. But they are often marginalized by employers that do not fully embrace them, according to the center. And the poor working conditions many of them face can harm students.
For example, the report found that full-time faculty members put more time into advising students or giving them feedback. They also spend more hours per week preparing for class – 77 percent of full-time faculty spend more than five hours per week (often much more) on class preparation compared to 57 percent of part-time instructors.
Contingent faculty often learn which courses they are teaching just weeks or even days before a term begins. And they lack many important resources, like an office on campus.
"Their access to orientation, professional development, administrative and technology support, office space and accommodations for meeting with students typically is limited, unclear or inconsistent," the report said. "Moreover, part-time faculty have infrequent opportunities to interact with peers about teaching and learning."
Barrier to Completion
The center released the study today to coincide with the annual meeting of the American Association of Community Colleges, which began here over the weekend. Several observers predicted it would serve as a wake-up call for the sector.
Rod A. Risley is executive director and CEO of the Phi Theta Kappa Honor Society, which recognizes high-achieving students at two-year institutions. He said the report would have a major impact on national discussions about how community colleges should operate. And he welcomed the attention on faculty.
"It is exactly what we needed," said Risley.
This is different territory for the center. Maria Maisto, an adjunct English instructor at Cuyahoga Community College and board member of the New Faculty Majority, an adjunct advocacy group, said she was glad to have a new voice on the issue.
"We've arrived," Maisto said.
The impetus for the research, McClenney said, was that faculty working conditions are a stumbling block to improving college completion rates.
There has been a major shift among community colleges faculty members and leaders to prioritize retention and graduation rates in addition to their historic focus on open-door admissions. But for more progress to occur, McClenney said the heavy use of part-time faculty needs to be addressed.
Most of these instructors "rarely are included in important campus discussions about the kinds of change needed to improve student learning, academic progress and college completion," the report said.
Part-time instructors at community colleges are more likely to have a bachelor's degree as their highest degree earned. And they are less likely to hold a doctoral degree (see chart).
Adjuncts also have less experience teaching. The report found that 37 percent of part-time faculty in the sector have less than five years of teaching under their belts, compared to 13 percent of full-time faculty.
Tenure is virtually nonexistent among part-time faculty at community colleges. Only 5 percent are tenured or on the tenure track, according to the report. In contrast, 65 percent of full-time faculty are tenured and another 21 percent are on the tenure track.
Most community colleges are cash-strapped. That means hiring a wave of tenure-track professors is out of reach at those institutions.
Even so, the report said there are steps community college leaders can take to ensure that part-time faculty are treated better and are more integrated into their campuses.
Previous research has shown that many of the ways colleges can improve working conditions for adjuncts are either free or relatively inexpensive. For starters, institutions could collect more data on the adjuncts they employ, according to a 2013 paper by the Delphi Project on the Changing Faculty and Student Success, a partnership between the University of Southern California's Rossier School of Education and the Association of American Colleges and Universities.
Adrianna Kezar, the project's director and author of the report, has said that colleges hide behind myths about the costs of supporting part-time faculty. Her paper suggests inviting adjuncts to participate in curricular discussions or institutional governance as one of several low-cost options.
McClenney's report includes several case studies of colleges that have found ways to better support their part-time faculty.
For example, Richland College, a two-year institution located in Texas, provides a broad range of professional development opportunities for all of its faculty members, including adjuncts. It pays them stipends of $23 per hour, on average, to participate in training that supports major college initiatives, such as Richland's participation in Achieving the Dream, a national completion-oriented project.
Part-time faculty at the college also have their own work area. The center includes a copy center, student records information, computer support, lockers, mailboxes and a break room. About 800 part-time faculty members use the center each semester.
Little things like a locker make a difference, the report argues. And without at least a symbolic effort to bring adjuncts in as respected employees, students suffer.
"For most part-time faculty, both pay and explicit expectations are low," the report said. "This arrangement essentially turns teaching into a transaction that is defined by a few specific tasks, and there often is no expectation – or even invitation – to do more."
Risley said he hopes colleges pay close attention to the center's tips for low-cost ways of improving conditions for adjuncts. Maisto, however, said those ideas won't be enough without finding money to bring up their pay.
"The impulse is right," she said. "But it can't be divorced from compensation."