You have /5 articles left.
Sign up for a free account or log in.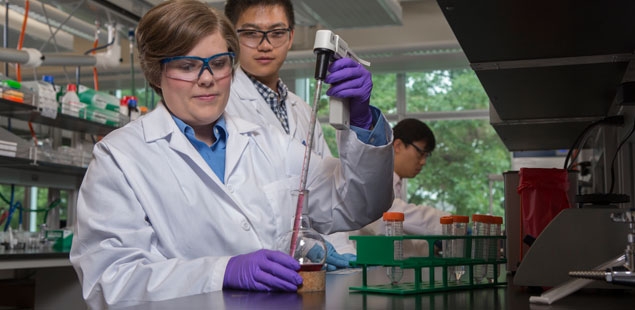 PHILADELPHIA – Policy makers regularly talk about the need to encourage more undergraduates to pursue science and technology fields. New data suggest that undergraduates at four-year institutions in fact have become much more likely to study those fields, especially engineering and biology.
And while much of the public discussion of STEM enrollments has suggested a STEM vs. liberal arts dichotomy (even though some STEM fields are in fact liberal arts disciplines), the new study suggests that this is not the dynamic truly at play. Rather, STEM enrollments are growing while professional field enrollments (especially business and education) are shrinking.
The research, presented here Saturday at the annual meeting of the American Educational Research Association, is by Jerry A. Jacobs, professor of sociology at the University of Pennsylvania, and Linda Sax, professor of education at the University of California at Los Angeles.
Much of the data typically discussed on student enrollment patterns come from the National Center for Education Statistics. But the new study is based in large part on the "freshman survey" conducted annually by UCLA on a national pool of freshmen at four-year institutions. In their paper, Jacobs and Sax write that this data set enables them to spot trends much earlier than is possible with the federal database, since that information is based on graduation (which comes much later than enrollment) and because government cuts have led to delays in federal data.
Using data collected by UCLA, Jacobs and Sax write that from 1997 through 2005, the proportion of freshmen planning to enroll in STEM fields declined, hitting a low in 2005 of 20.7 percent. After modest gains in 2006 and 2007, real increases started to show up in 2008. The percentage of freshmen planning to major in STEM increased from 21.1 percent in 2007 to 28.2 percent in 2011, just as the recession was prompting many students and families to focus on the job potential of various fields of study. That represents a 48 percent increase in just a few years.
The growth was not consistent across STEM fields. Engineering saw a 57.1 percent increase (consistent with findings from the American Society for Engineering Education) and biology saw gains of 28.2 percent. But the physical sciences saw gains of 11.1 percent, and mathematics was up by 12.6 percent.
Generally, the STEM gains were seen for both male and female students, so gender gaps that remain in some STEM fields weren't significantly changed.
The paper notes that disciplines such as biology and mathematics, while STEM fields, are located in arts and sciences at many institutions, so that a "STEM vs. liberal arts" comparison doesn't make sense.
But the fields showing declines during this period were not traditional liberal arts fields, but applied fields. The paper notes that business and education saw declines of 5.9 percent, suggesting that they -- more than the liberal arts -- are losing freshmen.
Jacobs said in an interview that those concerned about STEM education shouldn't pursue that goal at the expense of the humanities. He said that the critical thinking skills associated with the humanities are needed by all kinds of students. Those who want more STEM students should focus on attracting more female students, some of whom may not feel encouraged in the area, rather than offering "criticism of the humanities," as a number of politicians have done lately.
He said he was pleased to find that the increase in STEM enrollments was coming from professional programs, rather than liberal arts programs.