Topics
Broward College, in the middle of revamping its recruitment process, finds paper prospect cards still matter.
Broward College is embracing all things digital to speed up its recruitment process, but the community college is still keeping its paper prospect cards around.
As enrollments decline from mid-recession highs, competition between colleges over the same students will only grow fiercer. Broward, one of the largest community colleges in the country, has recently explored ways of cutting down on the time between meeting prospective students at a college fair and sending them information about intended majors or the cost of attendance. With a more efficient method of collecting and distributing information, Broward hopes it can persuade more students to enroll -- especially those going to college for the first time.
"When the recruiter meets with the student, there's a high level of anticipation and a high enthusiasm rate," said Gregory Gayle, an enrollment consultant who joined Broward last August to help the community college recruit those first-time-in-college students. "We want to maintain that."
Broward enrolls almost 70,000 students online and across its 11 campuses and centers in the Ft. Lauderdale area, and also awards some bachelor's degrees. Its entering cohorts often include more than 6,300 first-time-in-college students. As its admissions officers work to recruit students, the college is inundated by data -- from online requests for information, campus visits and paper prospect cards, among other sources.
The focus of Broward's upgrade was therefore on ensuring the data -- no matter the source -- ends up in the same place. Broward is building a new customer relationship management system using the open-source SplendidCRM, but Gayle said the college quickly ran into a bottleneck: The data from prospect information cards (seen below) wasn't entering the system fast enough. Recruiters would return from events with stacks bulging with information about prospective students, which then had to be interpreted and entered manually.
"It could be up to two weeks -- obviously not good when you're in your prime recruitment season," Gayle said. "The more popular you are, the more cards."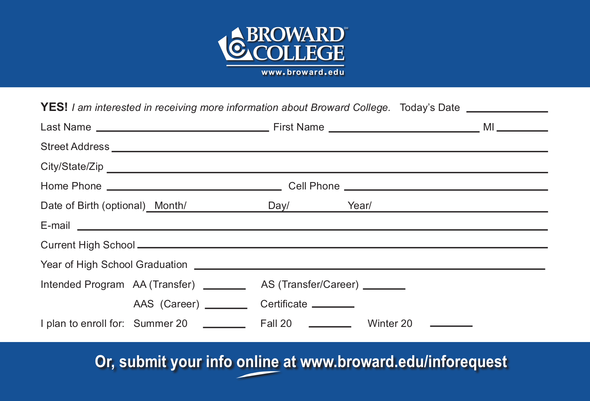 Broward found a partner in Captricity, which extracts data from paper forms -- including handwritten notes -- with a combination of cloud-based optical character recognition software and crowdsourced data entry manpower. After a monthlong test earlier this year, the turnaround time fell from two weeks to two days, Gayle said.
Captricity, a spin-off from the accelerator Code for America, is not an ed-tech startup, but has been searching for a way to make its services relevant to higher education, founder and CEO Kuang Chen said. About one-third of its clients are in the health care sector, another third in government. By taking that path, Captricity has already addressed some of the challenges of being a software provider in markets dealing with sensitive data.
The company had to be vetted by the Federal Risk and Authorization Management Program, which audits third-party cloud service providers, before the Food and Drug Administration could unleash it on its drug safety report backlog. As a result, Chen said, the company's services comply with federal law such as the Health Insurance Portability and Accountability Act and the Family Educational Rights and Privacy Act.
"Teachers, administrators do a lot of data entry on the side because they have to," Chen said. "We basically have to enable folks who just want to get their jobs done to do it faster."
Broward revised its prospect information cards (seen below) with boxes instead of lines, which Gayle says "forces" students to keep their handwriting (somewhat) legible. The new cards can also be fed, 50 at a time, into a copier. The scanned cards are then uploaded to Captricity, which, as Chen described it, "shreds" the fields with data from the rest of the form.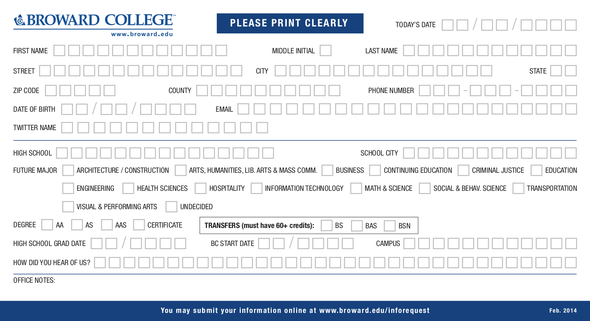 Chen said Captricity aims to move data extraction beyond manual data entry or proprietary systems such as Scantron, which requires specific paper and scanners. In addition to scanning, the software can also process cell phone images and fax machine attachments.
In order to reach double-entry levels of accuracy -- meaning the level of accuracy seen when the same data is entered twice by different people -- the data still need a human touch. Much of that work is handled through Amazon Mechanical Turk, a marketplace of crowdsourced labor. To avoid privacy issues, the data is presented out of context: data entry workers see letters or numbers without knowing whether they are looking at a street name or digits from a Social Security number, Chen said.
Captricity promises "beyond 99 percent accuracy," but the software isn't perfect. Broward added an extra layer of accuracy, Gayle said, as the data is checked for errors one last time by a central office on campus.
"If a student wrote, say, 2-A Elm Street, depending on how they wrote '2,' it might have looked like Z-A Elm Street," Gayle said. "Those peculiar things may happen. By and large, when it comes to email addresses, cities, states -- the accuracy rate is quite high."
Along with its work with Broward, Captricity on Tuesday also announced an enterprise version of its software. The company's further expansion into higher education, Chen said, will likely happen in the classroom, with the software being used to quickly digitize quizzes.
Broward is not about to scrap physical cards altogether, though. Going completely digital could effectively eliminate the turnaround time, but as Chen said, "You can't do iPads with 30 students at a time."
Inside Digital Learning Articles
Today's News from Inside Higher Ed
Inside Higher Ed's Quick Takes
What Others Are Reading
Past:
Day
Week
Month
Year