You have /5 articles left.
Sign up for a free account or log in.
The number of students seeking help for anxiety continues to grow, and while counseling centers are starting to recover financially from the recession, they're still as short-staffed as ever, an annual survey of counseling center directors found.
Many directors report that their budgets and hiring levels are back on the rise after a post-recession decline. But centers are still being stretched thinner: On average, directors report having just one staff member for every 1,772 students on campus during the academic year, up from one for every 1,673 last year.
"When you've got a large percentage of students on campus who are seeking services, having some way to address those students is critical," said Elizabeth Gong-Guy, president of the Association for University and Counseling Center Directors, which on Tuesday released its 2013 annual survey. "The population keeps growing, and we're trying to keep pace, but we're falling really woefully behind now."
Student influxes at the largest institutions are the main culprit, Gong-Guy, who is also director of counseling and psychological services at the University of California at Los Angeles, said. The survey shows that for the most part, the smallest colleges served the highest proportion of their student bodies.
The survey includes half of AUCCCD members, or 380 counseling center directors, who responded during the 2012-13 year. Aside from 12 community colleges, respondents are evenly split between public and private four-year institutions from across the country.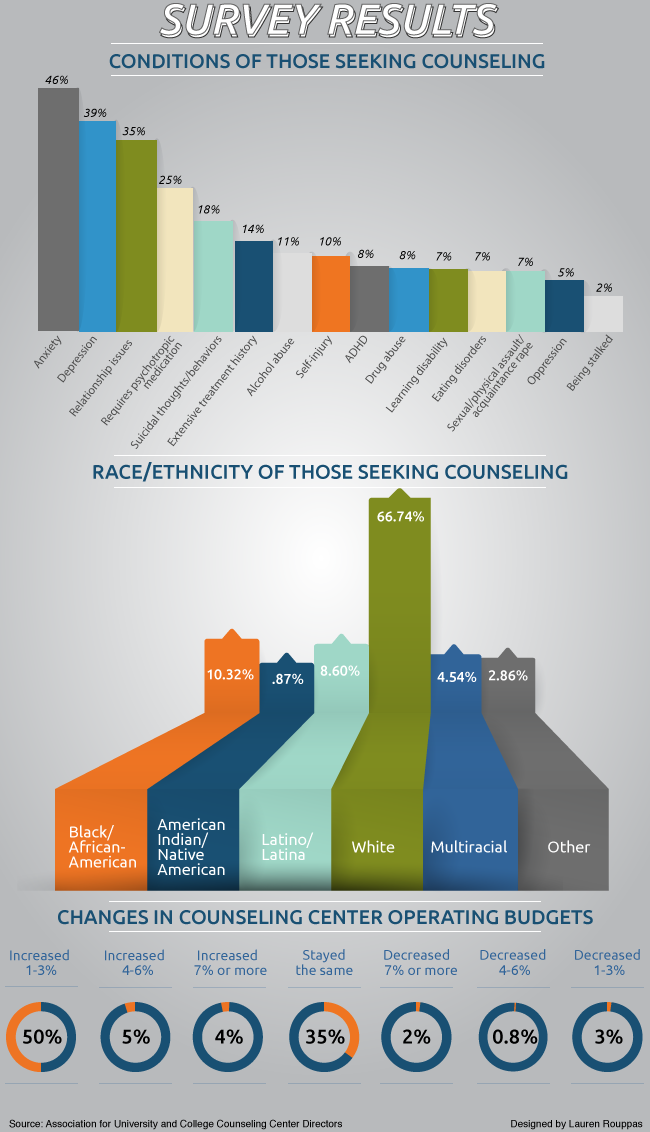 Three years ago, anxiety surpassed depression as the most common issue for which students seek counseling; that year, 40 percent of students wanted help for the former, and 32 percent for the latter. This year, a record-high 46 percent of students exhibited anxiety (up 5 percentage points from last year), and 39 percent sought treatment for depression.
Gong-Guy called this year's increase in anxiety "unusual," and speculated that it might be tied to another "extraordinary" finding: 18 percent of students showed suicidal thoughts or behavior. That figure is the highest it has been since 2006, when the survey first appeared.
"Anxiety is very often attached to suicidal thoughts and behavior, so it makes sense that they would be rising together," Gong-Guy said. She also noted the silver lining: as more students are coming to campus with anxiety, a treatable problem, counselors have become better-equipped to handle them.
Relationship issues trail depression as the third-most common problem, experienced by 35 percent of students seeking counseling. A quarter of students – same as last year – sought psychotropic medication.
About 64 percent of counseling centers provide psychiatric services, but most directors also said the number of hours available to students are inadequate or not as abundant as they'd prefer.
Directors are reporting some good news, though: 59 percent, up from just over half last year, said their budgets are up (for most, by 1 to 3 percent). About 35 percent said their budgets stayed stagnant, and 53 percent said the same of their operating budgets (about 23 percent saw increases). While about 32 percent of centers added staff positions (in most cases, fewer than two), 62 percent reported no change. The rest lost two or fewer employees.
Facing tighter budgets and more demand, many counseling centers in the last decade or two began charging per-session fees, but that fad has been on the downturn as many centers have realized it's just not worth it. The survey found that most centers are not charging students for personal counseling, but 38 centers charge all students and 32 charge a fee after a certain number of individual sessions.
Directors made an average of $89,279 in 2012-13. Although 60 percent of directors are female, women make significantly less than their male counterparts do at campuses of all sizes except where there are 10,001-15,000 students enrolled. (The salary gap ranges from about $2,000 to $19,000 by institution size.)
Directors have historically had a hard time reaching men and students of color who need treatment, as the stigma for doing so is particularly strong among those populations. But AUCCCD found a couple of survey iterations ago that those demographic gaps in service were beginning to close, and this year, the percentage of black students as a percentage of counseling clients (10.3 percent) actually exceeds black students as a percentage of the student body (10.1 percent).
The service gap among male students, on the other hand, has actually widened by 1.03 percentage points in the past two years. This year, men made up 33.5 percent of center clients and 44.54 percent of students generally.
Although more black students are making it through the counseling center doors, 49 percent of directors still say they're an underserved population. More than 46 percent said the same of Latino students, and just under 40 and 33 percent, respectively, said Asian and Native American students are underserved.