You have /5 articles left.
Sign up for a free account or log in.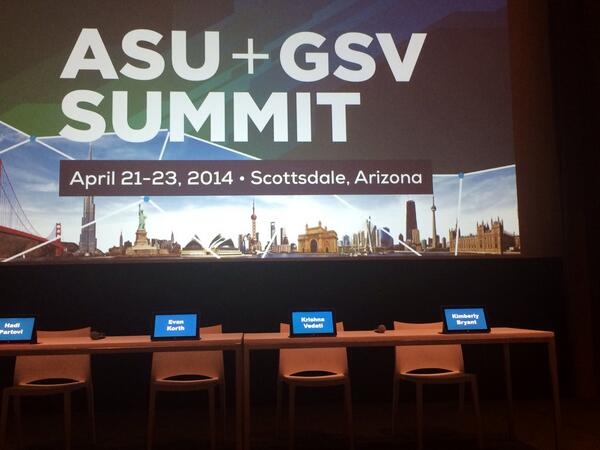 SCOTTSDALE, Ariz. -- As the billion-dollar education technology industry holds what has become its primary gathering here this week, the onus is on vendors to show they can produce not only profits, but also improved outcomes.
The rise of the Education Innovation Summit, organized by Arizona State University and the investment firm GSV Advisors, has in some ways mirrored the ed-tech boom of the last few years. When the conference was established in 2009, it drew about 300 entrepreneurs and investors, but the event soon outgrew ASU's Scottsdale Innovation Center.
In the span of five years, attendance has ballooned to more than 2,000. Organizers last year moved it to the Phoenician, the ritzy resort at the foot of Camelback Mountain, and this year, former Florida Governor Jeb Bush, Earvin (Magic) Johnson and Netflix CEO Reed Hastings headline the event.
But even with a larger venue, more prominent speakers and record-high demand (last-minute registrants were greeted with a waitlist), some attendees said the summit is still light on results.
"At a national level, there is no evidence that educational technology has reduced the cost of education yet or improved the efficacy of education," said Brandon Busteed, executive director of Gallup Education. "And that's just as true as it gets. Maybe there will be some day, but that's the question: How much longer do we think it will take before we can detect movement on the national needle?"
During the summit's first two days, speakers identified well-known issues such as the rising cost of higher education, stagnant graduation and retention rates, and stubborn levels of unemployment among recent graduates. The proffered solution, in many cases, was a renewed promise of the disruptive powers of technology -- often wrapped in a sales pitch.
"Every one of these companies has -- at least most of them -- some story of a school or a classroom or a student or whatever that they've made some kind of impact on, either a qualitative story or some real data on learning improvement," Busteed said. "You would think that with hundreds of millions of dollars, maybe billions now, that's been plowed into ed-tech investments ... and all the years and all the efforts of all these companies to really move the needle, we ought to see some national-level movement in those indicators."
The summit has also attracted its fair share of optimists. Matthew Leavy, a managing director at Pearson, said that even with its growth, the event still has the same vitality as the first few years. "Each year the mood and focus changes -- last year was clearly the bubble year -- this is a more rational year," Leavy said in an email.
Daniel Greenstein, director of postsecondary success for the Bill & Melinda Gates Foundation, said that digital learning has already proved its potential through small-scale pilots and experiments. The issue, he said, now involves scaling those methods to a larger audience.
"The broader trend is that this industry is at an innovative inflection point with the potential ... of actually moving away from a herd approach to education and delivering a personalized form of instruction," Greenstein said. "That's the story."
Heavy on Supply
The ed-tech sector has become something of a venture capital favorite in recent years -- a development that has fueled the success of this week's summit. 2013 marked the second year in a row that companies in the space attracted more than $1 billion in investments, and 2014 looks to be another record-setting year, according to the venture capital database CB Insights. In the first three months of 2014, the industry attracted $559 million from investors.
While the summit is on track to see a tenfold increase in attendance within a decade of its launch, the supply side of education continues to dominate the roster. One company representative, for example, described the summit as a "costume ball" designed to make matches between entrepreneurs and would-be investors.
This year, only about 170 attendees listed themselves as educators, many of them representing ed tech companies. By comparison, more than 900 were listed either as entrepreneurs or investors, the rest a combination of nonprofit organizations, vendors and foundation representatives.
"Everybody here is under the assumption, the belief, that technology is going to fix schools," Busteed said. "What's being missed in this conversation is the investment in human capital in order to help the technology needle move in the ways we want it to. The fact that there's hardly any faculty members represented here -- how much are we bringing that conversation to faculty in thoughtful ways versus telling them what we've decided after the fact?"
Phil Hill, an education consultant, said the lack of faculty and teacher input has limited the conversation about how to address the challenges facing K-12 and higher education. Some speakers, he said, used data to make the case that the education system is broken, as opposed to showcasing how they plan to fix it.
"You end up with everybody pitching everybody," Hill said. "Where are the schools, the teachers, the people who could actually use the innovations coming out of here to do something with it?"
Busteed and Hill stopped short of seeing in the summit a precursor of a bubble, however.
"It doesn't look like the train's slowing down, but you can't help be on a bubble watch when you're at the Phoenician with 2,000 people for an education conference," Busteed said.
Hill, on the other hand, said the summit could also show the investment community in a good light, with a focus on money, to be sure, but also plenty of good intentions and a quest for results.
"I think there's a lot of people in higher education who are concerned that this is all about people making a buck," he said. "If there were more of them here, I think they would hear that there's a lot of very legitimate concern for improving education."