You have /5 articles left.
Sign up for a free account or log in.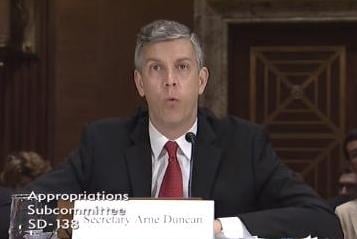 WASHINGTON -- Congressional Republicans lobbed criticism at the Obama administration's regulatory approach to higher education Tuesday, with tough questions for Education Secretary Arne Duncan about the proposed college ratings system and gainful employment regulations.
Duncan appeared before the U.S. House of Representatives' Committee on Education and the Workforce to discuss the president's $67 billion discretionary budget request for education. While most of the lengthy, wide-ranging hearing was about K-12, there were a few fireworks over higher education.
The White House and Republican-controlled House rarely agree on anything. And Duncan likely will receive a warmer welcome tomorrow, when he is scheduled to testify before an appropriations subcommittee of the U.S. Senate, which Democrats control.
Republicans opened the Tuesday hearing by criticizing the U.S. Department of Education for its "significant delay" in responding to their requests for more information in response to issues raised in previous education-related hearings.

Duncan apologized and pledged to respond in a timely fashion.
Rep. Virginia Foxx, a North Carolina Republican who chairs the higher education subcommittee, began her questions by taking on the administration's approach to state authorization of online providers.
The department recently proposed new rules for state authorization. Foxx, who is a regular critic of federal regulations, said the administration had overreached with both current and proposed versions of the rules.
She asked whether the department was attempting to "push states into regulating institutions according to a federal idea, rather than what may work for students and the institutions within the state?"
Duncan's response was brief. "We just want to make sure that young people are being well-served," he said, adding that the department was open to discussing the issue.
Federal Ratings
Foxx followed up by criticizing the philosophy behind the college ratings system, which is still being developed. While she said she appreciated that the department was seeking feedback as it works on the concept, she questioned whether the feds are up to the task.
"Why do you assume the federal government can rate colleges," Foxx said, "and thereby presume to know what is best for millions of students and their families as they research their postsecondary options?"
Duncan said the department has worked hard to listen and gather information as it works on the ratings.
"We've gone into this with a great sense of humility," he said. "We've had multiple forums with folks around the nation."
However, Duncan said there is a great range in the performance between different colleges, such as in graduation rates. He said the federal government is within its rights to seek answers about the $150 billion it invests in higher education each year.
Foxx responded that the department collects "mounds and mounds of data," but puts out relatively little helpful information. She said the federal government should revise how it collects data and be more transparent with the public.
(Advocacy groups have pushed for a federal student unit record, which would track students as they move between institutions and across state borders. Congress has banned the collection of that data. Foxx and her colleagues have not called for the repeal of that ban and apparently remain opposed to such a federal data collection system.)
Duncan defended the department's efforts to increase transparency. But he reiterated the need for ways to measure how colleges perform with public funding.
"We would like to see more of that money going to places that are serious about graduation rates. That are serious about reducing their own costs. That are serious about making sure young people are actually prepared to go into the world of work and get a good job. And away from those places that don't take college completion seriously. That see a free paycheck coming from the government every single year," he said.
Gainful for All?
That comment appeared to refer in part to gainful employment regulations.
The department unveiled a proposed version of those rules in March. They apply to all vocational programs at for-profits and non-degree programs at community colleges and other nonprofit institutions. The department is currently collecting public comments on the rules, and is slated to release a final version within about a month.
For-profit institutions are pushing back on the regulations. Many Republicans and some Democrats are backing the sector in that fight.
Critics of gainful employment often say the rules unfairly single out for-profits.
If the primary goal of the regulations is to protect students, said Rep. Matt Salmon, an Arizona Republican, then gainful employment should apply to nonprofits, too, such as "expensive" law schools or culinary arts programs.
"If a bill was introduced to apply such a regulation to all of higher education, would you support it?" Salmon asked, adding that he might propose that piece of legislation.
Duncan did not respond directly. He said both the gainful employment and college ratings proposals seek more accountability from colleges.
"We're not there yet," he said. "We're just trying to get these two, complicated pieces right first."
More from Learning & Assessment