You have /5 articles left.
Sign up for a free account or log in.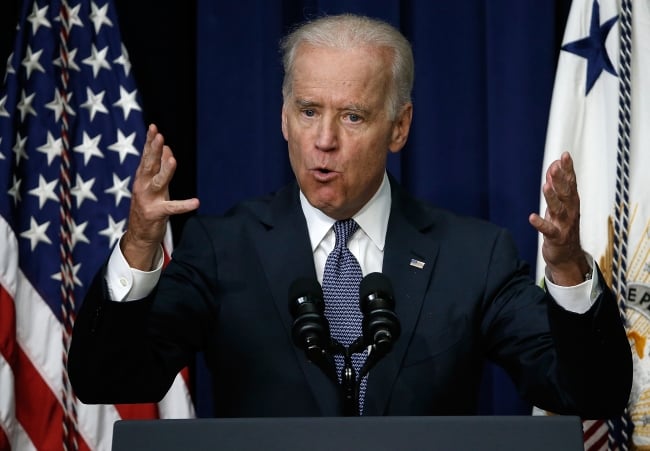 WASHINGTON -- As the White House pushes its campus sexual assault prevention efforts this week, colleges and universities once again find themselves in the crosshairs of an administration that has sought time and again to hold institutions more accountable.
That theme of accountability continued Tuesday as Vice President Joe Biden said that it was time for colleges to "step up" their efforts to combat sexual assaults on campus.
"Colleges and universities can no longer turn a blind eye or pretend rape or sexual assault doesn't occur on their campuses," Biden said in unveiling new administration guidelines and policy recommendations to deal with sexual assault on campus.  
Victims' advocates on Tuesday largely praised the administration's efforts and said they were grateful for the aggressive policy push on the issue.
Colleges and universities reacted far more cautiously. Institutions' advocates here said that while campuses recognize the importance of dealing with the problem and being held accountable, they are skeptical about new federal mandates and requirements.
The administration unveiled a trove of new documents on Tuesday that are aimed at getting colleges to do more to combat sexual assault on their campuses: a tool kit for conducting anonymous surveys about the campus climate; a checklist for developing a sexual misconduct policy; a sample confidentiality policy; and templates for agreements between colleges and local law enforcement and rape crisis centers.
Climate Surveys
One of the administration's big pushes on Tuesday was to get all colleges and universities to voluntarily conduct anonymous surveys that gauge the "climate" on their campuses surrounding sexual violence and harassment.
"I challenge every college and university, if they are really serious about protecting students, to conduct anonymous surveys," Biden said. "They have a moral responsibility to know what is happening on their campus."
Climate surveys have become a standard part of resolution agreements between the OCR and colleges where Title IX compliance issues already exist. Advocates widely praised the administration's effort to get colleges to use these tools on a regular basis.
Nancy Campbell, co-president of the National Women's Law Center, said the anonymous surveys have been used successfully to gauge sexual assault problems in the military.
The surveys would help colleges diagnose the specific problems on their campus, she said, noting that the evidence-based questions are aimed at assessing varied degrees of problems.
"It's the difference between 'someone touched me on the buttocks' or 'someone raped me,' " Campbell said. "These will help colleges figure out: what is the extent of our problem and do we have one?"
Institutions' Reaction
Colleges say that, on the one hand, they want the administration to provide useful guidance about how they are expected to comply with the law, but on the other, they do not want the government to be too prescriptive in what colleges must do.
It's too soon to tell whether that balance was struck in the new guidance and White House recommendations issued Tuesday, according to Ada Meloy, general counsel of the American Council on Education. She said she appreciated the task force's repeated acknowledgments about the diversity of colleges and universities, and that it did not want to take a one-size-fits-all approach.
The administration's announcement came a day after civil rights officials in its Education Department, in an unusually aggressive action, found that Tufts University was violating Title IX and warned that it may seek to terminate the university's federal funding.
The university vehemently denied that finding and reneged on a resolution agreement it had reached over the feds' handling of the case.  
New Title IX Guidance
The Education Department's Office for Civil Rights also released a 46-page document meant to further clarify how colleges must handle sexual violence cases under Title IX. The new guidance -- a series of questions and answers -- builds on sweeping instructions the civil rights office gave to colleges in a 2011 "Dear Colleague" letter, which prompted widespread changes in how they adjudicate sexual assault cases.
Tuesday's guidance is far less groundbreaking, Title IX experts said, but nonetheless important.
Olabisi Okubadejo, a lawyer who advises colleges and universities on Title IX compliance, said that Tuesday's OCR guidance does not represent the "sea change we saw in 2011," but noted that practically speaking, the totality of the White House's efforts could portend new requirements for campuses down the line.
"The White House recommendations really put lots of flesh on the requirements beyond the limited elements in the OCR guidance today," she said. "There is a possibility that the OCR will be looking at the White House recommendations" when they evaluate colleges, she said.
The administration also announced Tuesday that OCR had made changes to how it conducts enforcement actions, including setting a 90-day limit for when Title IX resolution agreement negotiations must be ended after OCR investigators finish their work. 
"It seems like OCR is signaling a harder line and more aggressive enforcement," she said.
OCR, the administration said, would also be maintaining more of a "public presence" on campuses where they conduct investigations. That has already been happening for about a year, Okubadejo said, as investigators have often been holding focus groups with students on campus as they investigate an institution.
Confidentiality of Complaints
One issue stemming from the administration's 2011 guidance to colleges on sexual assault was whether colleges had a duty to act on all reports of sexual assaults, regardless of whether the alleged victim did not want an investigation.  
"It had a chilling effect on a lot of reports because students felt like they couldn't go and get services on their campus without a full-scale investigation being started," said Colby Bruno, senior legal counsel at the Victim Rights Law Center.
The new guidance issued Tuesday affirms that students who report sexual assault may, under certain circumstances, have their complaint remain completely confidential. The document outlines that some employees, such as a women's center counselor, would be allowed under Title IX to keep complaints confidential and not report the incident up their chain of command. Still, it notes that some employees are never going to have Title IX confidentiality, such as the Title IX coordinator.
 "Victims want the right to choose how to proceed with their case," Bruno said. "Clarifying the lines of confidentiality gives them the control over who to tell and what happens with their information."
"Although the letter of the law didn't change, these clarifications provide a safe haven for victims to come forward in droves to speak about rape and sexual assault," she said.
"Single Investigator Model"
The task force report also expresses support -- and the need to explore further -- for the civil rights resolution model to resolving campus complaints about sexual assault and harassment.
Brett A. Sokolow, president of the Association of Title IX Administrators, praised this approach and the report for endorsing a model he said is increasingly gaining acceptance in the field of sexual assault prevention.
"It's potentially transformative for the field" of sexual assault prevention, he said.
Most campuses currently adjudicate sexual assault and harassment complaints through an adversarial system, a model imported from the criminal justice system that allows for "dehumanizing hearings" for the alleged victim, Sokolow said.
He said the civil rights resolution model has a "promising potential." Colgate, Vassar, the University of Colorado at Boulder and the University of Virginia are among the institutions that have switched.
Individual rights advocates, however, said the embrace of such a model would undermine the due process protections for accused students.
The Foundation for Individual Rights in Education, which roundly criticized the department's 2011 guidance that called on colleges to lower the standard of evidence used in the adjudication of sexual assault hearings, said in a statement Tuesday that the White House report's was, in general, "doubling down on a broken system."
The group's president, Greg Lukianoff, said he was particularly troubled by the task force's embrace of the "single investigator" model, which he described as empowering a sole administrator "to serve as detective, judge and jury, affording the accused no chance to challenge his or her accuser's testimony."
Boosting Transparency
Dana Bolger, the co-founder of the advocacy group Know Your IX, praised the administration's report for its focus on transparency in Title IX investigations, which includes a commitment to post online all resolution letters and agreements with colleges over Title IX compliance.
Still, Bolger said, she was disappointed that the OCR plans to provide a list of ongoing investigations when someone makes a request, rather than routinely posting the information online.
"We think prospective students and their families have the right to know whether the schools they're considering are currently being investigated by OCR," she said, adding that publicly posting that information would help hold colleges accountable through the "threat of bad publicity."
The complete list of colleges facing Title IX investigations -- which the department has not previously disclosed -- was not immediately available Tuesday.
The department will publicly release the list "in the coming days," said a spokeswoman, Dorie Nolt.
In addition, Bolger said that a "glaring omission in an otherwise wonderful task force report" was the lack of a proposal to improve enforcement of Title IX violations. She said the current enforcement remedies are too blunt an instrument. The only penalty for a college that violates Title IX is the complete termination of federal funds, a remedy that officials have never exercised and have not even sought in at least a decade.
A better model, Bolger said, would be to allow OCR to levy fines against a college that violates Title IX.
"We'd like to see from the White House task force and Congress suggestions on legislative fixes that allow for intermediate fines," she said.