You have /5 articles left.
Sign up for a free account or log in.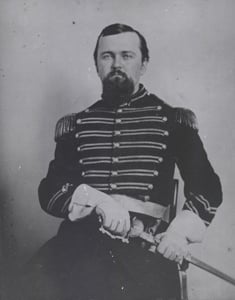 In the center of Tobacco Road, students are trying to wash away traces of racism and white supremacy on their campuses.
Students at University of North Carolina at Chapel Hill want to rename an academic building that is currently named after a Reconstruction-era Ku Klux Klan leader. Ten miles away, at Duke University, students want to strip the name off a residence hall named for a state governor who was a vocal white supremacist.
The proposals are getting attention from the colleges' top brass. The University of North Carolina Board of Trustees will hear the proposal this month to rename Saunders Hall, which houses the geography and religious studies departments. It was named in 1922 after alumnus, former trustee and local chief KKK organizer William Lawrence Saunders.
Duke's administration is "reviewing" the potential renaming, spokesman Keith Lawrence said. The freshman residence hall was named in 1914 for former North Carolina governor Charles B. Aycock, who pushed for both expanded public education and segregation.
This Week @ Inside Higher Ed
Listen to the premiere
of the audio newscast that gets behind and beyond each week's
top stories on our site. Click
here to listen or download.
"This is our role, to create this kind of discussion and make students look at their campus with fresh eyes so they can see things they didn't see before," said a UNC senior, Stéphanie Najjar.  "We want to recover from historical amnesia."
More than ever, colleges are getting in tune with the grimy parts of their roots. Which trustees were white supremacists? Which researchers propped up pro-slavery movements? How much of the college was funded by money made from slavery?
"People are paying more attention to the roles universities played in honoring white supremacists," said Thomas D. Russell, a law professor at University of Denver who studied the issue at University of Texas at Austin. "I was a little bit dumbfounded by how legitimate suddenly this had become."
With that question answered, another arises: What do you do about it?
There's the eraser approach. After Russell's research, the University of Texas renamed a residence hall named for a Klansman who became a law professor. Vanderbilt University went to court in 2005 to try to rename Confederate Memorial Hall, which was gifted by the United Daughters of the Confederacy in the 1910s – but lost.
Colleges can also say "Sorry." Within the past decade, the University of Alabama at Tuscaloosa and the University of Virginia apologized for their institutions' connections to slavery.
They can also do what they do best and launch scholarly probes into the topic, as Brown University, Emory University and the College of William and Mary have done.
At Washington & Lee University, top administrators are considering whether to take action after law students called for civil disobedience if the college did not ban "neo-confederates" from marching on campus with Confederate flags, and take those flags down from a campus chapel. Those flags in Lee Chapel are "designed for historical and educational purposes," President Ken Ruscio said in a statement.
North Carolina trustees will have their own script to follow. W. Lowry Caudill, chair of the Board of Trustees, wrote in a statement that they are listening to students' concerns, but will abide by a "policy on renaming campus facilities."
The standards are hazy: While a building can be renamed if the honoree's "reputation changes substantially so that the continued use of that name may compromise the public trust," the policy also states that "namings should not be altered simply because later observers would have made different judgments."
That's the central question when colleges are considering the renaming of a building because of an ugly historical connection, said Terry Meyers, professor of English at the College of William and Mary who helps run an initiative that investigates the college's past ties to slavery.
"Each generation has a right to commemorate or honor those people they think are significant. But how long does that right go on into the future as values change?" he said.
Not every scholar agrees. Alfred L. Brophy, a law professor at University of North Carolina School of Law, penned an apology from University of Alabama professors to the descendants of slaves when he was a member of the faculty senate there a decade ago.
Now, he said, while it is vital for universities to explore their own histories, renaming buildings would hurt institutions' abilities to remember those struggles. "That's the moment we forgot that the evil past ever happened. It's part of our past, it's our legacy," he said in an interview.
Still, he added: "The movement itself for renaming is part of the education process, so wherever we end up, it's heightened people's awareness."
Students both at Duke and North Carolina are rallying around that idea. Najjar, the senior at North Carolina, said students are also asking that trustees hang a plaque explaining the history of Saunders Hall if it's renamed. Duke students want similar signage on the Aycock dormitory.
"Our objective is to not have his name celebrated anymore," Najjar said. "But we don't want to just erase the name and forget it was called Saunders."