You have /5 articles left.
Sign up for a free account or log in.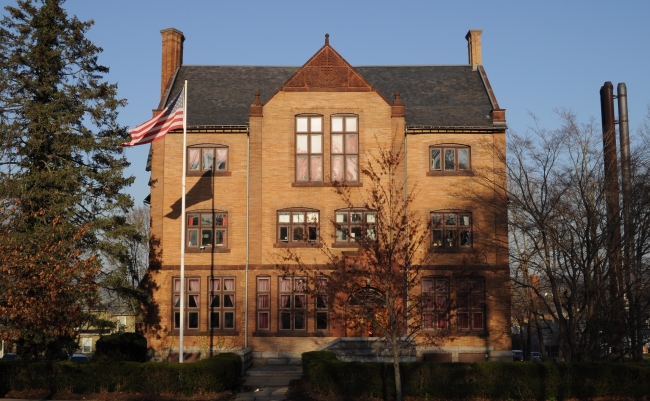 Only 4 percent of male students at Wesleyan University are in fraternities, but all eyes are on the Greek system. The college has had years of tussles between fraternity brothers and administrators, with two high-profile lawsuits on rapes in fraternity houses, student outcry and media glare.
Now, on the brink of a May Board of Trustees meeting that President Michael Roth says will help decide the future of the Wesleyan Greek system, students are pushing for a radical solution to a sexual assault scourge: integrate women into the male-only fraternities.
"The culture of these houses contribute to the culture of sexual assault in a way we weren't willing to stand for anymore," said Nicole Updegrove, a senior who is president of the Wesleyan Student Association.
Updegrove penned the nonbinding proposal that passed the body last month, calling for all Greek chapters to become co-ed by the end of the fall semester or lose their campus houses. About 500 people, including 75 professors, signed a "call to action" backing the fraternity integration.
Nearly half the people who responded to a campuswide survey last month called fraternity spaces "less safe" than the rest of campus. The survey followed a March lawsuit that alleged that a former student was raped in the campus Psi Upsilon house while brothers and pledges watched.
"Nobody on campus is foolish enough to believe that if these all-male fraternities are reformed into coeducational societies we will have solved the challenge of sexual assault," said Ulrich Pass, a German studies professor who helped rally faculty around the proposal. "However, it will be an important step in the right direction."
A Wesleyan spokeswoman declined to say what exactly is on the table for a Board of Trustees meeting this month, but students and faculty expect a Greek facelift. Roth wrote on his blog last week: "It's up to all of us to create the kind of campus climate we value, and it's become very clear that fraternities, as presently constituted, pose challenges to that ongoing effort." 
Still, if the university takes up the idea, it will likely face a groundswell of opposition from national chapters and alumni, as well as a bevy of unanswered questions on whether integrating fraternities can actually reduce the threat of sexual violence.
The university has three residential, male-only fraternities: Psi Upsilon, Beta Theta Pi, and Delta Kappa Epsilon. The national organizations of Beta and DKE do not allow chapters to admit women, meaning the Wesleyan chapters would likely lose their charters if they were to accept women.
A 2001 report by the National Institute of Justice found that about 10 percent of sexual assaults on campuses take place in fraternity houses. But the idea of integrating fraternities is fairly untested, and "less than a handful of coed chapters, out the 5,600 chapters" are affiliated with the North-American Interfraternity Conference, said the organization's president Pete Smithhisler.
Christopher Kilmartin, a professor of psychology at University of Mary Washington who studies gender violence, said the move could have the opposite effect from what Wesleyan advocates intend. "If it's a rape-prone fraternity – and not all fraternities are rape-prone – if you're going to put women in there, you're going to create more risk, at least in the short run for them," he said.
He added that the move would be effective with the right mix of policies that improve sexual assault education and social power structure. "Just throwing them in there is a mistake without doing more," he said.
Alan D. DeSantis, a professor of communication at the University of Kentucky, added that while "on the surface bringing in a feminine presence would be a good system of checks and balances," the move would represent an overstep that breaks up valuable single-sex bonds of Greek life.
"I think they're missing it. If anything, the focus should be on reconstructing and reshaping gender," said DeSantis, who wrote the 2007 book, Inside Greek U: Fraternities, Sororities, and the Pursuit of Pleasure, Power, and Prestige.
Trinity College of Connecticut, which sits a few towns over, is still in the process of requiring its fraternities to admit women -- even after it saw intense alumni pushback, receding donations and a presidential resignation amid criticism of the move after it was announced in 2012. Trinity's decision is less about sexual assault prevention than about trying to ensure "gender parity" in the college's social power structure, said Frederick Alford, the dean of students.
The effort has come with several investments in Greek life, such as hiring Timothy Dunn, a new coordinator, to set up a new rush process that eliminates gender restrictions and to negotiate with national fraternity organizations to allow Trinity chapters to keep their charters. Dunn said integration can strengthen fraternities, which can be "scapegoated" as sexual assault enablers. "Fraternities tend to get scapegoated because it's a situation where there are no adults around. They have parties on Friday and Saturday nights on those campuses, and that just creates the perfect storm for people with predatory tendencies."
Wesleyan advocates are pushing for more than just making fraternities co-ed. The student government proposal calls for the university to hire a Greek life coordinator, offer bystander intervention lessons and allow campus public safety officers to make regular rounds in fraternity houses. Roth, the Wesleyan president, wrote last week that fraternity houses would now get new security patrols, and the campus has bulked up sexual assault education at orientation and support for survivors.
"One thing that gets forgotten in these conversations a lot is just because some people feel safe and empowered in a space can't compensate for the fact that other students feel very unsafe there," Updegrove said. "In a small community like this, it's very important that other students and underprivileged students feel safe everywhere."