You have /5 articles left.
Sign up for a free account or log in.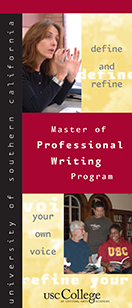 A private graduate college in Vermont stepped in to save a writing program axed by the University of Southern California.
The Vermont College of Fine Arts offered to take over USC's master's of professional writing program after the California private university announced it would end the program, citing a "business decision" amid an ongoing review of its Dornsife College of Letters, Arts and Sciences.
Thomas Christopher Greene, the Vermont college's founding president, said he decided to try to save the 43-year-old program in part because his college and USC share faculty. While the program didn't fit USC's vision, it fit Greene's.
In a statement, a spokeswoman for USC's arts and sciences college said that Dean Steve Kay and other officials are working to make sure current writing program students can graduate, either at USC or from Vermont.
"He recognizes the excellent pedagogy of the MPW program, but has made this determination as a business decision," said the spokeswoman, Emily Cavalcanti.
For the Vermont College of Fine Arts, the acquisition – for free – of USC's program may be something of a coup, if it can capitalize on it.  
"Essentially, it's really an opportunity to create a residential program with some wind at its back," Greene said.
And it could very well be a new way for colleges that are growing to grow and for colleges that are cutting to cut while saving, in some form, a beloved program.
Greene helped start the fine arts college six years ago when it bought its 33-acre campus and three graduate programs from Union Institute and University, an Ohio-based institution that focuses on distance education but had bought the Vermont campus from Norwich University less than a decade earlier.
"There's two ways you can grow a college: one is to build new things yourself and the other is to take over things," Greene said.
The college has quickly grown from 230 students to 380, and he hopes to soon have up to 700.
Now, the graduate college hopes to lure about 60 students from Southern California to Montpelier this fall to get the degrees they started.  In the meantime, USC is facing criticism from current students and alumni who say the university has done a poor job explaining its decision or respecting the time and money they've spent at the university.
"I can't imagine if they got rid of the football program they would have handled it this way," said Lynda Rivers, a 2007 alumna of USC's writing program.
Alumni and students have complained about USC's insufficient justification for the closure.
Rivers said she has more than $60,000 in student loans and isn't sure what her degree is worth now. She said alumni are worried how would-be employers will look upon résumés touting degrees from a program that no longer exists.
In communications with alumni and students, the university has told its alumni they "may choose to informally affiliate" with the ashes of USC's writing program or with the living program once it's moved to Vermont.
Right now, the Vermont college offers a handful of master's of fine arts programs for students who are only on campus 10 days at a time twice a year. But the new master's program from USC is residential, so the campus will be hiring people and opening up the dorms so students can be on campus all year, Greene said.
Will students move from sunny Southern California to long-wintered Vermont? Greene said there's a long and storied tradition of out-of-the-way writing programs. The Writers' Workshop at the University of Iowa and Bread Loaf Writers' Conference at Middlebury College in Vermont are both among the nation's top writing programs.
"It's no dis on Iowa either, but the middle of Iowa is not one of the great urban centers or a place on the ocean that people want to go to," Greene said.
Still, he's not sure how many of the 60 current USC students are planning to come.
Trinie Dalton, who works at both USC and in Vermont and will lead the program once it moves, said several professors from USC plan to teach in Vermont.
"To accommodate those who don't live in Vermont full time, I've designed the curriculum to operate through modular electives, so that faculty members can come to teach short-term intensives, though keeping the semester-long class length," she said in an email.