You have /5 articles left.
Sign up for a free account or log in.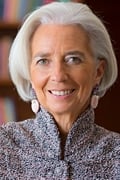 Smith College announced Monday that Christine Lagarde, managing director of the International Monetary Fund, has abandoned plans to speak at the college's commencement this year.
Some students and faculty members who are critical of the IMF said that they might protest her appearance. While Smith noted Lagarde's distinguished career in international finance (she is the first woman to hold her position at the IMF), protesters said that IMF policies made her a poor choice.
Smith released the text of the letter Lagarde sent withdrawing. "In the last few days," she wrote, "it has become evident that a number of students and faculty members would not welcome me as a commencement speaker. I respect their views, and I understand the vital importance of academic freedom. However, to preserve the celebratory spirit of commencement day, I believe it is best to withdraw my participation."
Lagarde's withdrawal came nine days after Condoleezza Rice withdrew as the speaker at Rutgers University at New Brunswick. At Rutgers, students and faculty members objected to her selection, citing her involvement in the Iraq war while she was secretary of state in the administration of President George W. Bush.
While the protests of Lagarde's selection did not attract the same attention as those against Rice, commenters on social media quickly linked the two and denounced Smith (and Rutgers) -- and criticized those who objected to the invitations. Many of those criticizing the Smith protests noted that the objections were coming from a women's college to a speaker who has used her positions to champion women's rights and who is one of the most powerful women in the world.
Among the tweets about the news from Smith on Monday:
"At this point in time, it seems like college students are just rejecting commencement speakers for the hell of it."
"Wow so Smith dumps one of the most accomplished and powerful women of all time as their commencement speaker."
"No one should ever be allowed to speak at a college commencement ceremony ever."
"1st female IMF director withdraws from Smith commencement after campus protests that she exploits women or something."
"Smith College protest against Lagarde seems kinda dumb. unclear students understand what the IMF actually does today."
The opposition to Lagarde did not focus on her, but on the IMF.
Here's the introduction to a petition calling for Smith to withdraw its invitation: "By selecting Ms. Lagarde as the commencement speaker we are supporting the International Monetary Fund and thus going directly against Smith's values to stand in unity with equality for all women, regardless of race, ethnicity or class. Although we do not wish to disregard all of Ms. Lagarde's accomplishments as a strong female leader in the world, we also do not want to be represented by someone whose work directly contributes to many of the systems that we are taught to fight against. By having her speak at our commencement, we would be publicly supporting and acknowledging her, and thus the IMF.
"Even if we give Ms. Lagarde the benefit of the doubt, and recognize that she is just a good person working in a corrupt system, we should not by any means promote or encourage the values and ideals that the IMF fosters. The IMF has been a primary culprit in the failed developmental policies implanted in some of the world's poorest countries. This has led directly to the strengthening of imperialist and patriarchal systems that oppress and abuse women worldwide. At Smith College, a school with a campaign called 'Women for the World,' we are taught how to stand up and fight against inequality and corruption. We are taught to speak up when something is unjust, and we do not wish to be represented by a system that doesn't support us."
Smith College's president, Kathleen McCartney, in a message to the campus about Lagarde's decision, expressed concern about what had happened.
"Those who objected will be satisfied that their activism has had a desired effect. But at what cost to Smith College? This is a question I hope we will ponder as a community in the months ahead," McCartney said. "Like so many members of the Smith community, some of whom wrote to me to share their excitement about Mme. Lagarde, I was looking forward to hearing her speech. I stand behind the decision of Smith's Board of Trustees, of which I am a member, to invite Mme. Lagarde to serve as our speaker and to receive an honorary degree."
McCartney added: "An invitation to speak at a commencement is not an endorsement of all views or policies of an individual or the institution she or he leads. Such a test would preclude virtually anyone in public office or position of influence. Moreover, such a test would seem anathema to our core values of free thought and diversity of opinion. I remain committed to leading a college where differing views can be heard and debated with respect."
Filling in at Smith will be Ruth Simmons, the former president of both Smith and of Brown University.