You have /5 articles left.
Sign up for a free account or log in.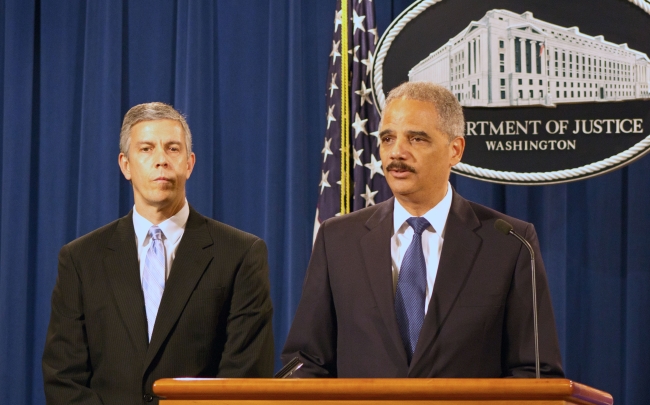 WASHINGTON -- Sallie Mae and its student-loan servicing spinoff Navient on Tuesday agreed to pay a total of $97 million to settle allegations by the federal government that the company overcharged military servicemembers and misrepresented late fees on student loans.
The Department of Justice and the Federal Deposit Insurance Corporation alleged that Sallie Mae and its related companies violated the federal law that caps the student loan interest rate for military servicemembers at 6 percent.
The company failed to make acceptable efforts to obtain the appropriate documentation needed to process that special military discount, federal officials alleged. In other cases, they said, the company did not provide the discount even when a servicemember had provided the proper documentation.
In a separate action, the FDIC and Sallie Mae agreed that the company would reimburse student loan borrowers for millions of dollars in late fees. That settlement resolves allegations that the company illegally maximized late fees and did not make proper disclosures surrounding the late fees.
In neither settlement does Sallie Mae nor Navient admit fault. The company said in a statement that it disagrees with the government's interpretation of what its obligations were under the Servicemembers Civil Relief Act.
However, the company also apologized for not providing servicemembers who had properly documented their active-duty status with the discount to which they were entitled.
"We offer our sincere apologies to the servicemen and servicewomen who were affected by our processing errors and thus did not receive the full benefits they deserve," said John (Jack) F. Remondi, president and CEO of Navient. "Over the past several years we have implemented changes in our procedures and training programs to prevent these mistakes from happening again."
The settlements and formal allegations come as consumer advocates and some Democrats in Congress have pressured the Education Department to more closely oversee Sallie Mae.
Attorney General Eric Holder and Education Secretary Arne Duncan unveiled the settlement regarding servicemembers at an unusual joint news conference at the Justice Department here.
Holder lauded his agency's work as "a landmark step forward in our effort to achieve justice for victims of improper lending practices" and said the "expansive" settlement was the first time the government had entered into such an agreement with servicers and owners of student loans.
He estimated that approximately 60,000 servicemembers will receive money under the settlement, which covers loans disbursed as early as 2005.
Duncan announced that, as a result of the allegations made against Sallie Mae, he was ordering an Education Department review of whether the company had violated its contract. The department will also look at whether its other loan servicers are properly providing servicemembers with the full array of loan benefits to which they are entitled under federal law.
Asked whether the department may terminate Sallie Mae's student-loan servicing contract -- now held by Navient -- Duncan said that "everything's on the table."
"We have no presumption of guilt or innocence," he said. "We'll do a thorough review and we'll go where the facts follow, but every option's on the table."
Increased CFPB Involvement
The case also, to some extent, reflects the growing reach of the Consumer Financial Protection Bureau in how the federal government regulates its student loan programs.  
The Sallie Mae case first came to the Justice Department's attention when the Consumer Financial Protection Bureau passed along complaints from individual servicemembers, Holder said.
The bureau now has supervisory oversight over most of the largest loan servicers and debt collectors. And the CFPB is also currently conducting its own investigation of Navient. The company, then called Sallie Mae, disclosed last fall that the bureau had issued a demand for information relating to its loan servicing.
Holly Petreaus, the bureau's top official overseeing servicemember issues, on Tuesday praised the Justice Department and FDIC settlements, calling Sallie Mae's actions "unacceptable."
"It's particularly troubling from a company that benefits so generously from federal contracts," she said in a statement. She added that today's action "should serve as a warning not just to the student loan servicing industry, but to all institutions that provide or service loans to the military," that federal agencies will hold them accountable.
Loan Servicing Contracts/Congressional Pressure
The Education Department has previously said it intends to renew the contract it has with all four of its major loan servicers for federal loans, including that of Sallie Mae, which is now held by Navient since the companies have officially split.
Some consumer and borrower advocates, as well as an increasing number of Democrats on Capitol Hill, have questioned whether the company should continue servicing federal loans.
Democrats have put Duncan and another top agency official on the defensive about Sallie Mae's contract during hearings in recent months.
Representative George Miller of California, the top Democrat on the House education committee, on Tuesday praised the settlement federal regulators won with Sallie Mae, but suggested that the Education Department needs to do more.
"There is no place in the federal student loan program for companies that would deceive or deprive borrowers of guaranteed protections or benefits," he said in a statement. "The Secretary of Education must take this opportunity to make sure all federal student loan servicers are playing by the rules and impose the appropriate sanctions if they are not." 
Broader Transparency Issues
Beyond the servicing activities of Sallie Mae and Navient, in particular, other borrower advocates have raised broader concerns about the Education Department's oversight of the federal student loan program, which is now the main way that students borrow to pay for college.
One prominent consumer group on Tuesday stepped up its criticism of how the Education Department runs the program and said it had grown increasingly frustrated with a lack of transparency.  
Deanne Loonin, a lawyer who represents low-income borrowers at the National Consumer Law Center, wrote in a letter to Duncan that the department's failure to improve its loan servicing and collection operations "causes significant harm to our clients and other borrowers seeking relief from student loan debt."
Loonin said that the department had been unresponsive to her organization's concerns about how its collection agencies work with borrowers to get out of default and how servicers enroll borrowers in income-based repayment programs, among other issues.
She also criticized the department for withholding from the NCLC key information about how the companies it hires to service loans and collect federal debt are performing.
"We are very concerned that the Department of Education is moving toward a model in which it justifies withholding basic information because of supposed proprietary contract arrangements," Loonin wrote. "This may work well for department employees seeking to avoid accountability, but it does not work best for borrowers and taxpayers."
The department did not directly respond to the criticism in the letter on Tuesday.
"We have received the letter and will respond to it," said a spokeswoman, Dorie Nolt.