You have /5 articles left.
Sign up for a free account or log in.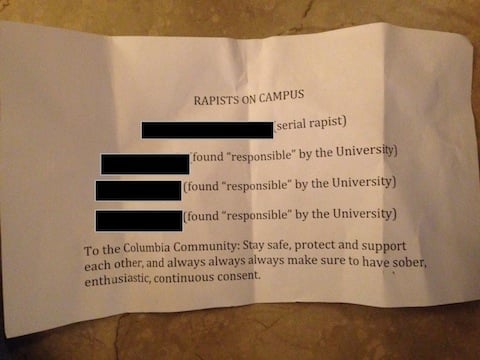 The Columbia Daily Spectator
Students who walked into women's bathroom stalls at Columbia University this week could see the frustration about how colleges judge and punish accused rapists scrawled on walls and fliers.
Whoever listed the four male student names under the heading "rapists on campus" – written on bathroom walls and fliers tucked on top of toilet paper dispensers – mounted a brief awareness campaign that seemed to combine aspirations of strengthening public safety with inflicting public shame. Twenty-three students at Columbia and Barnard College have already filed a federal complaint accusing the university of running flawed sexual assault hearings and letting alleged perpetrators off the hook.
Emma Sulkowicz, a junior and one of the federal complainants, said "everyone's talking about" the incident at Columbia, which was first reported by the student-run Columbia Lion blog. Sulkowicz said while the act may strike some as extreme, it will help protect women during a time when several of her peers believe their rapists have been allowed back on campus.
The male student who allegedly attacked her and other students was among the four names listed. Sulkowicz said a university panel dismissed her accusation after a hearing and urged her to keep quiet about the man's name. She said she filed a formal police report against her attacker this week.
"I watched one of these people hit on another woman and I wasn't able to say anything because of the confidentiality restrictions the school put on me," she said. "But now I can feel a little bit safer knowing that there will be a little more awareness. Otherwise what are we supposed to do? I feel like the school has backed us into a corner. Whoever did this is willing to take risks."
Sulkowicz said she was not one of those who organized the public campaign.
The names were scrubbed off the bathroom wall of Hamilton Hall, and the fliers identified three undergraduate male as being found "responsible" by the university for rape. Bwog, a news website run by Columbia students, announced Tuesday that it dismissed one of its reporters this week after he was accused of rape in an anonymous tip.
A Columbia spokesman declined to comment on its handling of the cases "to avoid chilling complainants from coming forward and to respect all parties involved." He said the college does not impose confidentiality agreements on students, and that the college's public safety office started investigating the "graffiti" incident.
Columbia is among the 55 colleges under investigation by the Department of Education for their responses to sexual violence cases.
Christopher Mallios – a lawyer adviser at AEquitas, an organization that provides support for sexual assault prosecutors – said that distrust of campus judicial systems seemed to boil over in this case. "These schools are really being called out for how they're handling these cases. There's a lot of frustration all over the country because sexual assault is so prevalent. This may be some way of people addressing that frustration," Mallios said.
The tactic isn't new. A College of William and Mary student hung posters in a main campus building in 2002 detailing how her attacker raped her after he was found guilty by the college but eligible to re-enroll. Students at American University and Portland State University have taken to Twitter and Facebook to call out their alleged rapists.
A list of about 30 students accused of rape appeared on bathroom walls at Brown University in 1990, garnering national outrage.
But the new frustration also stems from the struggles colleges face in adjudicating these cases – and ensuring fair treatment for both the accused and the accuser. The Department of Education and the White House have recently issued guidance and research to help colleges improve their practices.
Brett Sokolow, president of the NCHERM Group, a law firm that handles campus sexual assault cases for students and colleges, said colleges have become too prone to pressuring students to enter into confidentiality agreements between the two sides, even though doing so is a violation of Title IX. But, he said, if the rape accusation listed on the bathroom walls includes students found not guilty by Columbia, the writer is "vulnerable" to defamation.
"This is one of those tough cases where there's a difference between what a victim knows happens to them and what a college can prove," he said. "There's dissatisfaction where there may have been an assault, but evidence isn't there so the victim feels like the college hasn't sided with them."
Some colleges have also had to fight off reputations for being too favorable to accusers. In 2011, George Washington University settled a case in which a former student accused the college of unfairly convicting him of sexual assault. The same year, a jury found the University of the South negligent in a case that convicted a student of sexual assault, saying the university did not follow its own published procedures.
Currently, colleges are facing intense pressure from politicians who have been moved by stories of survivors of sexual assault.
But is the it ethical to take those concerns to bathroom walls? Richard Dean, an associate professor of philosophy at California State Los Angeles who has written on the shunning of sexual harassers, said sexual assault survivors may have valid ethical reasons to take the situation into their own hands.
"There are good reasons to have libel laws, but on the other hand, if somebody knows from individual experience that a person is guilty of sexual assault – especially serial sexual assault and seems to be getting away with it – from the standpoint of the individual it seems justified for practical reasons to make it public," he said. "It's a case where there's real conflicting moral considerations from the general and some individual standpoints."